Podcasts are an ever-growing group of online publications. Thousands of them are created every year: some of them achieve significant success, others quickly disappear in the thick of competition. Getting started with podcasting is fairly easy, but the tricky part is enduring a tough market. Listeners expect good quality content, interesting topics and charisma. What's more, a podcast needs to be promoted properly to reach a wider audience. How to get more podcast listeners?
How to promote a podcast – table of contents:
Are you starting the podcasting field? Find out how to get more listeners to your podcast and how to promote it to gain a steady audience.
Promotional goals, or why and how to promote a podcast?
The goals for podcast creators can vary widely. Some people are driven by a desire to achieve great online success, some crave to become more recognizable while others simply decided to earn their living by combining passion with work. Creating professional podcasts is undoubtedly a great opportunity to build a strong, positive and recognizable image of oneself. If publications are professional, valuable and interesting, they will certainly contribute to gaining recognition by potential donors and sponsors. Therefore, podcasting can be taken as a form of personal investment: it increases experience, improve rhetorical skills and builds a personal brand.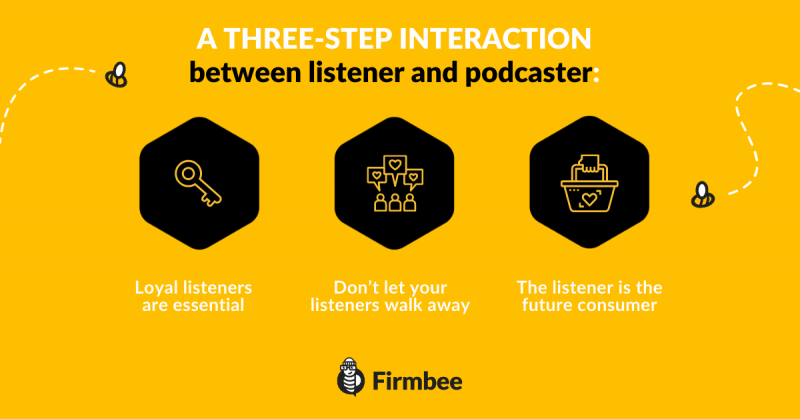 The listener as the focal point of the podcast
One of the biggest mistakes fresh podcasters make is to be solely self-oriented. Individual ideas, while they may seem good at first, can become devalued after some time. To put it perversely: it is the creator who must learn to listen to others. Promoting your the brand will therefore consist of a three-step interaction between listener and podcaster:
Get a group of loyal listeners. This is the basic goal that is most important to achieve in the initial phase of your channel. Set yourself an initial goal, which would be, for example, getting 500 views for one of your podcast episodes. Over time, the goal will expand to a larger number: 1000, 5000, 10000 etc.
Don't let your listeners walk away. It's not about physically keeping them, it's about capturing their attention with interesting content. Above all, podcasts should come regularly and match your listeners' interests.
The listener is the future consumer. Creating a podcast is a job, so the listener becomes a consumer of our content. With professional content, we can sell our products, offer services or advertise to others, which will contribute to real financial gains.
How do you get more podcast listeners?
Four spheres of effective promotion:
1. Content Sphere
Content published by a podcaster must be original and free of plagiarism. It's unacceptable to use content from other creators due to the risk of unpleasant legal consequences and losing credibility in the eyes (and ears!) of listeners. Each podcast should be professionally prepared in terms of the highly valuable and engaging content, freedom of narration and expert knowledge of the topic.
2. Rhetorical Sphere
How to promote your podcast using oratory abilities? Even if our content is professional, the listener may simply get bored with our way of speaking, or the cliché of the presented issues. A creator needs to be smart, funny, and unpredictable. An unquestionable necessity is a constant communication with listeners: find out what they need and what topics they are interested in. You can do this by using social media, or by encouraging them to share their opinions.
3. Distribution Sphere
Diversification of channels is important in this matter. When creating a podcast, own a website with regularly posted content is a professional must-have. Sharing productions on different websites: Facebook, Twitter, YouTube is a great way to attract more listeners. Also, take advantage of dedicated community groups where people who are searching for podcasts on the internet participate.
Benefit from other promotional channels as well, especially those geared toward listeners using mobile devices. A growing number of podcasters are using apps such as iTunes, TikTok or Instagram. Distribution can also consist of using paid promotional methods. Targeted advertising on Facebook or paid advertising on Google, among others, are used for this purpose.
4. Optimization Sphere
Don't forget about the power of optimizing your podcast for SEO. An efficiently conducted optimization process will effectively position our podcast in Google search. In this way, you can squeeze out the maximum in terms of gaining the highest possible position in the search ranking.
Use short, catchy titles.
Make a graphic, separate for each episode of the podcast.
Complete the information on the topics covered in the podcast.
Add the podcast to directory sites.
Use original keywords that are associated with the topic being discussed.
If you are interested in podcasts and audio content read also:
Don't forget to join our Facebook community, let's stay in touch!