Where to create business cards? Obviously, designing and making your own business card can be commissioned to an external provider. However, this is an expensive and possibly more time-comsuming method than preparing it on your own. Business cards are an integral part of building your brand image and establishing customer relationships. It is also an appropriate form of making contact with potential business partners. Business cards typically contain all the most necessary information about you and your company. Read our article and learn more about the most popular business card makers.
Where to create business cards? – table of contents:
Business card templates
The advantage of preparing your own design is the fact that you can free up your creativity. Thanks to this, your project will not only be original, but also reflect your personal tastes. You can easily do it with the help of online business card makers. They will allow you to implement your idea, choose colors, select favorite fonts, and use ready-made icons.
People who do not feel completely at home with project design, can safely apply pre-prepared templates. You can effortlessy customize them with business card makers or download them from other websites, e.g. mockup business cards.
Once your project is ready, you must print it. The easiest way is to have it printed at an online priting house. This will definitely save your precious time. Such printing houses also offer creating business cards from scratch. Making the whole project without leaving home certainly sounds appealing.
Where to create business cards?
There are several business card makers which offer creating personalized projects for free. Check out a few examples of the most popular business card makers:
Canva – It is the most popular business card maker, with several high-quality templates, and a full range of icons and images. You can use its all available features after purchasing the PRO version.
VistaCreate – It is another tool that allows you to design business cards from scratch without using any professional software. You can choose the right format of your business card, adjust it to your needs, and download a complete project in just 4 steps.
BrandCrowd – In this wizard, you can not only design your own business cards, but also create logos from square one. Morover, this portal provides interesting design guidelines concerning the right choice of colors and fonts that would fit the whole thing.
EnvatoElements – This solution similarly provides you with loads of ready-made business card templates. It offers individual plans that include a 7-day free trial for new customers. You can cancel the subscription in due time, without bearing additional costs.
Designhill – The platform lets you either create your own design using its free business card maker or hire a professional designer at a reasonable price. All designs come in high-resolution vector files.
Online business card makers are easy to use and let you create projects in minutes. They also allow you to customize your design so you could get the one you really want.
Advantages of business card makers
Well, you have to admit that creating business cards online can have many advantages. It brings such benefits as:
Cost-effectiveness – If you want to attract potential customers and partners, and not to exceed a certain budget, creating a project using a business card maker will be a perfect solution.
Time efficiency – Preparing a project brief, presenting your expectations, consultating changes, implementing the initial project, and finally printing it, requires a lot of time. You can definitely save it using online tools, and the result can positively surprise you.
Convenience – The whole project can be prepared from home, at your own pace and without the need to leave it.
Broader choice – The biggest advantage of business card makers that we can mention here is a wide selection of templates and stunning visuals that they offer. You can freely adjust them to your business needs.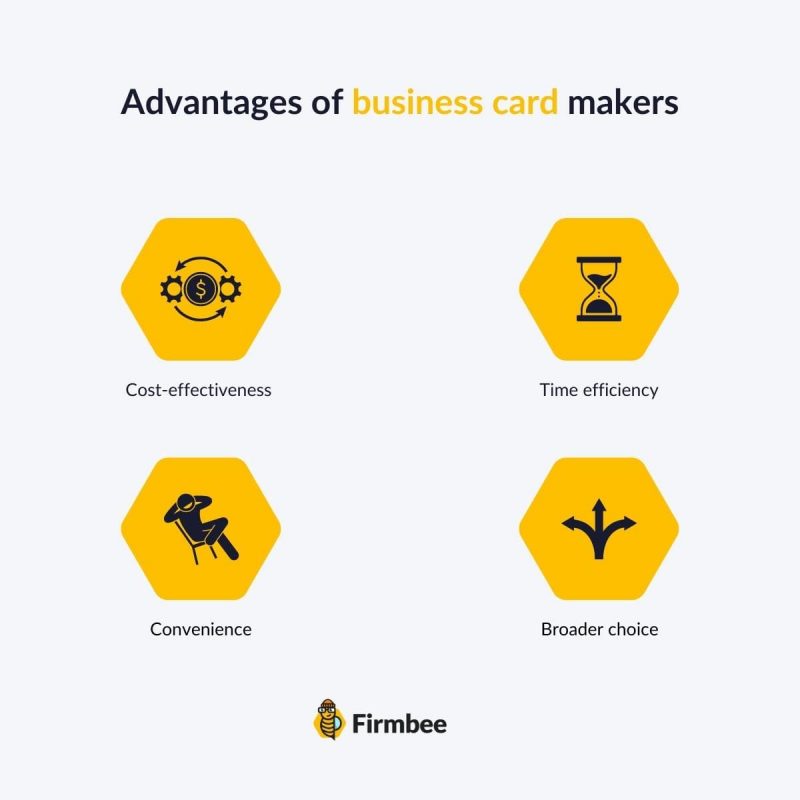 Where to create business cards? – summary
Online business card creators allow you to design perfect projects that you can later confidently hand out to new customers and prospects. Contrary to other design tools, they are easy and intuitive to use for non-designers. They also offer a vast array of design options, and a possibility to download projects in various formats.
You've just read where to create business cards. Check out our other resources: How to make your own business cards?
If you like our content, join our busy bees community on Facebook, Twitter, LinkedIn, Instagram, YouTube.