Sometimes it can happen that you run out of inspiration for interesting content, and the question arises in your head what to blog about. What then? How to make the ideas for blog texts hit and come easily? Today we would like to present some tips that will give you plenty of ideas to make your blog fresh and popular.
What to blog about? – table of contents:
How to create dynamic and attractive content? Ideas for articles
These days due to massive traffic and fierce competition building the high popularity of a blog is a daunting task. Even an effective promotion of the site doesn't guarantee instant success. That's why you must be one step ahead of your rivals and constantly deliver valuable content in a fresh way. How to do it? Check out our suggestions.
Analysis of opportunities. Proper structure and organization

The genius of the human mind enables us to attain incredible successes only with the help of thoughts and ideas that are put down on paper. Therefore, you should formulate ideas for your posts using the principles of praxeology – the theory of efficient operation, which laid the foundations for the system of modern management.

According to its principles, sticking to the praxeological cycle (focusing on what can readers use not just think and analyze) should guarantee a satisfactory outcome of the work. Although suggesting the golden thoughts of Kotarbiński or Kieżun enhances creativity, sorting out ideas, implementing them, and observing the results, it does not guarantee the emergence of brilliant inspirations. In this context, it is necessary to have a proven source of inspiration, thanks to which we will know what to write about on the blog.

A fleeting thought – inspiration can be born at any time

Popular and successful blog topics have a lot in common with great business ideas. They have the same features: they are innovative, attract the interest of the audience and generate profits. They also have the same disadvantages – they are often elusive, appear in the mind temporarily and have the character of slogans, not the whole complex construction.

Frequently, in a seemingly idle moment of lack of inspiration, it can actually come up spontaneously, as if out of nowhere. Be prepared for such a moment, and capture your ideas. When they come:
Write down your inspirations in a notebook and then transfer them to your computer;
Use professional programs to sort and organize your notes;
Create a "mind map" using table generators and idea networks;
Make short descriptions of inspirations;
Modify, add to, and revise notes as you go.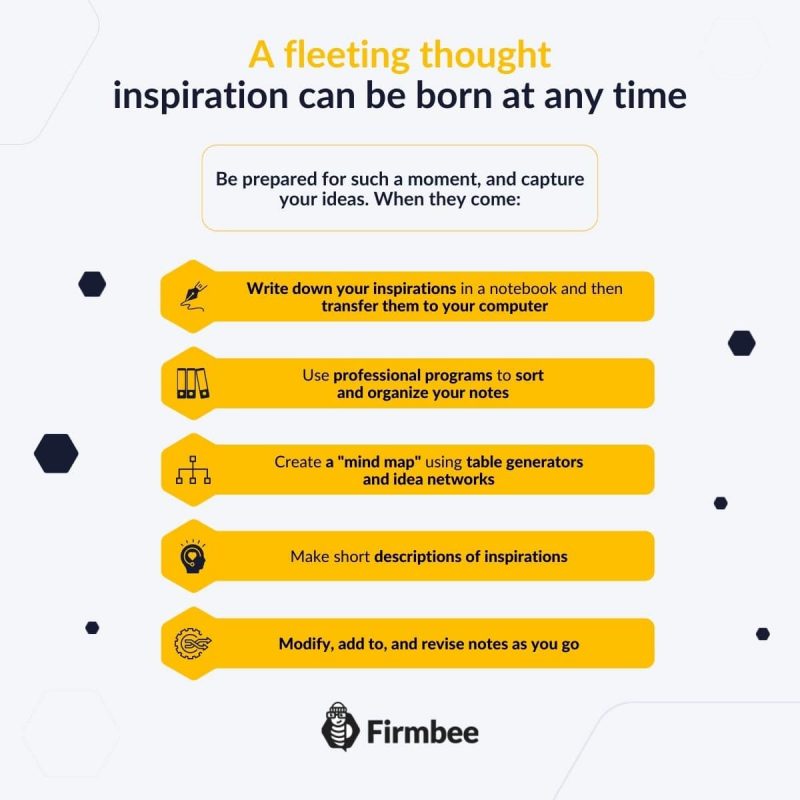 What to blog about – useful tools
Surrounding trends, needs, and aspirations make your audience look for concrete information at a specific time. A great idea or a brilliant inspiration may not be enough – you also have to fit into the current market demand and hit the right moment. Analyzing preferences in such a wide area as the Internet is an impossible feat to accomplish on your own. However, you can look for inspiration with the help of tools prepared especially for the good optimization of your weblog.
Keyword search engine as a topic generator

One of the possibilities is to browse from a rich database of tags, thanks to which we can compose a topic interesting for the recipient and attract them to enter our article. The added value of knowing the relevant phrases is also the blog optimization process. By including relevant keywords in the content, the Google engine will prefer ours, placing it on the top search positions. Examples of intuitive keyword databases include Senuto, Semstorm, and KWFinder, among others.

Know the weaknesses of your blog – Animalz Revive

Content posted on an online blog is fluid. This means that visitors come and go any time whenever they desire. Website articles, however, have a way of becoming outdated in a matter of days. When you have dozens (or hundreds) of materials on your blog, it is impossible to control the process of their obsolescence.

A useful tool for refreshing blog content is Animalz Revieve – a free SEO tool for analyzing content that allows you to go back to posted articles, improve their visibility, delete outdated posts and learn what mistakes not to make in the future.

Go beyond the company blog with your content

A company blog is a personal, somewhat isolated source of articles. The reader has to actually click on the relevant link in order to see the prepared material. This means that the site attracts those tempted by a catchy headline or intrigued by the content. In order to increase traffic to your blog you should reach beyond, multiplying the interest of your audience. A good idea may be to record short videos describing the article on YouTube or run a fanpage on Facebook.

Ideas for interesting topics: antagonize content

The most powerful tool for finding new ideas, however, is our brain. Provoke the recipient with cleverness and a sense of humor. Create content based on proven patterns – posts like "X vs. Y", "TOP 5", or based on the PBC formula. However, add your part to it, interpreting the known patterns in your own way.

Instead of listing the benefits of a particular option, focus on the antagonism of why the other option is not worth pursuing. Compose intriguing titles, increase the volume of the lead, weaving in references to the benefits for the reader. Write about popular topics, not forgetting to use the strongest keywords to position the page.

Do you like our content? Stay in touch by joining our Facebook and Twitter community.

Author: Laura Green

There's probably no social media channel or tactic that Laura doesn't feel confident about. Whether it's jumping on the latest TikTok trend, launching a Pinterest campaign, or live-streaming on YouTube - this Social Media Ninja has done it all.