What is a chief creative officer? What does a chief creative officer do? A Chief Creative Officer is a dynamic leader who drives a creative vision across the company and multiple teams to produce and implement outstanding solutions for clients. Read our article and learn more about the role.
What is a chief creative officer? – table of contents:
What is a chief creative officer?
What is a chief creative officer? A chief creative officer is a top creative position within an organization. CCOs set the overall creative direction for the entire creative team. CCOs work closely with other executive creative leaders to ensure successful project implementation and make a positive impact on the brand. CCOs work with and oversee members of the creative team, including those responsible for branding, marketing, design, media outreach and message development.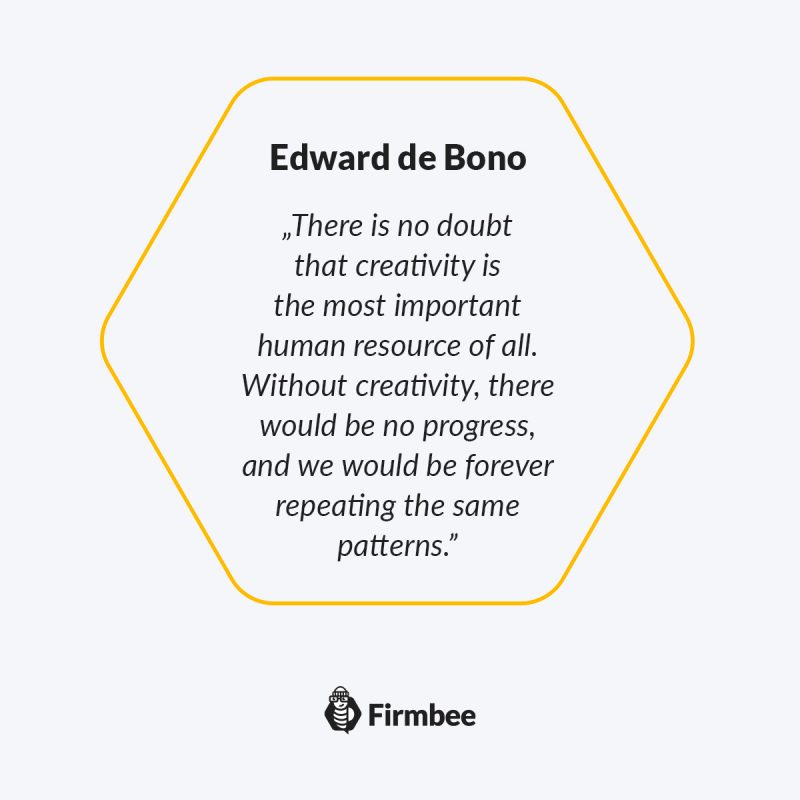 What does a chief creative officer do?
Chief creative officers lead the company's creative departments and develop artistic design strategies that define the brand. They usually have both internal and external artistic control over the company's corporate identity. Internally, they shape the look and style specific to their company. Externally, they supervise the artistic vision and consistency that is sold to the clients.
CCOs have significant authority and responsibilities, and therefore report directly to chief executive officers (CEOs). In smaller advertising agencies, it happens that CCOs and CEOs work together. From a practical standpoint, CCOs give the company a recognizable artistic style that sets it apart from the competition.
They set standards for everything starting from the typeface used in the company's marketing materials to the coherent application of the right colors for the company logo. Employees turn to them for creative guidance in almost every area of the business, from the website design to the decorations used at corporate events. CCOs are brand strategists that treat the company holistically.
CCO vs. clients
CCOs control the artistic image of the product that is delivered to the customers. CCOs value customer feedback a lot, so they often collect their clients' opinions. Nowadays, how a product is created is frequently more important than its actual function. Therefore, it is crucial to sell a certain impression about it, and not only what you can actually get from it.
CCOs do not work in strictly construed marketing teams. They rather work for the entire organization, where they help promote specific values. Therefore, CCOs are not always focused on selling something to consumers – they may also concentrate on presenting a belief or narrative that they want to market. The goal is to combine practical and creative skills to effectively convey the company's message.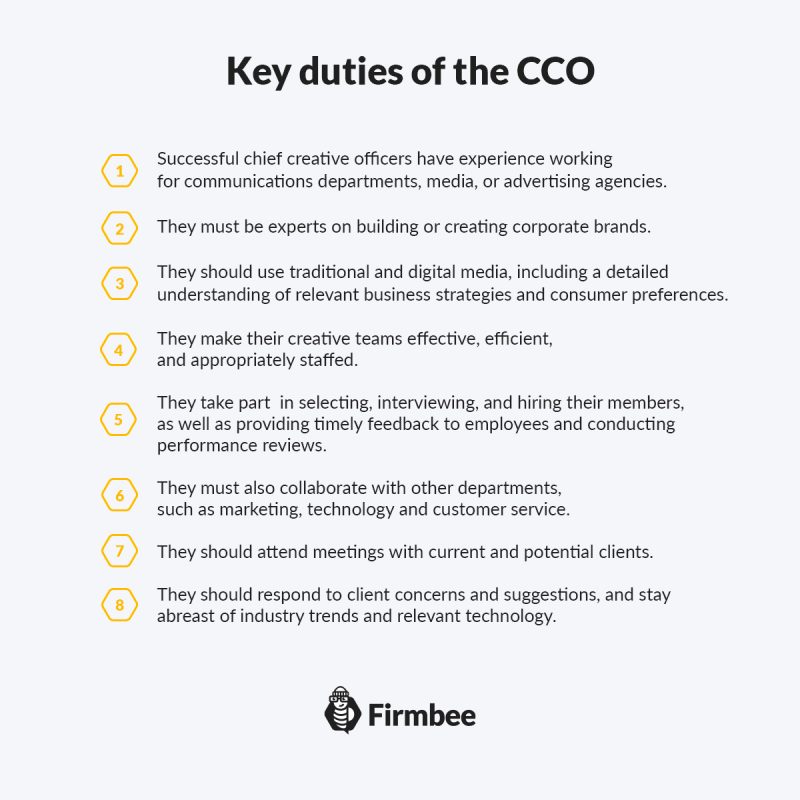 CCO vs. marketing department
Advertising and marketing messages communicate a certain artistic design, and at the same time are structured to achieve functional goals. CCOs take care of the harmonious combination of design and functionality so that the company can present a product that successfully illustrates its creative brand.
CCOs are typically employed by companies that somehow deal with artistic creation. For example, advertising agencies and event companies usually hire CCOs instead of general marketing managers.
CCO responsibilities
Successful chief creative officers have experience working for communications departments, media, or advertising agencies. They must be experts on building or creating corporate brands using traditional and digital media, including a detailed understanding of relevant business strategies and consumer preferences.
CCOs make their creative teams effective, efficient, and appropriately staffed. They take part in selecting, interviewing, and hiring their members , as well as providing timely feedback to employees and conducting performance reviews.
They must also collaborate with other departments, such as marketing, technology and customer service. They should attend meetings with current and potential clients, respond to client concerns and suggestions,, and stay abreast of industry trends and relevant technology.
Key duties of the CCO include:
cooperating with the CEO to develop consistent company goals, as well as ways to achieve them,
being a member of senior management,
planning, managing and setting the strategic direction of the marketing plan,
leading creative teams in the effective use of project development phases,
developing and maintaining relationships with agencies, vendors and clients,
leading or actively participating in the overall company efforts to identify strategic system solutions and integrate them for marketing purposes,
turning general ideas and concepts into actions, projects and final products,
executing projects in accordance with company objectives,
developing design concepts that strenghten the company's brand identity,
inspiring creative teams through brainstorming sessions, team meetings and other strategic tools,
creating short-term and long-term goals and strategies to achieve them,
maintaining consistency in the quality of the creative team's work,
tracking trends in the market and monitoring competition,
planning future activities, using research and personal insights,
distributing tasks within creative teams,
overseeing the timely completion of appointed tasks,
monitoring the creative budget,
enforcing deadlines and maintaining productivity of the creative department.

What is a chief creative officer? – summary
Although CCO's responsibilities are primarily based on artistic creation, many of them are linked to purely analytical and profit-oriented activities. Good chief creative officers must then try to combine strategic goals with employee engagement and business innovation so that their efforts could bring tangible results.
We've just answered the question: What is a chief creative officer? Related articles: How to become a CFO? and What is a CSO? Also, check out our project management software for marketing agencies.
If you like our content, join our busy bees community on Facebook, Twitter, LinkedIn, Instagram, YouTube, Pinterest.