Due to the growing need to protect information resulting from increasing hacking threats, data theft or infectious malware, the position of CSO (Chief Security Officer) is becoming more and more important. However, the CSO's activity is not limited to the protection of company's digital assets. What is a CSO? Read our article and find out.
What is a CSO? – table of contents:
What does a CSO do?
What is a CSO? A CSO (Chief Security Officer) is responsible for the security of staff, business assets and information, both in physical and digital form. CSOs are increasingly recognized and desired on the job market due to special skills they possess.
CSOs are typically accountable for online security protocols, risk management and responding to security incidents. In several companies, the title is often used interchangeably with CISO (Chief Information Security Officer). CISOs concentrate on digital security, though. We can also come across such specific names as the Vice President of Corporate Security and Director of Corporate Security.
Increasing demand
According to the Navisite report, almost a half of companies surveyed don't employ a Chief Information Security Officer (CISO), but 58% believe they should hire one. This reflects the growing demand for individuals with such qualifications. There is also a noticeable shortage of candidates who meet the right requirements for this position.
What is more, 75% of organizations reported an increase in overall threats over the past year, including such cyber risks as ransomware (37%) and phishing/spear-phishing (33%).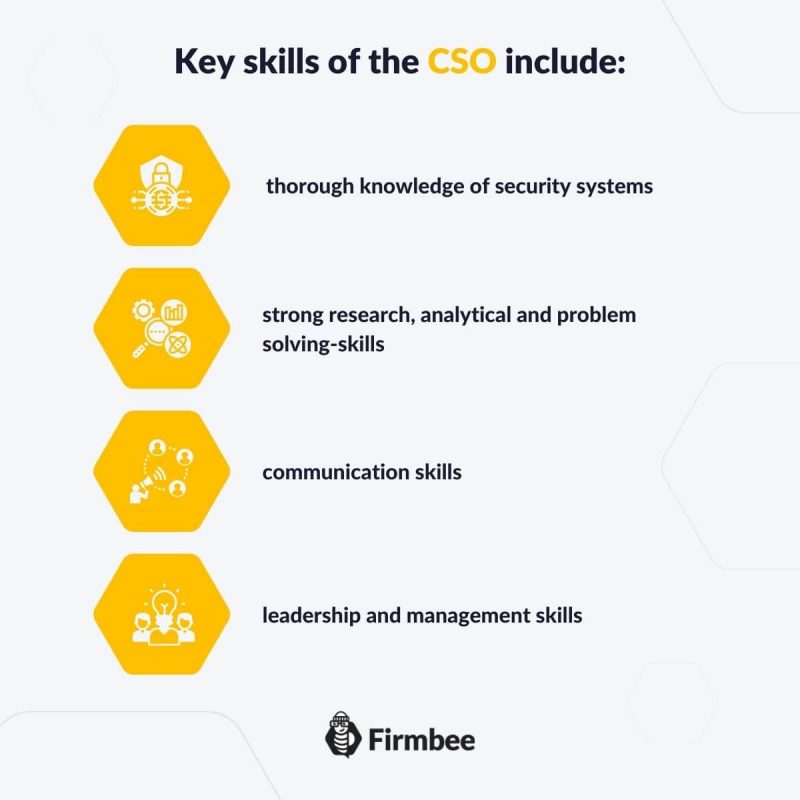 Physical and cyber security
What is a CSO? The chief security officer (CSO) is a company executive responsible for the security of personnel, physical assets, and information in both physical and digital form. This is extremely important in the Information Age due to hacking threats, ransomware, and data theft. It is the CSO's responsibility to prevent data integrity breaches, phishing and malware by developing effective security and crisis management protocols.
However, the CSO is also responsible for the company's physical security. For example, the protection against intruders on company premises, theft and damage.
CSO role
The CSO occupies one of the most senior positions in the organization. Since companies store a lot of data in digital form and conduct several business meetings online, IT security systems are becoming increasingly important, and so is the role of the CSO.
The CSO is a member of the company's senior management. Their actions should lead to a comprehensive protection of all processes in the company, especially in the HR departments where there is a high risk of personal data breaches.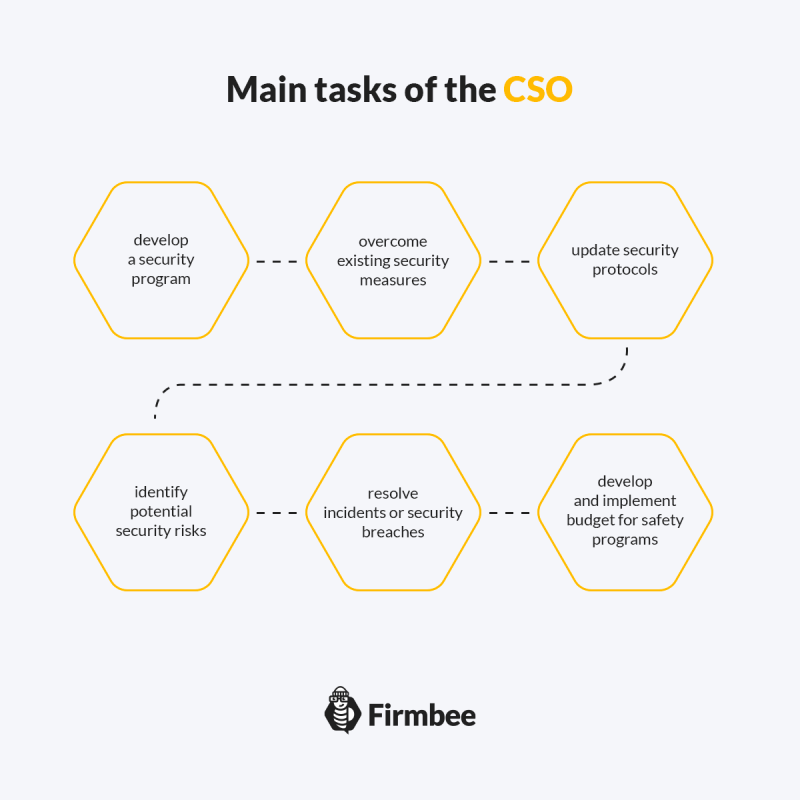 CSO vs. CSIO
What is a CSO? The title of CSO was originally assigned to a person responsible for IT security. In many companies, the term CSO is still used this way. However, as it has been previously mentioned, we can also come across another term to describe a similar position, i.e. CISO (Chief Information Officer), which is now more common among leaders focusing solely on information security.
What is a CSO? The term CSO may be considered broader today. In some companies, it is used to describe a person who supervises the physical protection of property, employees, facilities and assets. Such a person often holds either the title of Vice President or Director of Corporate Security. We can see that the nuances of naming come into play here . There aren't any set rules stating that the CSO should only deal with digital security, but not with physical security, or vice versa.
Key duties of the CSO include:
developing a security program that includes the company's physical and cyber security policies,
overseeing existing security measures and updating security protocols,
supervising the day-to-day operations of the company to identify potential security risks and opportunities for improvement,
fostering a culture of physical and digital security awareness through training and communication with company employees,
managing, assessing and resolving any physical or digital security incidents and breaches,
ensuring that the company's security policy complies with laws and regulations,
presenting risk assessments and improved security policies to the management team,
work with management to develop and allocate an appropriate budget for security programs.
CSO qualifications
To apply for the CSO position, you must hold at least a Bachelor's degree in Information System Security Management or a similar field and 3 years of experience as a Security Manager. Increasingly, a Master's degree in Cyber Security and at least five years of experience in security management are required. Security professionals or those holding a Bachelor's degree in an unrelated discipline can enter this industry by earning additional IT certifications. The position typically requires experience in managing multiple large teams and designing IT security solutions.
What is more, knowledge of regulations related to information security is essential for this role. Proven proficiency in developing digital and physical security procedures will be useful. CSOs must also have excellent communication, interpersonal and team leadership skills. They also have to understand cybersecurity principles and stay abreast of changing trends.
CSO skills
Key skills of the CSO include:
thorough knowledge of security systems, computer networks, programming languages, cyber security hardware and software,
strong research, analytical and problem solving-skills, all of which are essential when responding to crisis management incidents quickly,
communication skills necessary to deal with all kinds of people effectively, both from within and from outside the company,
leadership and management skills, as well as the ability to handle security incidents and manage security operations.
What is a CSO? – summary
The above information clearly shows how desirable CSOs are on the current labor market. At the same time, there is a huge shortage of candidates with appropriate qualifications for this position. It might be a hint for those who would like to develop their careers in the direction of security management.
We've already answered the question:What is a CSO? You should also read: What does a CFO do?
If you like our content, join our busy bees community on Facebook, Twitter, LinkedIn, Instagram, YouTube, Pinterest.