Waterfall method belongs to traditional project management methods, taking the approach of sequencing tasks into consecutive steps to follow. What are the pros and cons of using this method? Who will find it most useful? Read on to find out the answers and more!
Waterfall method – table of contents:
Waterfall method in a nutshell
Generally speaking, the method takes a scheduled and defined step-by-step approach to task performance. Only by following the designated plan, you can fully use the potential of the Waterfall method. Unfortunately, the method doesn't allow any flexibility. The blueprint for completing the project is set prior to its execution – it has defined deadlines and a fixed budget.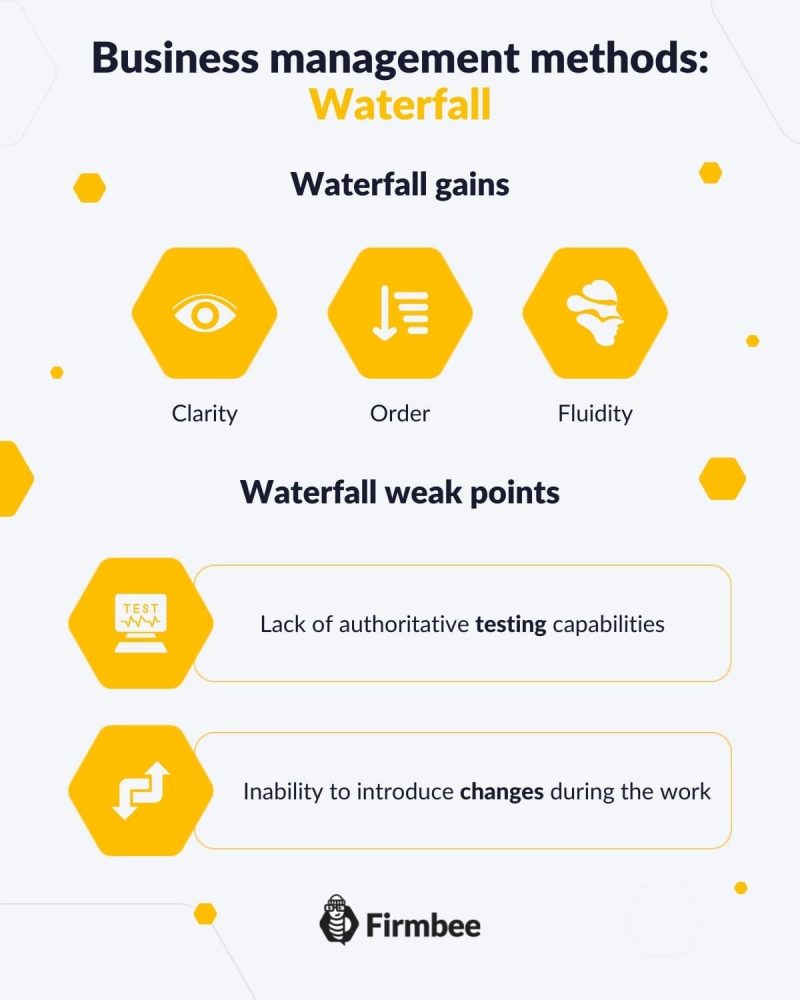 Waterfall gains
Among the benefits that come from following the principles of this method, one can certainly include:
Clarity – because we plan all phases of the project in detail with deadlines, people working on it have a clear insight into each stage of project creation. Due to this feature, subsequent modifications are very difficult to implement, but in principle, we should foresee and eliminate them at the very outset of our project, before it sets off.
Order – thanks to the orderly documentation, each next step in the project begins only when the previous one terminates. The aim is not to return to phases of the project again.
Fluidity – the project must not contain unattainable goals or stages. Each subsequent goal must be achievable and cannot overlap or duplicate with the remaining ones.
Waterfall weak points
It is not a perfect solution and it is not suitable for everyone. It also has its disadvantages, such as:
Lack of authoritative testing capabilities. Unfortunately, we conduct them only after the whole project terminates. In the case of e.g., programmers it is so annoying as it involves working "blindfolded," depriving them of running tests on regular basis during the project. This is how we should perceive testing software or other solutions according to the Waterfall method – only when the project is closed.
Inability to introduce changes during the work – let's assume that the customer would like to see what is being prepared for him. When using Waterfall, it is a bit difficult, because each stage has to come to an end and cannot be interrupted. Therefore, we need to establish cooperation with the client according to the mutually worked out patterns, without the possibility to make any corrections during the work on the project.

Is Waterfall worth it?

Like every method, Waterfall includes both pros and cons. Hence, try it out to compare it with others to see if it works out for you.

When working with Firmbee, you always have access to all stages of your project. It's up to you when you consider a given stage closed. The available options will always help you with that.

Read also: Effective management methods: Working day photography

If you like our content, join our busy bees community on Facebook, Twitter and Linkedin.

Author: Caroline Becker

As a Project Manager, Caroline is an expert in finding new methods to design the best workflows and optimize processes. Her organizational skills and ability to work under time pressure make her the best person to turn complicated projects into reality.