Video materials have been attracting users for years. Dynamic and enjoyable content may be the key of successful marketing actions of your company. Video movie may be placed in many outlets used for promotion of your brand such as: Facebook, YouTube, and company's landing pages. Additionally, it can be used with non-obvious, but very promising channel – in your e-mails sent out to clients.
Video e-mail marketing – table of content:
Video e-mail marketing – potentiality of the videos in the messages for your clients
From the user's perspective, a video may form a pleasant break in the repetitive pattern of e-mails content reception. Video sent out to client's mail account has a chance to bring the receiver into alertness and become an enjoyable experience.
For you, the video sent out via e-mail is a chance for close, personal engagement with your audience. Our e-mail account is usually seen as private zone, belonging to only one person and protected by the password, therefore, the video sent out and watched on the e-mail account may be a real chance to form strong attachment with your audience.
Benefits of video e-mail marketing
Increased interest of your services. Content passed in the form of a video is easy to share – consider, how often do you share your e-mails and how often do you share videos? Good-quality video movie included in your messages has the possibility to increase greatly the recognition of your brand.
Revealing, funny and breathtaking video content sent out throughout the e-mail may become a value for your clients, while further sharing may spark an interest of your brand among other users of the web.
Reinforcement of your brand's message. Videos stir the emotions of the audience stronger than other materials. It is proven that content in visual form is remembered much better than information in the form of text or voice recording. Dynamic, remarkable movie forms a quick track in consciousness of the receiver, hence it is worth to squeeze this opportunity and show your brand image with the use of video. For this purpose, in your movie, you may use your own image or the image of your employee as well as an image of a professional actor. The core values of your brand expressed by associated person will show your professionalism and increase credibility of your company.
Highlight your message. The title of the e-mail that includes phrases such as: "video" or "movie" helps the receiver to distinguish this particular e-mail form other messages. Generally, videos embedded in the message increase greatly the percentage of click-through rate (CTR) and encourage further association with your content.
Attracting the audience throughout entertaining multimedia in your mailing should easily stir up the interest for your web-site content.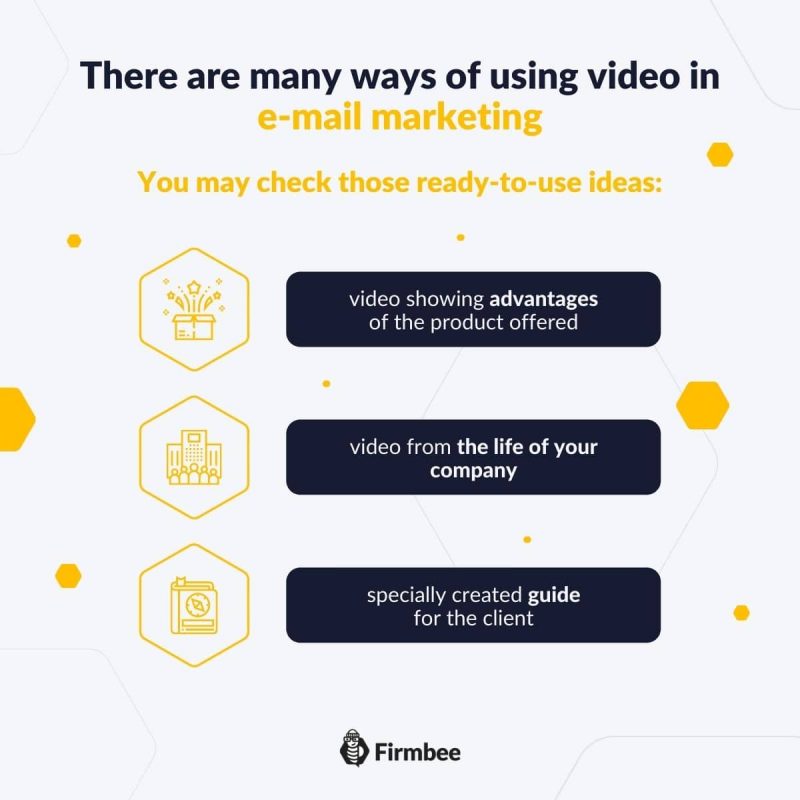 How to use video in e-mail marketing?
There are many ways of using video in the e-mail marketing. You may check those ready-to-use ideas:
video showing advantages of the product offered – remarkable video content helps to keep the attention of the client for long and show in full all the advantages of the product.
video from the life of your company – show yourself and your employees, prove your clients that your brand is made by professionals, who know exactly how to satisfy client's needs.
specially created guide for the client – hints and tips collected especially for carefully selected recipients send a clear message that you care for your present and potential clients.
While choosing video content for your e-mail campaign you should remember about a few important rules. In addition to the inherent attractive form the video should possess other appealing features to keep up the attention of the audience and not only attract client's gaze for a blink of an eye.
Remember that your client will not grant you great deal of time – your video has to be of quality and has to contain the content which is particularly useful for the recipient.
Summarizing in one sentence: one should care for high level of aesthetic and succinctness of the message, the other elements of the movie are are of your choice – the more creative they are the better.
You may also like: 5 Best Email Clients
If you like our content, join our busy bees community on Facebook and Twitter.