A dozen years ago it was difficult to imagine an email service without an email client. Today, a significant part of Internet users prefer web-based ones, as they are compatible with all hardware browsers. It doesn't mean that programs dedicated to email handling have become obsolete. On the contrary – they have undergone considerable evolution and today have become multifunctional combos, facilitating the organization of life. Who will need such a program and what are the most interesting proposals on the market?
Best Email Clients – table of contents:
Email clients – what are they for?
A huge number of email users, especially those who use services of Internet giants, such as Gmail, Outlook, Yahoo, or Zoho Mail, may wonder why they need a proper email client since after logging in via a web browser they see a clear and functional interface. In addition, they can access it from any device, and on each of them, it looks the same.
Still, to understand why it is worth using email client, let's focus on the differences between both solutions. Among the biggest advantages offered by the mail client are additional functions, such as confirmation of reading the message, support for several mail accounts in one window, better archiving and searching of emails, filtering of messages, and creation of folders or labels, and improved handling of attachments or contacts. Also, many email programs integrate with your device's calendar, contact management, and task list.
Anyone who wants a more efficient and organized way of working with mail on their computer will benefit from the possibilities an email client opens up for them.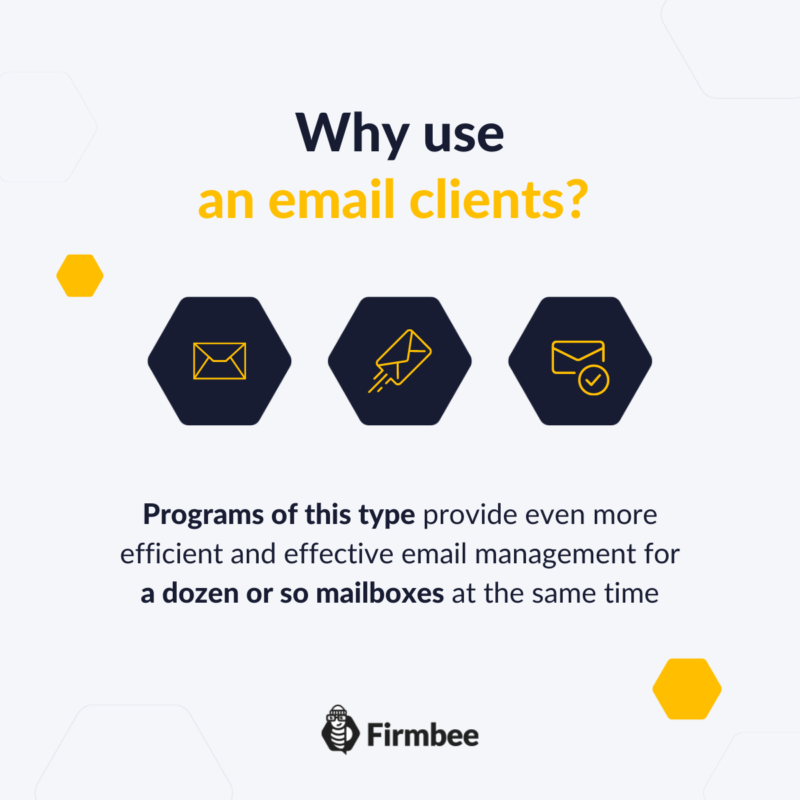 5 best email clients
Thunderbird

A mail program that needs no introduction. It's a real multifunctional combo, which can easily handle even a dozen or so email accounts. Its interface is quite modern, and at the same time focused on efficient work and ergonomics. The most useful functions can be found in the shortcut menu at the top (including creating new messages, search, or address book). Thunderbird is additionally equipped with a calendar and chat, and the application itself supports a lot of extensions, allowing you to give it new functionalities.

It is also very convenient to use tabs, where you can open not only messages or threads, but also other functions, such as a calendar. Behind the program is the Mozilla Foundation, which cares a lot about privacy and boasts that its programs do not collect personal data from users.

Microsoft Outlook

When talking about email clients, it's impossible not to mention the Microsoft flagship. Every year Outlook (not to be confused with the much truncated Outlook Express) becomes a more and more professional and productivity-oriented program. One advantage is the ability to send attachments of any size, and the mailbox itself has as much as 7 GB of data space.

Corporate and business customers will surely appreciate Exchange support for smartphones or tablets. Outlook boasts a very high spam blocking rate, integration with other Microsoft products such as Skype and Linkedin, as well as with Twitter and Google Plus accounts. The disadvantage of the full version of Outlook is undoubtedly the high price, which not everyone will compensate for the functionality offered.

Mail for Windows 10/11

Its undoubted advantage is full integration with Windows 10 or 11. The lightweight, modern interface can appeal, the application starts with the system startup and opens instantly. Despite the minimalism, this is a functional program – it supports multiple mailboxes, folders and is integrated with other Microsoft services.

eM client

The advantage of this program is a very clear interface, reminiscent of web-based email programs. Available tabs let you switch swiftly through mailboxes, contacts and calendars. Grouping of messages (e.g. by subject) is also available. It has a lot of built-in extensions – including Google translator, so you can directly translate the content of the message without having to paste it elsewhere. It is also worth mentioning the message scheduler, which allows you to prepare messages at your leisure and send them to the recipient at exactly the right moment.

Mailspring

Just like Outlook, you will have to pay for the full version. However, even the free version offers quite a lot of features, including support for multiple email accounts, reminders, sorting messages by category, and automatically attaching a footer with a signature. A built-in search engine helps to find needed messages very quickly and accurately. The client also has an integrated translator and spelling correction, thanks to which messages can be translated and checked for correctness already while composing them.
Why use an email client?
Programs of this type provide even more efficient and effective email management (grouping, programming the sending, or confirming the reception) for a dozen or so mailboxes at the same time. They also enable integration with other functions, such as the calendar, task list or contacts.
What to look for when choosing?
It is important that the email client helps in grouping messages, is equipped with additional functions, and integrates directly with the system. Speed of operation and a friendly interface are also undoubted advantages.
Check our post about: "How to create a successful e-mail marketing campaign?"
If you like our content, join us on Facebook and Twitter!