Are you a freelancer looking for ways to promote your portfolio? These days not only large corporations can wield the power of the internet to promote their services and entice customers. Any individual, having at least a little budget, is able to boost his career online. However, since the entry threshold is exceptionally low, the competition is huge. On the web there is a plethora of designers, graphic artists, copywriters, or web designers with beautiful, professional portfolios.
How to bring out one that will make you stand out in the crowd and attract potential customers? In today's article, we will suggest where and how freelancers can promote their portfolio and how such portfolio should look like to sell effectively. We will also show you some examples to get inspired.
Tips on boosting freelancer's portfolio – table of contents:
All roads lead to… a website
Let's look at the numbers
You can, of course, post your work on Facebook or Behance (more on that in a moment), but there's nothing more professional than a freelance portfolio website. The one, which according to a Photoshelter report, is run by over 60 percent of photographers. A website is the perfect place to show a client your skills and present your best projects, thus making yourself known as a designer worth starting a collaboration with.
Did you know that of the 1/3 of photographers who earn between $26,000 and $50,000 a year, as many as 97 percent have their own website to showcase their work?
How to create your website portfolio?
To be effective, a freelancer's portfolio needs to be both pretty and useful. It should focus on highlighting the work, while containing the most vital information about the designer and their projects. That's why it's worthwhile to have a minute and try to figure out what your website viewers might be looking for.
Search for website portfolio examples
Take a look at the portfolio of Daniel Horowitz, a New York-based illustrator who works on a daily basis with magazines such as the Wall Street Journal, Time Magazine, the New York Times, Business Week and The Harvard Business Review: www.daniel-horowitz.com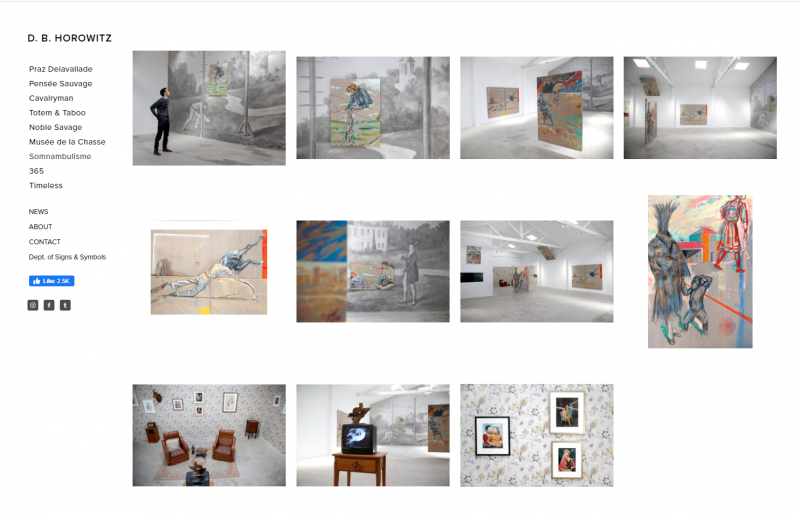 Daniel has created a minimalist and aesthetically pleasing site devoid of any distractions, which includes everything that should be there.
The structure of the site is pure and simple. Horowitz's most important works are in the foreground, while on the left side there are social media buttons and a functional menu containing selected pieces by the designer, news, i.e., recent photos posted on Instagram, a section with a biography, reviews of satisfied clients and press materials, as well as a store and contact.
Daniel clearly did not include all his work in his portfolio – he only showed the ones he considers best. You should do the same. Another clever idea is to include packaged press materials that are easy to download (this is helpful for a client doing research) and a store where you can order finished works, such as posters. Do not forget about social media links, too.
When creating a portfolio, keep in mind that first impressions count, so make sure you have an eye-catching layout and show your finest pieces on the homepage instantly. Here, do double-check whether you are not bound by a non-disclosure agreement!
And if you are looking for examples of other good portfolios, go to ollygibbs.com, ciriljazbec.com or studioairport.nl.
Veni, social media, vici
Despite the similar appearance, a freelancer's portfolio is not just a website, but something more. It's also the designer's activity on social media or an email sent to a client.
Social media activities among freelancers
Of the aforementioned 97 percent of high-earning photographers who have their own website, half of them still devote 4 hours a week to marketing. Hence, let's move on to discuss marketing.
Social media provides many great opportunities to tell your story with your portfolio and attract clients. Not surprisingly, when asked how they plan to get new clients, 60 percent of photographers said: through social media.
More than 60 percent of them use Facebook for this purpose. Facebook fanpage allows them to quickly reach thousands of potential customers, build a group of engaged fans and sell directly.
How to use different social media channels as a freelancer?
Facebook
Minjae Lee, a Korean illustrator, consistently posts photos of her illustrations on her Fanpage – including those she is working on. She also tries to interact with her fans by asking for their opinion.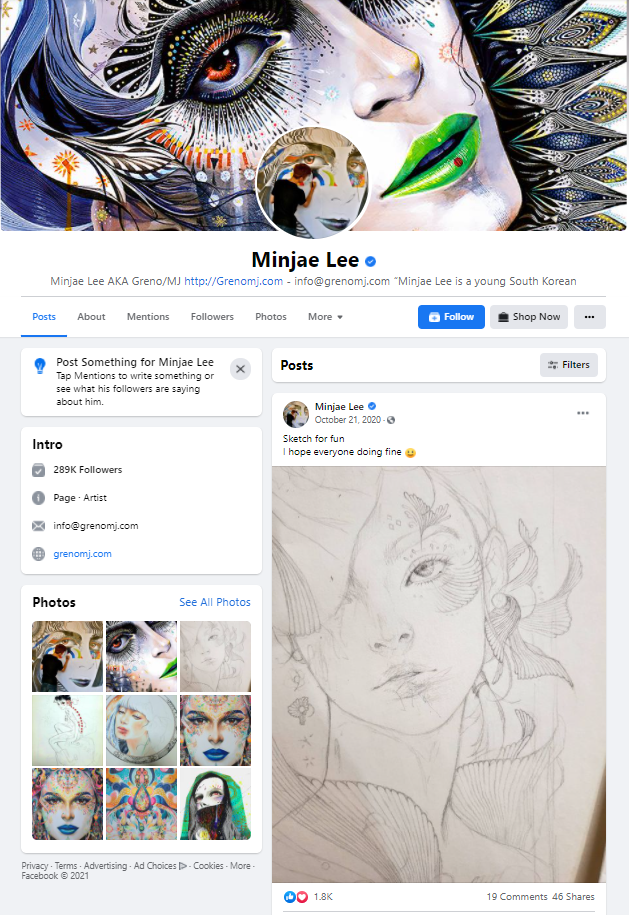 source: facebook.com/grenomj
She often posts videos that show how the illustrations were created and also links to her online store. In addition, Minjae publishes fan-submitted photos and has a regular newsletter to keep in touch with her fans. In this way, she has managed to accumulate over 200,000 fans.
Lina Tesch, a German photographer, also regularly posts her work on Facebook, as well as photos and videos from behind the scenes. She also links her posts to the fan pages of models, artists and brands (e.g., fashion) she has worked with, thus expanding her reach. From time to time, she also posts photos and videos her followers ask for.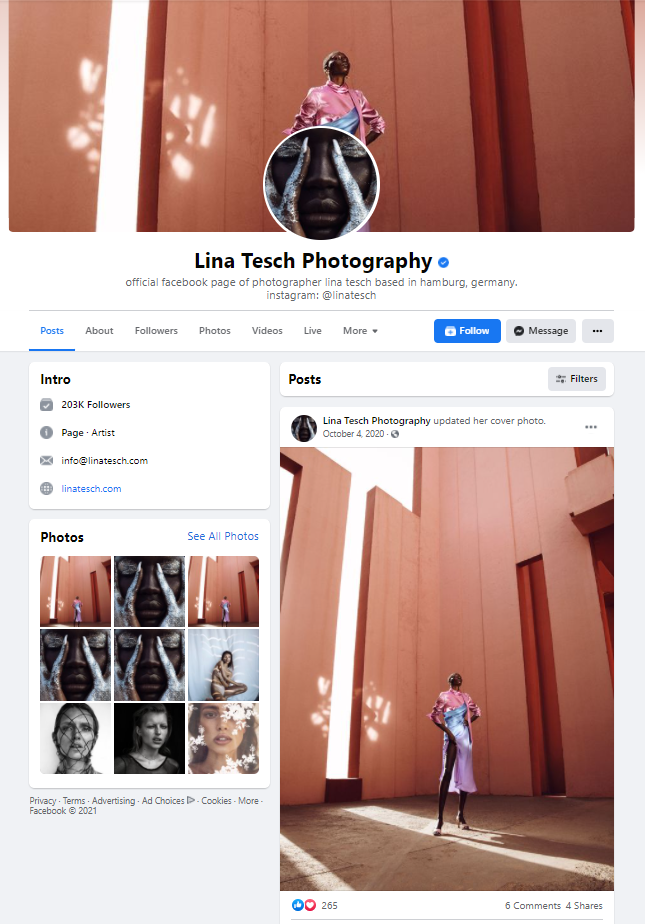 source: facebook.com/LinaTeschPhotography
Obviously, Facebook is not all. There are other channels like Tumblr, Twitter, Dribbble, Behance, Carbonmade, Instagram, Pinterest, LinkedIn, Pixabay, Flickrt or Forrst.
Behance
One of the best places to showcase your graphic work is Behance, a site that brings together designers of all kinds – from illustrators to web designers, photographers and architects. Italian illustrator Denis Medri, among others, is convinced that publishing at Behance has benefited him immensely.
His comic book "Steampunk Lady Spider" became so popular there that the artist was contacted by Marvel itself. Now Medri is creating a new character that will appear in their new graphic novel with Spider-Man.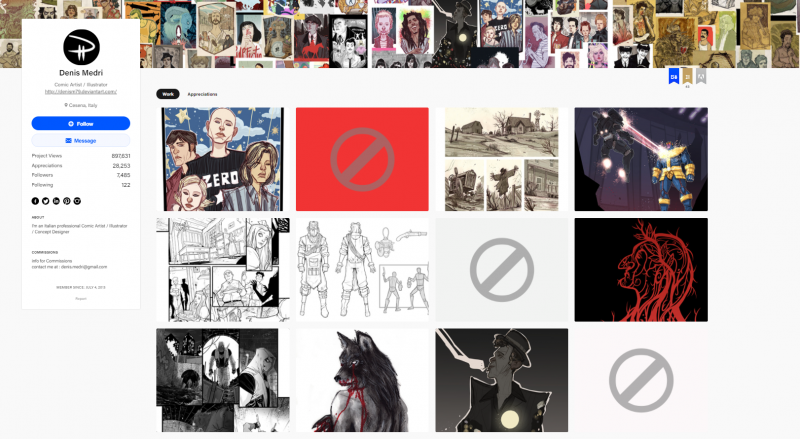 If you have a profile on Behance, attractive graphic design of the projects presented and good quality descriptions are definitely an asset. We also recommend following other designers and actively commenting on their works. A lot of traffic on artists' profiles is generated by comments.
Instagram
Another great place to showcase a freelancer's portfolio is Instagram. Currently, the service has more than 200 million users. Among them, of course, there is no shortage of graphic designers, photographers and designers.
One of the most popular is Brenton Clarke, a graphic designer working for Sony and Huffington Post, to name a few. Brenton regularly updates his profile about the projects he is working on, uploads dazzling photos and videos from behind the scenes and from his travels, and talks about how he is doing.
At all times, Brenton tries to maintain a nice, friendly relationship with his fans. He is currently being followed by over 200,000 people.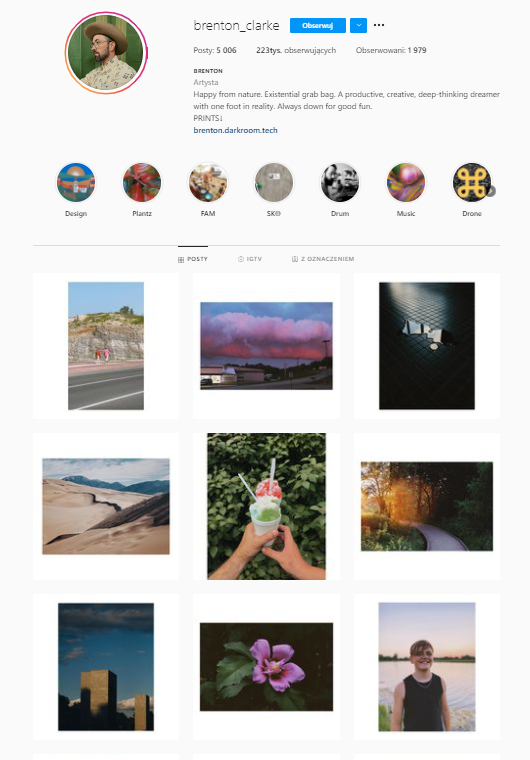 source: Instagram.com/brenton_clarke
A bit fewer, but still 75 thousand, follow Darryll Jones. Darryll has become famous on Instagram for his photographs, in which he playfully shows off his toys and tells us how he's doing. To increase his reach, Jones matches his photos with popular tags.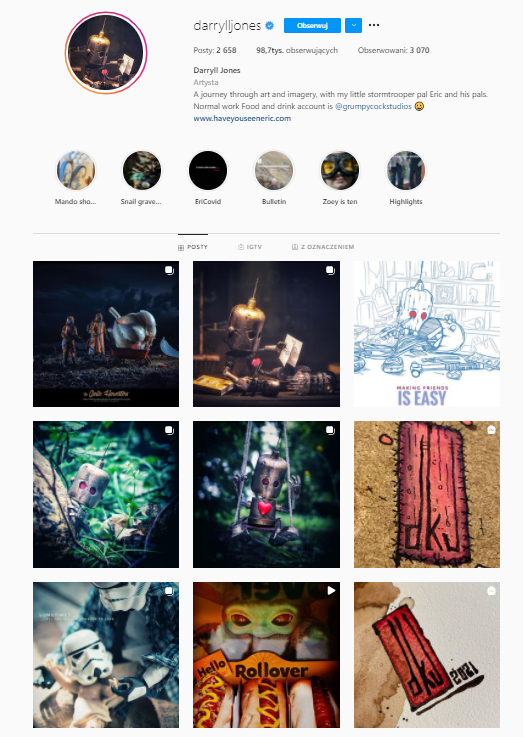 source: Instagram.com/darrylljones
Twitter
A good idea also is to watch for Twitter, which is currently used by 1/4 of photographers. The most popular ones, such as Zack Arias or Eric Kim, share their useful tips as well as inspiring photos and information from behind the scenes. Holly Booth, a photographer from the UK, regularly updates her profile about the projects she is working on and asks her fans for their opinions.
She often shares links to interesting articles and tools that she thinks fans might find interesting. She also participates in discussions and tries to keep in touch with popular bloggers on Twitter. On her profile, you will not find spam and dull unrelated content.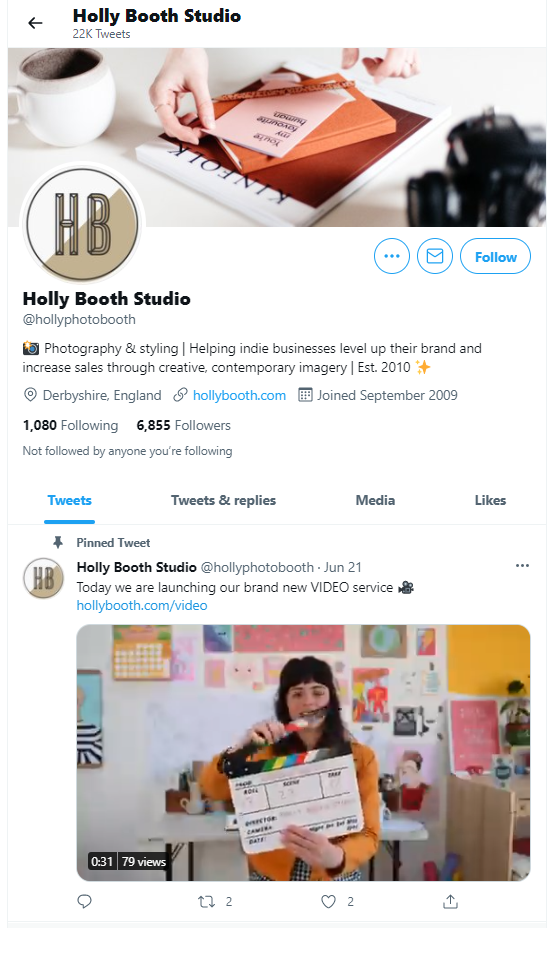 source: twitter.com/hollyphotobooth
As you can see, there are quite a few channels and opportunities to promote a freelancer's portfolio. Check out some more in the following part!
The Big Buzz Theory a freelancer's portfolio
In addition to maintaining social media channels, it is also worthwhile to:
search the Internet for interesting articles and the latest news and comment on them, and send your opinions to journalists – there is a chance that your comment will be included in the publication;
establish cooperation with web portals and write expert articles for them on a given topic;
if it doesn't work out with portals, nothing is lost – there are still blogs;
include a link to your website in the footer of emails and in signatures on forums – each post and email will thus increase the chances of your portfolio being seen by a potential client and a possible invitation to cooperation;
you can also host contests on Facebook or Instagram – people love free stuff!
an even better idea is to create freebies (such as free stock or e-book tutorials) and use the "Pay with a Tweet" option.
If you like our content, join our busy bees community on Facebook, Twitter, LinkedIn, Instagram, YouTube, Pinterest, TikTok.