Dribbble is a community for creative people specializing in graphics and design. But it is possible to join this group only by getting an invitation from another user. Is it worth it? How to get on this platform and what business potential does the presence on the site bring to the designer?
Dribbble portal brings together creative artists specializing in graphics and design. It can be pointed out that it is a micro-version of the creative industry's social network. Why? Getting on the platform is not the easiest thing to do – the rules of the game are different here than in the case of other well-established portals gathering talents. Joining this group is only possible by getting an invitation from another user.
How to get into Dribbble – table of contents:
The elite site for graphic designers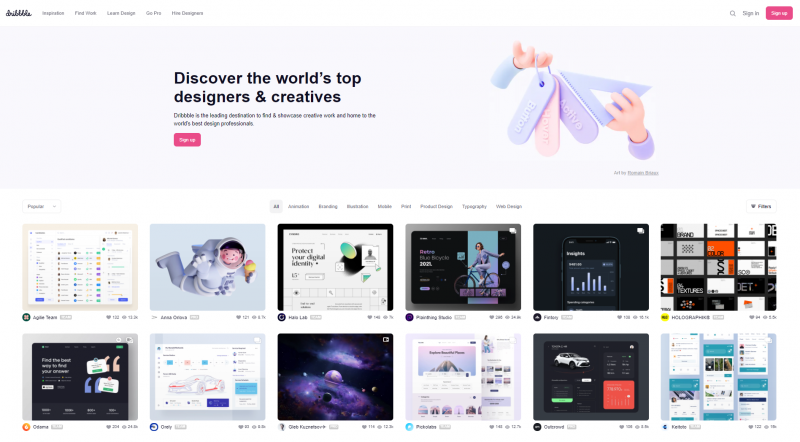 Is it worth trying to get access to the platform? If you're a passionate designer who cares about self-development and spotting trends from the best creators – then definitely yes. Being on Dribbble offers inspiration from established graphic designers from all over the world.
Such a breath of fresh air will sometimes crystallize the most deeply rooted visions and inspire new projects. But that's not all – the platform has much more to offer.
How to get into Dribbble?
If you are wondering how to get on this platform – first get to know the position of the portal itself. The founders pay a lot of attention to building a valuable and selected community.
Invitations are limited and distribution opportunities depend on the attractiveness of the inviting profile. We are talking about quality and evaluation of previous works and activities.
Designers use various channels to expand their Dribbble audience – so it is worth following thematic Facebook groups and blogs.
Harness the business potential of Dribbble
Posting pictures of your projects also allows you to monetize your efforts and gives you a chance to make more business contacts.
Building recognition and brand awareness on this website is not a quick process, but success in this matter depends largely on your own involvement. This manifests itself in posting your best work or interacting with other users. These are some of the elements that go into building your brand and publicity.
Build your portfolio on Dribbble
It's a good idea to document your designed pieces and post them on the portal – not only as a trophy collection but more importantly as samples of opportunities for potential clients.
Personalize
Personalizing such a showcase with your best designs and your contact information will generate an online business card, making it easier to make new business contacts.
Having your own portfolio website in the graphic design industry is not a requirement, thanks to the features offered by thematic websites for graphic designers, such as Dribbble. What's more – well-known agencies treat this portal as a talent search channel.
Analyze
Monitor the interest in your business card. If you are past the stage of building your portfolio – don't forget to keep track of your statistics. This will help you get feedback on the popularity of your work.
The platform offers an extensive module that allows you to verify visits to your profile and views of your work. If you're wondering what will help you generate more traffic – your own portfolio site or Dribbble – it's hard to give a precise answer here.
As far as impressions on the platform are concerned, you have to keep in mind that they are also caused by entries of other designers looking for inspiration, not clients. Nevertheless – both of these channels complement each other and allow to drive valuable traffic.
Dribbble is a key to unlock many possibilities
Dribbble is not just one of many popular sites for graphic designers. It's a pretty hermetic place, but being a member can help you get career challenges without geographical limitations. The possibility of interacting with the best creators, generating your own sub-page with your portfolio, a chance for new business contacts – these are just a few examples among the available options.
This probably explains why aspiring graphic designers are thinking about how to get on Dribbble and are actively applying for membership.
See also: 5 top sites where graphic designers and artists can sell their work.
Want to stay in touch with our content? Join our Facebook community