Video interviewing platforms allow hiring managers to reach diverse job seekers wherever they are. They also help to streamline and accelerate the hiring process. In the following article we put together a list of best video interviewing tools which will effectively support HR specialists and provide a better candidate experience. Read on.
Top interviewing tools – table of contents:
VidCruiter
Our list starts with software that is fully adapted to the way organizations and enterprises operate today. VidCruiter offers two work modes – the first one allows candidates to record answers to previously prepared questions. Such an interview is then saved and delivered to the recruiter. The specialist gets a chance to watch the video, analyze the received answers, and share it with other decision-makers. The other mode resembles a typical job interview with the use of popular instant messengers. The conversation takes place in real-time and questions are displayed on the screen of the device. Advantages? Automation of the recruitment procedure, better candidates, lack of location limitations and increased pool of talents. VidCruiter provides a positive experience for both parties to the process.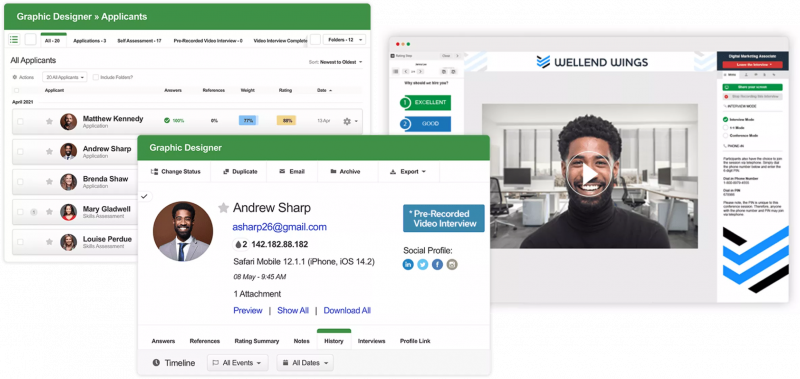 myInterview
"Meet people, not resumes"- this slogan advertises our next software solution. MyInterview is a simple and intuitive tool perfect for small enterprises with low budget. It lets users set a new project with just a few clicks. Thanks to MyInterview, teams can analyze videos for candidates' skills and personalities. This cloud-based program integrates with several other products including Greenhouse and Workable. It also offers a 24/7 support for both customers and candidates.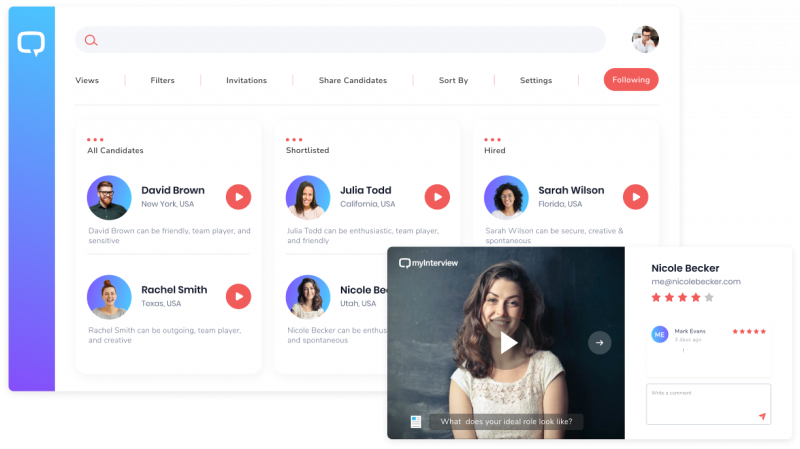 Hireflix
The name of our third program brings to mind one of the most popular entertainment platforms, and it is equally functional. The overall goal of its creators was to minimize formalities and focus on finding the best candidate. In what way? For example, one recruitment form can be used for unlimited number of applications. The tool lets recruiters interview more candidates in less time and go beyond the rigid frames of schedules and real-time meetings. Candidates record their answers at any convenient time, and recruiters analyze the video whenever they want to. Hireflix is a solution for HR expers who value flexibility and efficiency of use. Hireflix shortens the recrutiment procedure, reduces expenses and increases the pool of prospective employees.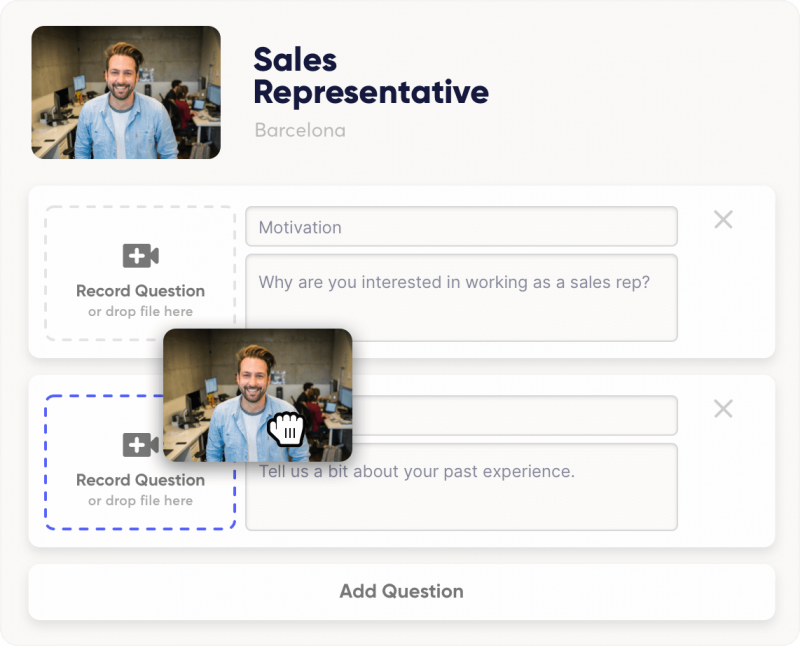 Modern Hire
Modern Hire combines modern technology and scientific knowledge, which translates into its efficiency. According to the creators of Modern Hire, asking right questions is crucial when it comes to finding perfect candidates and starting a profitable partnership. For this purpose, the program provides a special wizard that automates the entire process. The candidate receives a message via mobile device, e-mail or a special assistant and makes an individual appointment. The course of conversation is based on the information provided at an earlier stage. Hireflix enables the ongoing exchange of comments, remarks and observations. It has got a special scoring module that allows to evaluate candidate answers and make the right choice.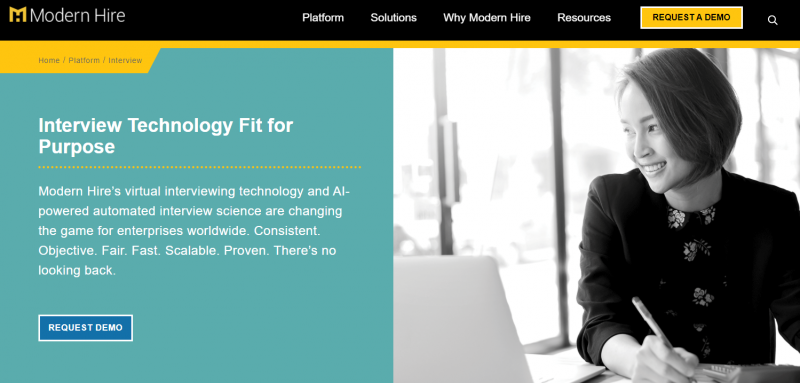 Willo
The last program on our list is extremely versatile. It integrates with 4000 other apps, and thus delivers high functionality and increases productivity. Willo can be used on a variety of mobile devices. It offers a package of visual settings, security of interactions, an intelligent question generator and a practical transfer of useful files. This easy, fast and simple tool will allow you to recruit a large volume of candidates in a short time.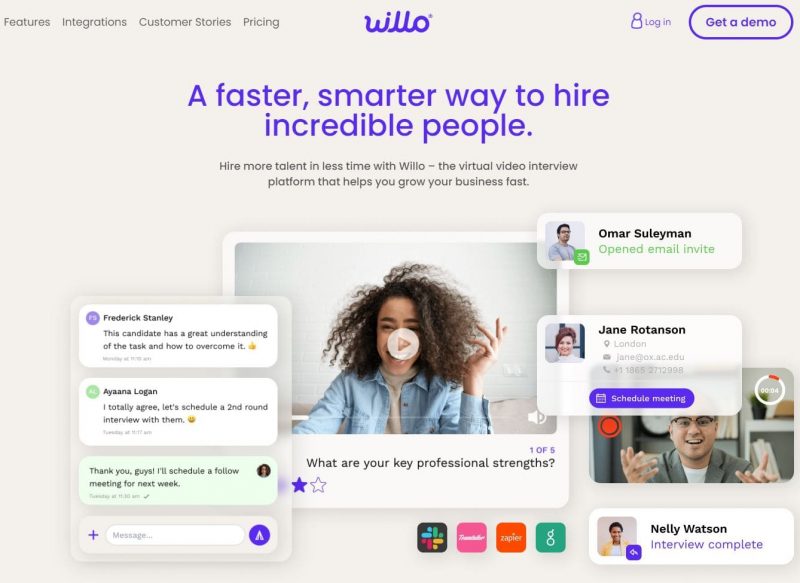 Summary
More and more businesses start noticing the advantages of using innovative communication forms in the recruitment process. This article facilitiates finding the right tool which will help you conduct a successful online job interview and attract top talents.
If you like our content, join our busy bees community on Facebook and Twitter.