Online recruitment is becoming an increasingly popular tool for HR staff since it lets you reduce costs significantly, save time and shorten the entire process. A proper preparation increases the candidate's self-confidence, and as a result, the likelihood of positive feedback by the company's representative. In the following article we will provide 5 tips for an online job interview.
Online job interview – table of contents:
Take care of your space
Proper conditions are very important for the whole procedure. It is advisable to take care of a good Internet connection and the absence of noise, which will prevent misunderstandings and disruptions in communication.
Ideal lighting should be natural and frontal. Pay attention to whether glasses, ornaments, jewelry or a watch do not cause a blinding flash. The webcam should be kept at your eye level so as to give the impression of a direct dialogue, and the use of a special handle will ensure a proper frame.
Another element is your desk where you should leave the attributes related to the upcoming interview. This will let you fully focus on the task and reduce any distractions. A glass of water will ensure fluency and a freedom of expression, and a resume will allow you to quickly view the attached mentions and keep additional notes.
A monotonous, simple background will make it easier for your partner to focus, and the use of headphones will reduce reverberation, unwanted sounds and emphasize the tone of voice. Such a set will guarantee excellent conditions for your interview.
Wear smart clothes
Online recruitment in the comfort of your home does not justify the lack of professional clothing. Your clothes should not differ from the ones you choose for a personal meeting, but there are exceptions! Checked patterns, dots and stripes will not work in the case of a video conference as they may cause some technical disruptions.
What is more, colors and patterns can be adapted to the individual company image. Reviewing the company's business activities, its mission as well as supported actions, will allow you to adjust to the culture and needs of the institution.
Use body language
Body language is a particularly important aspect of any conversation, also in a virtual format. Therefore, keeping eye contact with the webcam will help you communicate more effectively, and a natural smile will give a subtle tone. Keeping your posture upright will make you look communicative, organized and competent. This is a very valuable skill that should be constantly practiced.
Nod and smile to show that you are listening to the interviewer when they are speaking. A remote connection can generate some difficulties and slow down the communication. Speak in a calm and comfortable manner so that your interviewer understands you properly.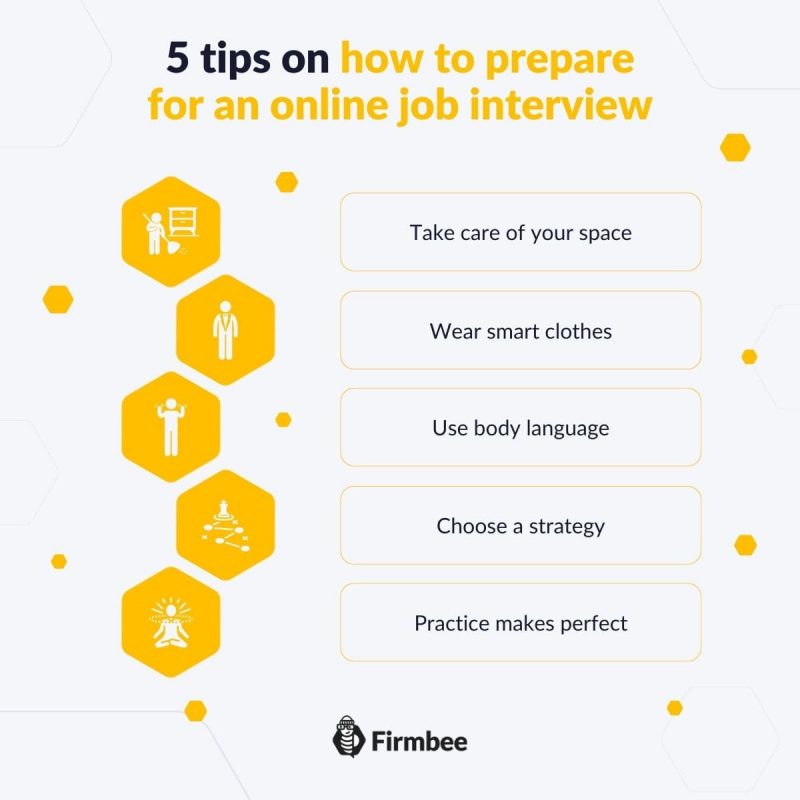 Choose a strategy
Any job interview is an occassion to present your skills. It lets you speak more about your knowledge and prior experience. While you already know your strenghts, you should also carefully examine the job description. Thanks to this strategy, you will be able to prove why you would be a good fit. It may also give you some ideas about questions the employer might ask you in the interview.
Practice makes perfect
The best way to adapt to unexpected changes is testing possible scenarios. If you have a cell phone, tablet or a computer, record your responses and play them back to yourself. Make sure you choose a device that has suitable software and applications. Pay attention to body language and identify any aspects of your behavior that need improvement.
Summary
Statisitcs presented by the Recruiter prove that 63% of HR staff use a video technology to conduct job interviews. The data show that this method is extremely practical, economical and time-saving. It also lets you do the interview from every corner of the world.
If you like our content, join our busy bees community on Facebook and Twitter.