Are you looking for a job? Or maybe you want to change something in your life? The reasons may be different – a higher salary, a change of environment, self-development. Whatever the reason, the way to your goal is the same. You need to prepare for the job interview, and before that, show off a decent resume and keep an eye on your social media profiles. Read about top things to remember when preparing for a job interview. Lear what to do so that your candidacy impresses HR.
Job interview – table of contents:
Gain information about the employer
After sending a CV and applying for a position, it is par for the course to find out as much as possible about the company, which, in theory, is to be one's future workplace.
Therefore, it is worth to:
find reviews of former or current employees on HR websites,
read customer reviews (of course, if the company offers products or services),
learn about the history of the company (e.g. by carefully browsing its website),
read all possible social media profiles of the company,
finally – remember as much as possible from the information gained.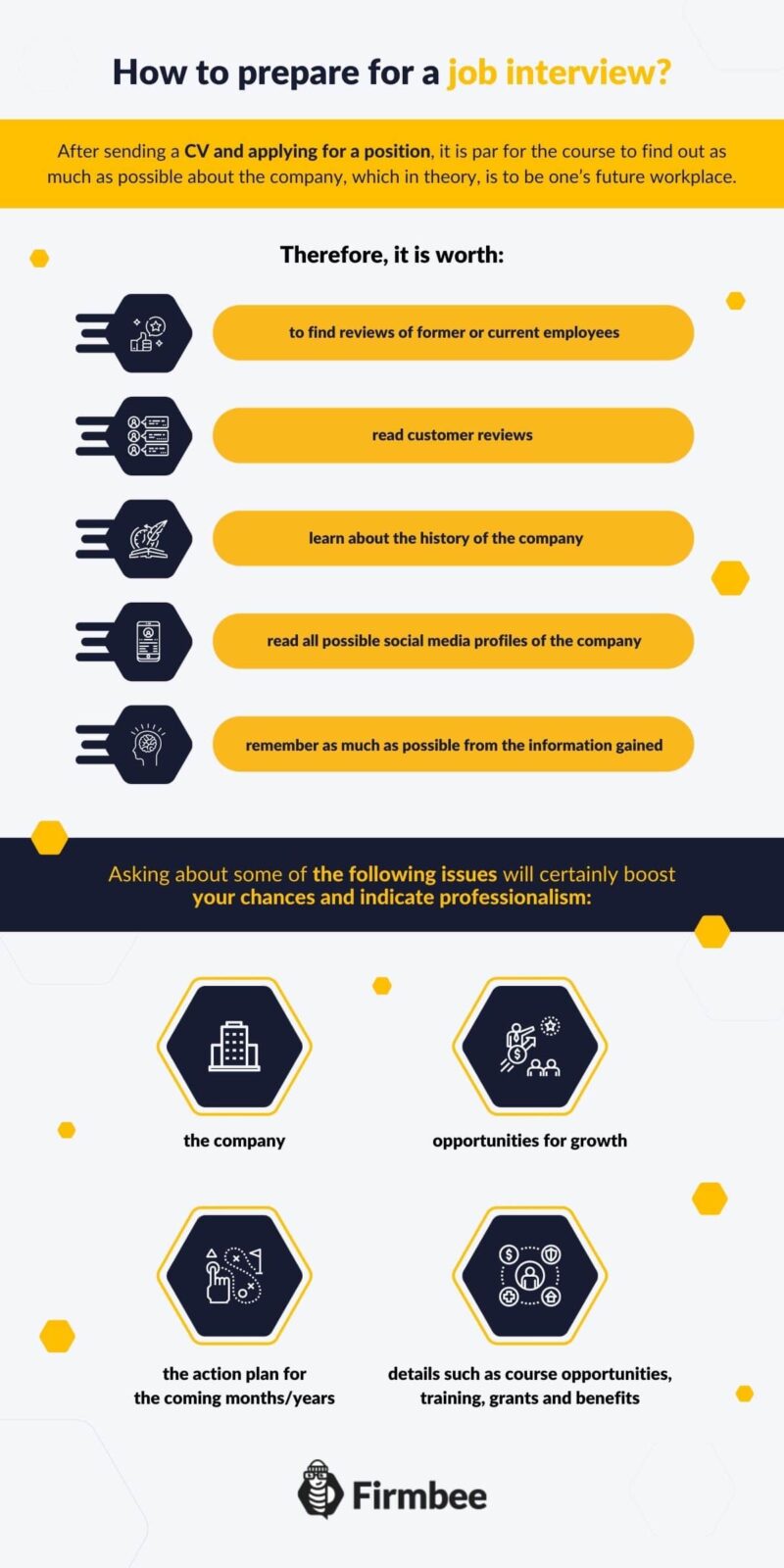 Learn as much as you can about the position you are applying to
Obviously, you are looking for a job in a particular domain. If you have applied for the position of, let's say, "Sales Specialist", you should learn as much as possible about responsibilities included in the job ad. It also seems necessary to get familiar with all the duties and daily life of the said specialist.
After all, the recruiter may ask questions like "Where will you start working? Do you already have an idea?" This is exactly when an in-depth knowledge of the duties and requirements for an employee hired for the position is most useful.
Remember about personal appearance
As the saying goes – "As they see you, so they write you." This is also true in life. The way we present ourselves at a job interview is of great importance. That is why you should, above all, look neat. At the same time, you shouldn't overdo it. It's not very wise to show up in an outfit that differs from common formal clothing. You may arouse controversy this way.
This doesn't concern appearance, but it is perceived in a very similar way:
punctuality – lateness (unless it is justified by an emergency – such as terrible weather conditions that made it difficult not only for the candidate but also for HR recruiters),
body language – don't appear exaggerated, rude or indicate extreme nervousness.
The job interview
It's easy to say "relax", it's more difficult to do it. This doesn't change the fact that a person who is cool and collected with confidence and charisma is more likely to succeed. Not all of us can boast of such qualities. So what to do then? Focus on answering questions, make sure to speak at a good pace, use appropriate vocabulary, and show a keen interest. It's not casting for an actor as your skills and experience truly matter much more than your ability to charm with your eloquence.
Asking about some of the following issues will certainly boost your chances and indicate professionalism:
the company,
the action plan for the coming months/years,
opportunities for growth,
details such as course opportunities, training, grants, and benefits.
How much to ask for?
Finally, there is the question of salary. There are many variables here. It is not worth giving too low an amount to show our weakness and perhaps even desperation. In the same way – raising the bar too high may be perceived by HR as cocky and demanding.
Try suggesting the amount given in the job ad. Although unfortunately – not every employer gives the amount of possible salary.
At the end of the conversation
Say thank you. Show respect. Both parties must have taken their time and the goal is similar – to give the company a suitable candidate who proves to be helpful and happy with the work and pay.