Are social media a good place to search for job candidates? Read the article and learn more about the use of social media in the recruitment process.
The use of social media in the recruitment process – table of contents:
How to recruit candidates on LinkedIn?
Social networking sites are becoming more and more popular tool used by headhunters to aquire candidates. This is happening as the increasing part of our life is transferred online to social media. Social media are no longer used only for watching estetic photos by influencers and photographers, but also for gaining knowledge, drawing inspiration and maintaining private as well as business contacts. They are a great place to advertise, and recently they have been also frequently used for recruitment.
The most popular recruitment channel is definitely LinkedIn. The created space there allows you to expand your business contacts network, communicate on industry-specific groups or publish valuable content. LinkedIn also lets you share information on your profile regarding held positions, skills, courses and certificates, which makes it somewhat of an online resume. A recruiter may in this way easily search for candidates matching the profile to the position they are recruiting for. The search can take place in a search engine on LinkedIn by entering the name of the position, searching on industry-specific groups or using search tools such as https://recruitin.net/.
You can look for a particular candidate using the name of the position, keywords, location and a specific company. LinkedIn also lets you put a caption on your profile picture that says "open to work" or "hiring". This allows recruiters to easily verify job seekers, and candidates to verify recruiters looking for future employees. However, it is worth taking into account users who are not currently looking for a job – perhaps your offer will make them interested! Having a database of potential candidates, the simplest solution is to send them a message – it is important that it is personalized.
There is nothing worse than junkmail and sending the same message without specific information to a hundred people. In such a message you should refer to the candidate's experience, include important information regarding the position, compensation and interesting benefits as well as development opportunites in the company. Specialists (especially in IT industry) receive even dozens of messages from headhunters a week. Show the candidate why your offer stands out from the crowd. LinkedIn also allows you to add a job advert in the form of an advertisement published by your company account. As a recruiter, you can share, forward and promote the advert directly through the portal.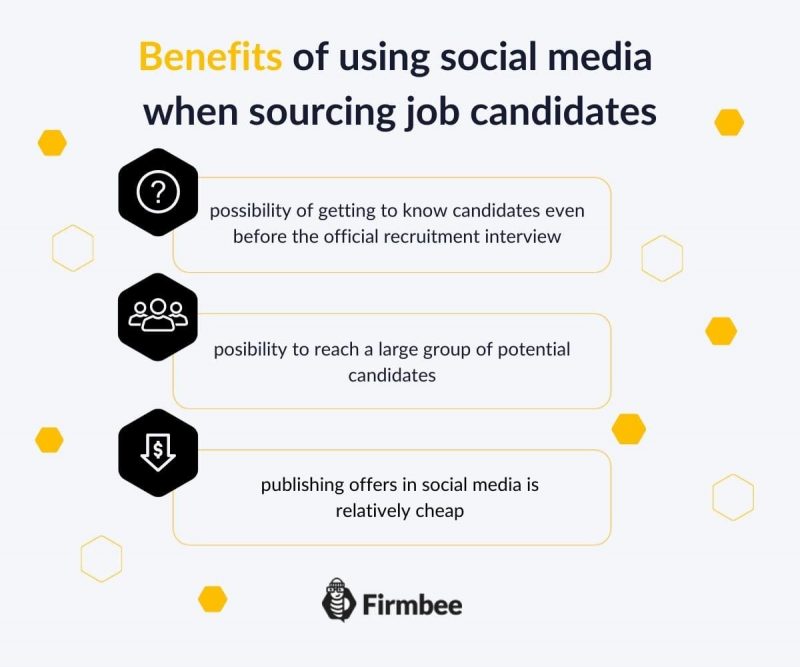 How to acquire candidates on Facebook?
Although LinkedIn is the most professional and dedicated to business relations, it is not the only social network used for reaching potential candidates. A less formal Facebook can also be helpful – there are lots of groups created for people more or less actively looking for a job. There you can find groups with job offers for specific positions, industries and cities.
If you are a recruiter, it is worth adding yourself to such groups and remaining an active member. Apart from publishing job offers on groups, you can also consider publishing an offer on the company's fanpage – thanks to this you will reach people who already know our company and perhaps somehow identify with it, share similar values or are simply interested in our business.
How to find candidates on Instagram?
Instagram known mainly for aesthetic holiday photos and influencer posts is still evolving and from a purely entertaining place on the web is changing into a space of new opportunities. It is already known as a great place for advertising – on the company's Instagram account you can show the process of creating a product or service "from the inside", show the work of your team, build awareness and loyalty to the brand and share teasers of emerging novelties, new functionalities or modifications.
People more and more often follow brands that they like and products they use every day. Publishing job offers in such a place, just like in the case of Facebook, allows you to reach people who know the brand and are interested in its activity. It is not possible to direcly apply for a job through Instagram, but you can easily put a link there that takes you to the career page or application form with one click.
Benefits of using social media when sourcing job candidates
Due to the growing technological progress, recruiters have to adapt to the market situation and move their recruitment and sourcing activities online. Using social media to acquire candidates brings several benefits which vary slightly depending on the channel you choose. The method of acquiring candidates on LinkedIn allows you to get to know them even before the official job interview – by exchanging messages, reviewing the publication, activity of a given person on LinkedIn, as well as checking their experience and completed courses. Social networking sites primarily allow you to reach a large group of potential candidates.
In addition, in the case of publication on the company's account / fanpage, you reach people who know the company and are interested in its activities, although to a small extent. A candidate who knows the brand and shares similar values can turn out to be a great fit for a job. Publishing offers in social media has also another significant advantage – it is relatively cheap. If we do not use paid advertising that increases the reach of the offer on the web, the only thing we spend is our time. This is a big advantage over the so far popular job portals where placing an advertisement can be a considerable cost for the organization.
Check out our video about making a perfect recruiter profile on LinkedIn:
If you like our content, join our busy bees community on Facebook and Twitter.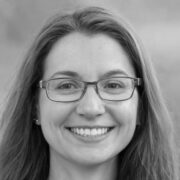 The most important questions
Which social network sites can candidates be sourced on?

In fact, on each site - depending on the industry and the positions for which we recruit. It will always be a good idea to look for potential candidates on LinkedIn. It is also worth considering Facebook or Instagram.

Is it expensive to acquire candidates on social networks?

If we do not use a paid campaign promoting our ads, acquiring candidates is free of charge. Then, the only cost is the recruiter's working time who searches for potential candidates or publishes offers on his profile.