For most authors, publishing their own e-book is the easiest way to enter the publishing market and present their pieces to more readers. That's why it's worth a while to look into the popular e-book formats. Of course, apart from that you are bound to consider issues related to the choice of a publisher or a self-publishing platform. How do all those decisions affect the sales and availability of the content they contain?
The most popular e-book formats – table of contents:
The 3 most popular e-book formats
In general, the three most popular e-book formats on the market are ePUB, Mobi, and PDF, with only the first two being fully compatible with e-readers, and the third being more commonly used on computers and large-screen devices.
Open ePUB, however, is the official e-publication format developed by the International Digital Publishing Forum. It is free to use, easy to scale, allows you to take notes and bookmarks, and works great with all popular readers (PocketBook, Onyx, Kobo) as well as applications for phones and tablets.
If you are going to publish e-books, the formats you should definitely consider are ePUB and Mobi. If you have to pick just one, ePUB is arguably worth it.
Popular e-book formats compared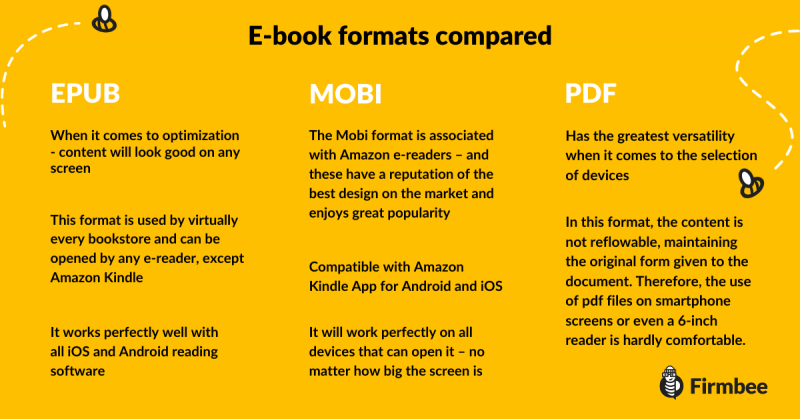 Mobi e-book format
The Mobi format is a popular e-book format associated with Amazon e-readers – and these have the reputation of the best designs on the market and enjoy great popularity.
Apart from them, Mobi also compatible with some of the competing high-end models and the Amazon Kindle app for Android and iOS. This is the default format for Kindle Store publications, well protected against copying. It will work perfectly on all devices that can open it – no matter how big the screen is (both on the screen of the phone and on a huge reader or tablet, the content will be properly optimized).
ePUB e-book format
This is a popular e-book format similar to ePUB when it comes to optimization – content will look good on any screen. This format is used by virtually every bookstore and can be opened by any e-reader, except Amazon Kindle. It works perfectly well with all iOS and Android reading software.
PDF e-book format
In the case of PDF, we can talk about the greatest versatility when it comes to the selection of devices – there are practically no devices on the market that would not be able to display it. However, in this format, the content is not reflowable, maintaining the original form given to the document. Therefore, the use of PDF files on smartphone screens or even a 6-inch reader is hardly comfortable. However, for owners of a large tablet, 10-inch reader, or reading from a laptop, it will be quite a convenient solution. Especially if the content includes maps, drawings, tables, or charts.
Popular e-book formats and online sales – cooperation with bookstores
Right enough, not all popular e-book formats are supported by all e-book distribution platforms. Very often, the limitations stem from their ability to secure the publication or own a license to use a specific format.
So, now it's time to prepare your first e-book for customers!