If you're running an online store or a seasonal business, you've certainly employed the so-called temporary employees. They can be an invaluable help at times when the pace of work accelerates and the number of tasks increases considerably. In today's article, we define temporary employees and explain how to manage them. Read on to find out more.
Temporary employees – table of contents:
What are temporary employees?
Temporary employees or temp employees are individuals who are hired for a specific period, usually under a mandate agreement or contract for specific work. They are typically hired when employers need an extra workforce, for example, during sales peaks or when implementing important projects. Here are a few issues related to this role:
Diverse tasks – temporary employees can be hired for various tasks, depending on the client's needs. These can be physical, administrative, technical, and manager jobs,
Long-term obligations – temp employees usually have no long-term obligations to their employers. Once their project ends, their contract expires unless they are hired again under different conditions,
Cooperation with agencies – in many cases, employers use agencies that specialize in recruiting and providing temporary workers. Such companies collect resumes, conduct hiring processes, and manage contracts, relieving the company's human resources department,
Career development – for some people, short-term employment can be the beginning of a career, but usually, it is simply an opportunity to gain experience across industries and work environments.
How to manage temporary employees?
Although temporary employees are usually hired for a short period, it doesn't mean they can be left entirely alone. Just like full-time employees, they need time to get to know their tasks and integrate with the team. How to manage temporary employees? Let's take a look at some key strategies:
Define your needs

Before hiring a temporary employee, you should specify what tasks they will perform, how long you will need them, and what skills they should have to do their jobs. This will let you determine what kind of people you need, which will certainly help the agency find the right candidates.

Choose the right agency

If you want to use the services of an employment agency, choose a reliable company with good reviews. Also, make sure it has experience in your industry.

Conduct an in-depth interview and give clear instructions

Before hiring a new employee, do a thorough interview to learn as much as possible about their skills, experience, and personality. In this way, you'll make sure that they are the right person for the job. Also, give them clear and understandable instructions regarding their tasks and your expectations.

Provide an onboarding and training program

Provide temporary employees with the right training and the onboarding process. Make sure they get familiar with their tasks, corporate culture, and company's goals. Give them a chance to integrate with the team to boost their motivation. It's also a good idea to assign someone as a mentor for newly recruited candidates to help them with the adjustment process and give them advice when they need it.

Ensure the right working conditions

Make sure that temporary employees have access to all the necessary tools and resources to perform their work at the right level. Remember to communicate with them regularly to check if they keep track of their tasks and have no difficulty completing them on time.

Monitor results

Temporary employees often do not have as much contact with the company as full-time employees. That's why, it's important to give them regular feedback so they know if they're meeting your expectations, and so you know how they're dealing with the assigned tasks. Keep track of their progress and give them regular feedback on their work so that they can adjust their strategies and constantly improve their performance.
Contact database and ATS in Firmbee
Did you know that with the right tools you can efficiently recruit temporary employees? That's right. Firmbee's ATS system automates tasks such as selecting resumes. You can also store information about the people you collaborated with in the contact database after the season is over. This way, if you need assistance, you can find their contact information and offer them a job again.
Try Frimbee for free!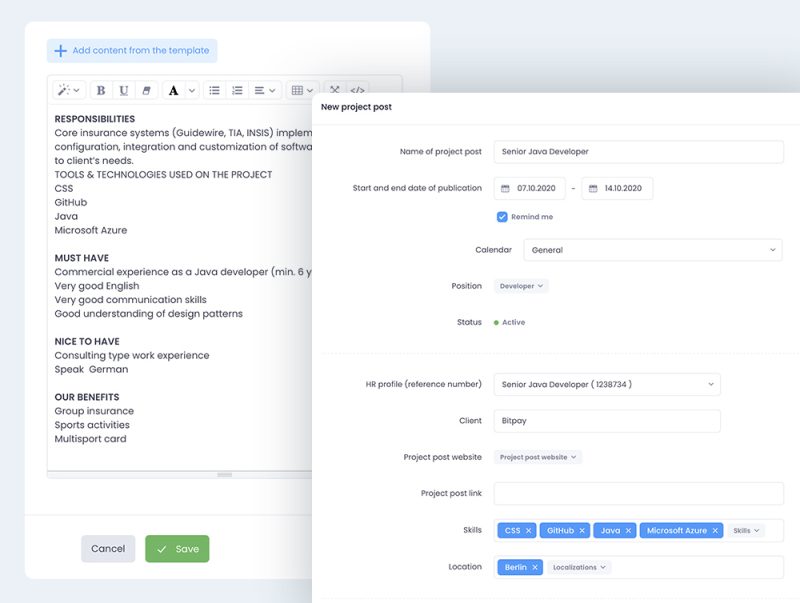 Summary
Temporary employees are often used to meet short-term staffing needs, making them an important part of the flexible labor market. However, their employment situation may be less stable than that of permanent workers. For this reason, it is very important to understand both the benefits and the limitations of this type of employment – and to adopt appropriate strategies for managing such individuals. In this way, you will ensure that each person you employ – whether for a short or long period of time – is fully satisfied with the working conditions you provide.
If you like our content, join our busy bees community on Facebook, Twitter, LinkedIn, Instagram, YouTube, Pinterest, TikTok.