Project planning takes time. Some projects require several, others all team members to participate in the process of preparation. So how do you prepare for such a challenge and manage the project smoothly from start to finish? Read our article to find out.
Project Planning – table of contents:
A sound brief – a good start
Taking the process of formulating a brief as another red-tape balderdash is a blunder. A brief is the lifeblood of any project, it's a well-thought-out blueprint that functions like a map taking the project team and its client all the way straight to the treasure.
Creating a brief also requires the involvement of people who are teaming up to take on the project. Therefore, it is a perfect moment for establishing extensive communication channels for cooperation.
Teamwork
Occasionally, picking a team leader proves to be significantly important. Unless it's the person who by initiating the project becomes its leader, it is best to create a situation in which the leader and other team members establish a comprehensive division of responsibilities. Thanks to this, communication becomes plain and its impact felt faster.
Even if only some precise details concerning communication are left behind, there will be those that don't know what to do. They may try to unintentionally redesign the master plan implementing chaotic changes or causing delays.
Schedule
A brief is one thing. A schedule is equivocally significant. Once again, carefully arrange the order of the work:
after assigning responsibilities, set individual deadlines for each team member,
set (realistic and flexible) dates for the implementation of specific project phases,
establish a sequence for plan B – in case it turns out that a given team member will not "move on" without prior actions performed by another team member.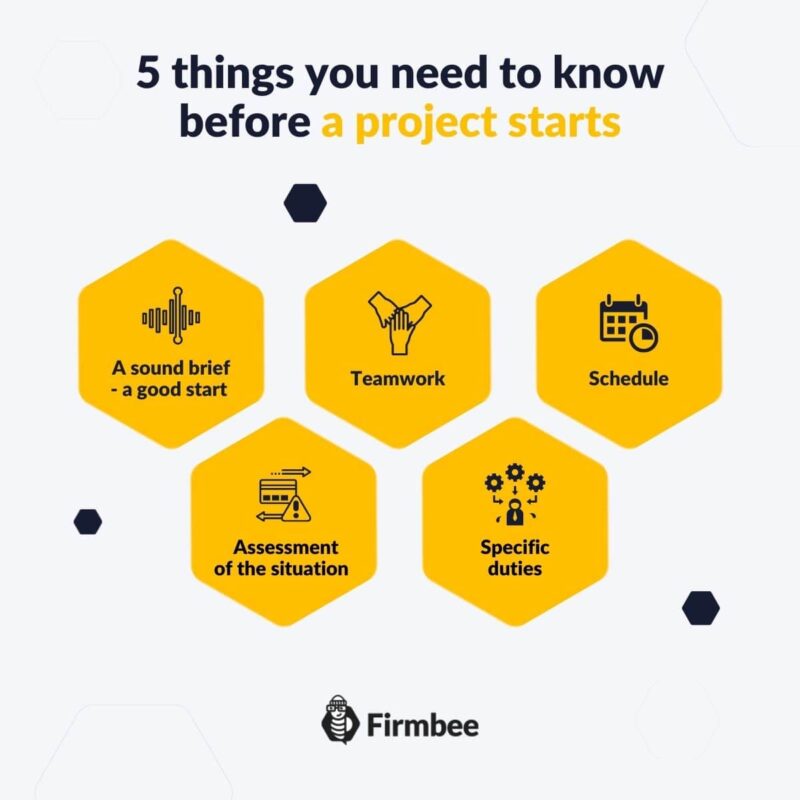 A realistic assessment of the situation
Analysis should also remain a key priority. You cannot embark on a time-consuming project counting on the possibility of finishing it faster than expected. On the contrary, it is better to assume that you will be able to finalize a given scope of activities later than according to the agenda.
Through detailed analysis, you may find that you have to let go of some objectives, modify others, and even add a few to the brief and timeline.
Specific duties
Ideally, you should delegate responsibilities among team members in such a way that each person knows what to do or how to tackle a given task. What is more, a highly undesirable situation can happen when teammates handle not their duties wreaking unintended havoc in the workflow of the project.
Project Planning – Summary
Project implementation is always a serious task. Many variables determine its success. However, the work can be greatly facilitated if you manage to carry out effective and well-thought-out actions even before the project kicks off.
Read: Project expectations and how to meet them.
If you like our content, join our busy bees community on Facebook and Twitter.