The task of carrying out a project bears a heavy responsibility. Whether you work as a Project Manager or a freelancer, you have to meet several defined and high project expectations. On many occasions due to the lack of proper communication, those requirements get misunderstood and misinterpreted. The team loses morale as time is used to make the project less chaotic instead of moving forward. How to make a project meet all expectations? In today's article, we would like to provide you with some guidance, which when put into practice will ensure that your project is carried out flawlessly and with ease.
Project expectations – table of contents:
Project Expectations – why they often lead to disappointment
It probably happened to you that your client was not satisfied with the result of your work. You kept wondering why your visions didn't match and to what degree it made the whole agenda unclear. When you finally figure, it's much too late, sometimes even worse – the whole project terminated, Still, you're racking your brains- what went wrong? The answer, in this case, is almost always communication and proper expression of the expectations of both parties. Fortunately, there is a way to prevent such disasters.
Expectations are nothing more than strong beliefs that something we have in mind has a definite look, shape, fabric, etc., and that things will happen in the way we imagine. These matters are frequently hard to pin down well, which can be troublesome especially from a business vantage point. It also blurs both the goals of the project and the ways of measuring its success.
Moreover, the problem may be the lack of defined priorities and timeframes for a given task or focusing too much attention on the wrong stages. In the end, what we are left with is wasted time, low morale and reduced work efficiency. Such organizational chaos brings about a lack of engagement within the team, but more importantly, a grave loss of trust between the client and the team of people working on a given project, including you.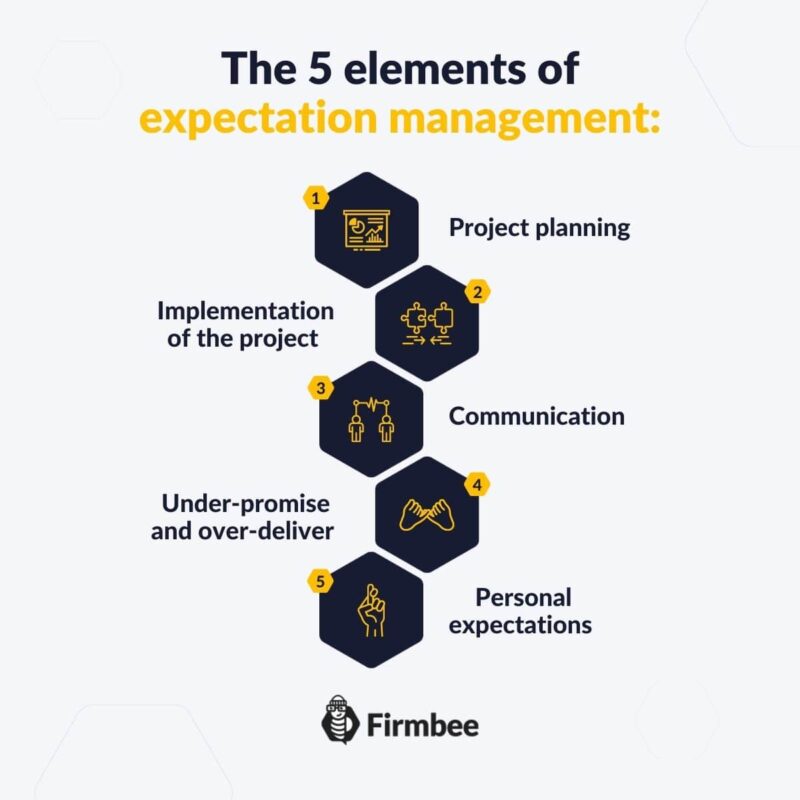 The 5 elements of project expectations management:
As you can see, proper management of expectations can help you avoid many unnecessary troubles and lead throughout the whole process of carrying out the project from start to finish as the client intended. There are 5 basic elements of project expectations management:
Project planning

It is often the case that the parties interested in a project have a certain ready-made vision even before creating the blueprint for a given undertaking. For this reason, it is a good idea to involve the client already in the initial phase, i.e. planning. Together with the client and co-workers determine the scope of activities, priorities and goals, identify relationships between tasks. If something is unclear – do not hesitate to ask. Also do not forget to formulate a risk-assessment plan to have a way out in case of unforeseen circumstances.

Expectations of both parties may not always match – this method will clarify all the assumptions for a given project and engage the whole team more.

Implementation of the project

Project planning is important but not as crucial as its execution. To do that, you need to hold meetings with the client and the team to determine how to execute and monitor the development of your endeavor.

When meeting with your team, make sure everyone understands their role and knows what they are supposed to do. Set out the roles, tasks, time to be spent on them, a communication plan, and a way to account for milestones. It's best if you also include KPIs right away, as well as the next scheduled meetings when you'll do an update.

Communication is substantial at this stage – take care of it, for example by introducing an appropriate platform for communication. Firmbee is one of these types of such tools which, apart from the possibility to communicate with co-workers, has many other functions useful in project management and work. It is one of the few project management platforms thanks to which there is no need to integrate several programs and the so-called technical fatigue ceases to bother us.

Communication

As you can see, the lion's share of an effective workflow, and thus meeting expectations, concerns the ability to communicate clearly. This should be kept in mind throughout all the project stages to avoid unnecessary misunderstandings, and consequently, loss of time and motivation.

Above all, use simple and clear language, one that everyone understands. There should be no ambiguity or doubt. Additionally, it is best to summarize all meetings with quick feedback.

You can also create a communication plan that includes:
the method of communication (emails, messages, communication tools),
frequency of communication,
a particular person responsible for a specific task,
risks assessment and potential communication problems.
It will ensure that those involved know what to expect and that even the worst-case scenarios are an afterthought rather than an unpleasant surprise. Hiding bad news won't help, and may result in a loss of team trust and engagement.
Under-promise and over-deliver
Literally, under-promise denotes belittling one's promises at the outset of an endeavor, and contrariwise, over-deliver means exceeding expectations upon its delivery.
It's not hard to get carried away with the excitement and promise something at the beginning of the planning process that, over time and after the enthusiasm has cooled, may prove difficult or even impossible to fulfill. Since the die is cast and you can't take it back, what then? Probably some stress ahead. The trick is not to let this situation happen in the first place. How?
We should propose a little less than we can deliver. In that way, the client feels satisfied when the project terminates and we managed to exceed his expectations. In case of unforeseen troublesome circumstances ripping off some bits and pieces from the blueprint, the client is still glad as we hopefully managed to keep to our word. Nonetheless, to remain calm throughout the whole process we need to meticulously set the goals and milestones as realistically as possible to calibrate our under-and-over strategy.
Personal expectations
People can't read minds. They will not guess what we mean, assume or foresee if we do not articulate matters clearly and explicitly. That's how we reach the last but by no means the least significant element- expressing our expectations. Transparency and clarity of our intentions, actions and expectations enable our colleagues and potential clients to understand and picture the complete outlook of the project we undertake.
For the future
Expectations are an integral part of our life, including its professional aspect. Proactively managing them can streamline workflow and lead to a more engaged team, satisfied clients, and ultimately, personal success! Keep this in mind when working on your projects and try putting these few principles into practice – you'll see the difference in no time.
Read: What new project management skills you should possess in 2021 and 2022.
If you want to stay in touch, join our Facebook community.