COVID-19 appeared unexpectedly and within a few months it changed our reality in a way that seemed completely unbelievable. People continue to wonder if there's a chance to go back to the old reality, but it's clear today that it may not work, and we'll have to adapt to the new conditions.
So how do you take care of organic traffic to negate the impact of coronavirus on your business?
How do you take care of organic traffic -table of contents:
The impact of COVID-19 on e-commerce
First of all, the belief that e-commerce is bulletproof has to be reconsidered. Yes, sectors that have so far not been on the cutting edge of digital commerce, such as groceries, drugstores and pharmacies, have seen strong increases in sales through this channel, but the rest – especially fashion and luxury brands -haven't.
In general, the e-commerce market will also be strongly affected by the crisis. In recent years, fashion brands have been at the forefront of the most digitalized ones, which is best proven by the rapid career of the German Zalando. Thanks to the consumer-friendly policy of free delivery and extended time for returning ordered goods, we gained confidence in this form of buying clothes, but… circumstances have changed. Sure, not everyone lost their job, but the vast majority lost the mood to spend money on non-essentials. And just as we still need to buy food and medicines, which we have recently been doing most online, we have simply stopped buying new clothes, jewelry or shoes.
Does it mean that e-commerce is not worth investing in? Not at all! The fact that no crisis lasts forever is of course a truism that, but we need to realize that each crisis – to a greater or lesser extent – affects the change of society's behavior. And use it to your advantage, as the customers you reach now may stay with you for longer.
SEO, which is largely based on providing valuable content, is an ideal tool for this purpose. The content we serve to users must provide them with real benefits and useful information. And it's you who knows your clients and their needs best. This, in turn, means that you can do a lot on your own, without the help of external specialists, on whom you probably won't want to spend your resources right now.
You should know, however, that your users' behavior at home is different from what you might have observed before, and it's a change that will continue. In addition to being less driven by the need of the moment, users are also much more meticulous in their searches. They are more likely to use long-tail, or expanded key phrases, and – in general – spend more time on online research. This is where your opportunity lies.
Every site should have a page about COVID-19
As cynical as it may sound, you should refer to the COVID-19 topic for at least two reasons. Firstly, it's simply a high-demand and frequently searched topic. If you can capture even a fraction of that interest, that's the first step to success. But don't try to be an expert. Recently there have been so many home-grown virologists and statisticians that you don't need to be another one, especially since Google has already implemented a number of tools that limit their reach.
Rather, focus on what your company is doing and, if possible, show that you are someone who cares. Many companies have gotten involved in pandemic relief efforts and you don't have to be a large corporation to follow suit. Think about what you can do and just do it. Your finances don't have to be a roadblock if you offer, for example, access to knowledge or simply your time.
Secondly, your actions should inspire confidence in your customers because from there it's only a step to earning their loyalty. If you run a restaurant, tell what precautions you take to ensure the safety of both customers and your team. If you sell products, let them know how the production line has changed to minimize contact between employees; and if you run a stationery store, tell them when it's closed and, if possible, arrange alternative ways to sell or deliver products.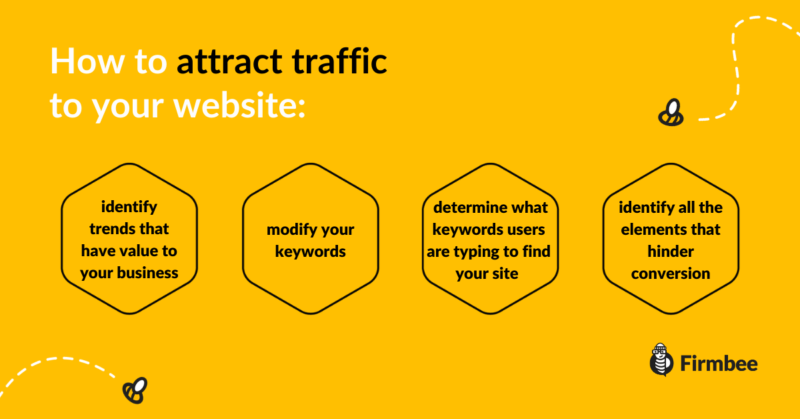 Find new and emerging topics for content creation
Finding timely and desirable topics will be crucial in capturing traffic. But how do you go about it when the situation is unprecedented?
When it comes to content creation, Google Trends should be the first place you go for guidance. Given that there have been truly seismic changes recently, other keyword research tools, such as Google Keyword Planner, may not have the latest data. Google Trends, which collects real-time data, will keep you thinking several steps ahead.
But to attract traffic to your site with business potential, you need to identify those trends that have value to your business. Also, think about modifying your keywords to reflect the situation your customers are in, such as adding the "at home" element to some phrases.
Another site worth looking into is Exploding Topics. This platform aggregates data across search engines and conversations to type out topics that are promising. It then creates a list that you can then personalize and deepen by adding information related only to a selected time period or one industry.
Check what converts
Testing in your online operations is key to identifying what works best, but – under normal circumstances – there's often not enough time to properly dig into it. Now, with the traffic you're generating, you can more proactively work on making your site more effective at converting traffic into customers.
First of all, determine what keywords users are typing to find your site and what sites you are sending that traffic to. Review Google Analytics and Google Search Console to determine which pages have seen the biggest drops and which have the highest rejection rates. Are the messages on these pages meeting user expectations? If not, you may need to update your content and optimize it with more precise keywords.
For instance, if you've taken care of heatmap configurations (e.g. HotJara), it's also the right time to take advantage of the data available there and – perhaps – improve your site's information architecture.
Secondly, identify all the elements that hinder conversion and work on improving them. For example, test the number of fields that need to be filled out in the order form and remove the ones that aren't necessary, Also make sure to provide users with the right choice of payment options and – in general – work on improving their experience.
And finally: hurry up, the world has changed. Creating content based on the trends people are searching for now will help you mitigate the potential negative effects of the new situation on your organic traffic To do that you have to analyse it properly, so here you can read how to do it with Google Analytics.

If you are interested in business related topics, but not only, join our Facebook community!