What to consider when setting up a B2B online store? What elements should you keep in mind? In today's post, you'll find out all you need to launch this kind of enterprise. Without any ado, sit back, have a read and get an online store up and running!
Opening a B2B online store – table of contents:
Introduction
B2B (business-to-business) sales occur between two companies in either manufacturer-distributor or distributor-point-of-sale relationship. There's also another dimension of that relation:
Horizontal – sales take place between companies in different industries, for example, when office supplies are delivered to an IT company,
Vertical – sales remain within one industry, for example, when supplying components to various furniture manufacturing companies.
How to set up a B2B online store?
The whole process of setting up an online B2B store is very similar to a regular online store. The main difference concerns the scale this is an implementation that requires thought, proper organization together with alignment with the company's overall business strategy. Below, we outlined the step-by-step essentials to make it: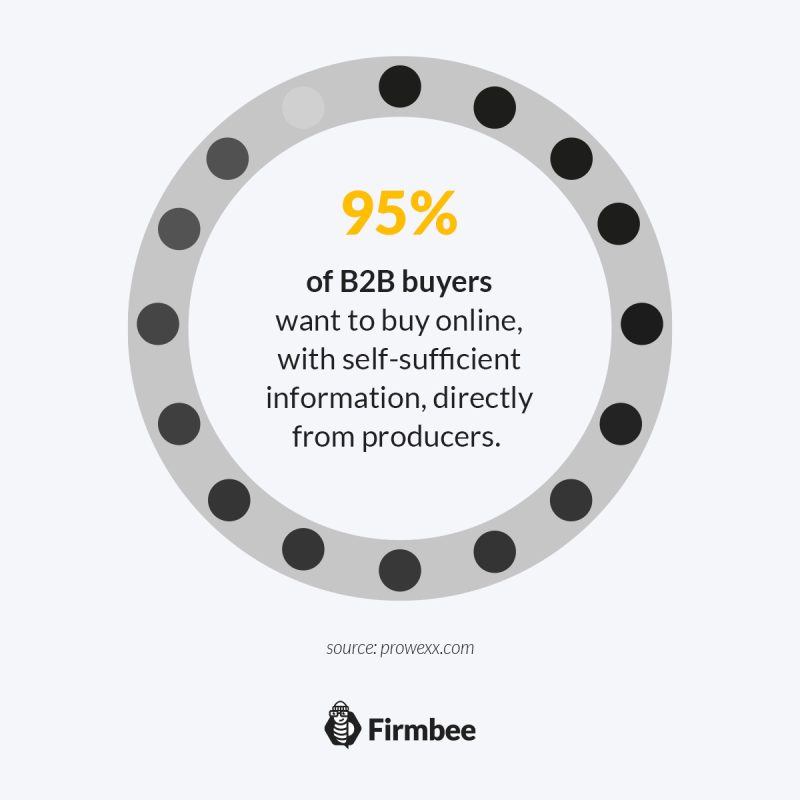 Choosing a platform
Begin with the selection of a platform. It's a key move, as it will be your primary working tool from now on. First, you need to verify that the platform you are considering is dedicated to B2B and that the technology partner has domain knowledge. See examples of his implementations to make sure that such a solution will satisfy you. It's worth thinking beforehand about what features and integrations your platform will need, and whether it can be tailored to the specifics of your business.
The B2B store is based on an e-Commerce platform so-called e-Commerce platform engine. The most popular open-source store engines are WooCommerce, PrestaShop, Magento. All B2B platforms will, of course, differ in the features they offer.
User-friendly store
Follow the principles of the User Experience approach. For B2C stores, the first impression is of great importance, but in the B2B sector, buyers will use our store repeatedly. Therefore, the navigation should be clear and all the most important information must be in one place. Customers should want to stay on our platform's website. It is necessary that navigating the store is intuitive and the layout is eye-catching. With easy access to individual orders, details, invoices or other reports.
Integration with ERP system
Make sure to Integrate your platform with your ERP system. This is comprehensive software that helps you plan and manage different areas of your business. The set of interconnected applications is based on a single, common database. ERP implemented for e-commerce automates a lot of your operations leaving you with more time and money. Each order placed is a series of data – product codes, price, and customer data. With integration, you don't have to copy this information manually. The ERP also automatically updates inventory.
Determining the type of wholesaler
Each vendor must have full control over the information made available. There are three levels of wholesale availability in the B2B module:
open – once on the site, customers see products together with prices,
semi-open – a kind of product catalog but prices are not available,
closed – checking articles and prices requires logging in.
Which one is for you? It depends on your preferences and the type of business.
Determination of discount groups
Adjusting the range of displayed information in advance can come in handy when creating discount groups. These are top limits, after reaching them the buyer can expect only lower prices. It is one of the most popular features of a B2B platform since a seller often has different payment or delivery terms agreed with each contractor. A good B2B platform must have flexible payment methods, such as paying a collective invoice at the end of the month.
XML/CSV offerings
The B2B online store requires that a full listing containing all product data be generated in advance in XML or CSV form. These will be used by external parties, such as cooperating stores when they want to update the information they have. This will open up the possibility of working with multiple contractors.

Opening a B2B online store – summary
The B2B online store serves as a one-stop store for business-to-business contacts. It is not limited to the sales transaction itself, but also includes the preparation and presentation of the offer, the processing of orders, as well as after-sales communication, such as complaints.
The relentless growth of online sales has increased the demand for such stores in virtually every industry. If a given enterprise decides to take this step, it will certainly bring tangible benefits. However, when setting up, one should take into account the need to choose the right platform, integrate with the company's existing ERP system, as well as the issue of preparing an attractive offer for the customer.
Now you know what to do when opening a B2B online store. Read also: B2B e-commerce – what is it and its pros and cons
If you like our content, join our busy bees community on Facebook, Twitter, LinkedIn, Instagram, YouTube, Pinterest.