Are you wondering what is B2B e-commerce? The broad definition refers to it as an activity concerning online sales. How is it applied to support enterprises? Find out in the article below.
B2B e-commerce – table of contents:
What is B2B e-commerce?
What is B2B e-commerce? It is a sales platform designed for trade between two companies (business-to-business). It differs from B2C (business-to-customer) tools because it is not aimed at an individual but a business customer.
Nonetheless, both business models have a lot in common. Their main denominator concerns the transfer of purchasing habits from B2C to B2B. Young employees who like to buy online, who feel at home in the digital environment and even have specific expectations of it, are entering the business world more and more boldly. They want a complete set of information in one place, and also value online communication. New users expect comfort and positive shopping experiences from B2B e-commerce platforms. Exactly the same as from B2C platforms.
However, B2B e-commerce cannot be just a paper catalog transferred to virtual reality. It must be a multi-channel platform that will also provide buyers with relevant proposals and provide support at every stage of implementation.
Why specifically B2B e-commerce?
This type of sales platform is still gaining popularity. Its use is constantly increasing. It is most often applied to wholesale – it acts as an online store for enterprises.
This is a great solution because it lets you fully automate your sales processes. In practice, this means that the buyer's and seller's sales systems are integrated, so as soon as individual items in the trader's warehouse are low, they will be automatically sent for replenishment. Sales data will always be updated thanks to the connection with warehouse systems, ERP or CRM.
It also gives a lot of possibilities in terms of personalizing the selling company offer, which will be appreciated by both regular and new customers. It is mainly about individual price lists that will facilitate the implementation of the company's commercial policy. This type of sales platform also allows for a transparent presentation of products, as well as an intuitive purchasing process.
What are the other advantages of B2B e-commerce? This communication channel eliminates the need to hire sales representatives, which significantly reduces the costs of running a business. In turn, other employees of the sales team will have easy access to information necessary to achieve sales goals, which should maximize the results of their work. In addition, such a "store" operates twenty-four hours a day, seven days a week, therefore the entrepreneur is not limited by any time frame when placing orders.
A well-implemented B2B e-commerce will also make you reach a larger group of customers. Naturally, this will lead to more income. It is therefore worth investing in such a sales platform, especially in the post-pandemic era, when most of the processes have moved to the digital world.
What are the benefits of B2B e-commerce?
The constantly developing market, fierce competition, and demanding customers mean that companies must constantly look for new tools to improve their operation. That is why more and more companies decide to introduce the B2B e-commerce sales platform. The advantages of its implementation will certainly be noticed quickly.
Shopping in an online store is simply very convenient – you can save a lot of time and browse a wide range of products at the same time. This also applies to strictly business contacts. The introduction of B2B e-commerce will significantly improve the flow of information between the recipient and contractors. It will automate the sale and purchase procedure. An important benefit is the ability to integrate the B2B platform with ERP systems or warehouse and accounting systems. Data exchange between these applications will certainly improve the processes taking place in the enterprise.
It will also increase the efficiency of the sales department. The B2B e-commerce platform also allows you to reduce the company's costs, because it reduces the share of employees responsible for the service – they no longer have to conduct e-mail correspondence, receive notifications or complaints.
Customers have access to the history of orders, invoices, or other documents, but also to the current inventory levels, so it will not happen that they will order goods that are currently unavailable. Thanks to constant access to data, they can quickly check the current status of orders, complaints, or other notifications. The system works 24 hours a day, which is a big advantage for customers and comfort for owners. There is no need to wait for the hours when you can contact customer service. The buyer can place an order at any time convenient for him, even at night.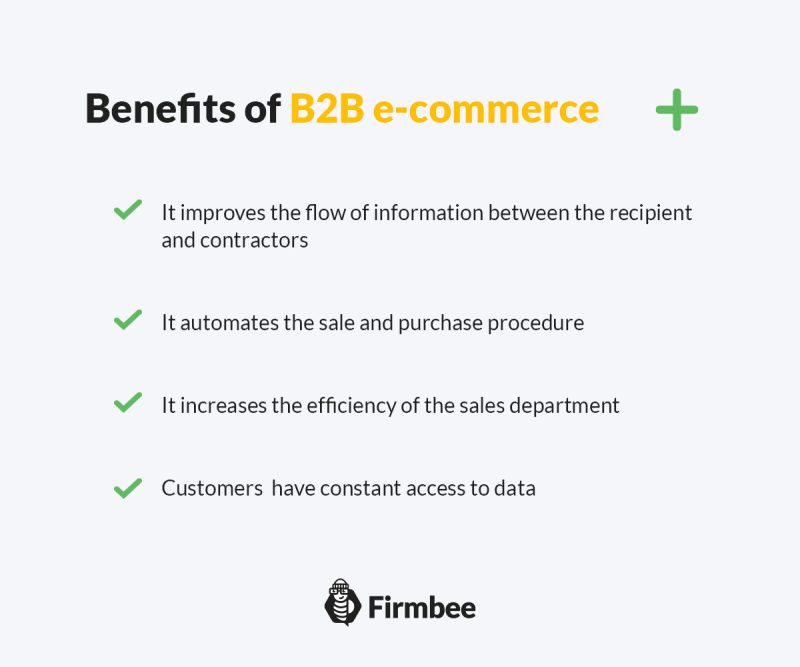 What are the typical features of B2B e-commerce?
What characterizes B2B e-commerce? Features that distinguish this form of online sales include:
a large basket to order many products at once, as well as the possibility of repeating the same order,
multitude of decision-makers – the execution of an order is often decided by several people from one company,
the possibility of adjusting the offer – sometimes each company has different selling prices,
automation of sales processes by integrating the buyer's and seller's systems,
facilitating the work of the sales department of the selling company.
The pandemic resulted in a significant increase in online sales, which was also noticed in the B2B sector. In 2022, most brands noticed positive changes in the market and declared that the benefits of entering B2B e-commerce were primarily: increased sales (57%), the number of customers (48%) as well as the range of products on offer (32%).
Read also: The most important trends in e-commerce in 2022
If you like our content, join our busy bees community on Facebook, Twitter, LinkedIn, Instagram, YouTube, Pinterest.