Although it may seem that online recruitment is flawless, there are still numerous areas that make it not always the best solution. What are the good and bad sides of online job applications from an employer's perspective? With Generation Z and the next generation entering the job market, will we ever again be sending resumes traditionally?
Pros and cons of online job applications – table of contents:
Advantages of online job applications
Instant recruitment solutions
It only takes a few clicks for a job offer to land on a particular website. It takes a little more time for a candidates' resume to land in a mailbox (there is no geographical limitation). A quick phone call, an online interview, a decision to accept or reject the candidate, and the possibility to edit the job ad in real time – these are just a few reasons why online job applications are so beneficial and time-saving. Sourcing candidates via the Internet speeds up the whole process, especially in the case of positions with lower requirements.
Nowadays, more and more digital tools and platforms are created to search for employees who might add value to the company. From the employer's point of view, this undoubtedly facilitates the organization of recruitment processes. It also allows employers to save time and money.
Online job application forms
Have you ever received an incomplete application from a candidate? Without the cover letter, although it was indicated in the job advertisement,? Without the consent to process personal data, although it always has to be included? Without additional elements that you required?
Advanced technological solutions used in online job application processes allow candidates to avoid such mistakes – they are designed in such a way that the form can't be sent without completing all fields. It should be pointed out that this is a significant advantage for both parties to the recruitment process. The candidate doesn't eliminate himself, and the employer doesn't waste time reading the application.
Facilitating the recruitment process
Easier sorting, digital searching, comparing – data available online can be analyzed much more efficiently than those received on paper. They are usually stored in one place, and due to the uniform format, you can quickly decide which candidates are worth moving forward with.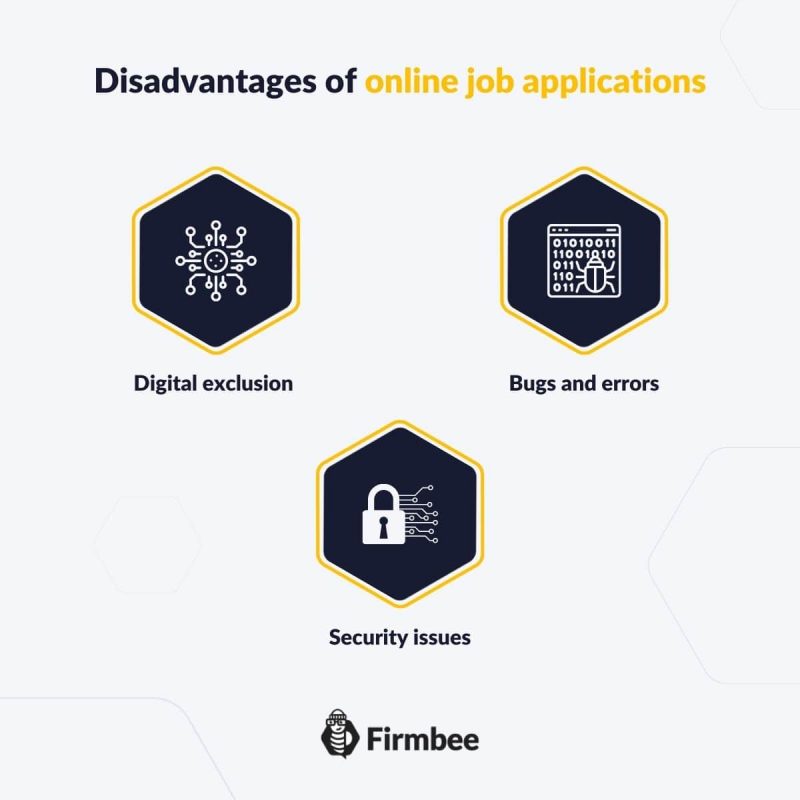 Disadvantages of online job applications
Digital exclusion
As more and more people gain access to the Internet along with technological equipment (laptops and various types of mobile devices), it becomes more common to move processes online. However, due to digital exclusion, such a mechanism can be a barrier for many people which they might be unable to cope with.
UNESCO data from 2 years ago show that about 55% of households around the world are still affected by the absence of Internet access. In the area of recruitment, such a problem is visible especially in the case of employees applying for the lowest positions. How can a candidate apply for a job when there is no possibility to send a resume by email?
Bugs and errors
In most situations, recruitment forms are helpful to candidates and allow them to avoid mistakes when sending their documents. However, what if the technology fails? When using the Internet, various situations may happen. A poorly designed application form can contain bugs that may prevent a candidate from entering data correctly and submitting it even though they have completed all fields. It can even happen that the recruitment system receives too many applications, which results in overload.
Such a failure requires a quick response from the provider of the recruitment platform, but it is not always possible to solve a technical problem immediately. Moreover, the company is not always properly equipped with tools to react in such a situation. Due to such issues, it is important to invest in the right infrastructure, as well as take care of proper technical maintenance, which also generates costs.
Security issues
We shouldn't forget about the issue of security and confidentiality of data acquired through an online form. In the absence of adequate security systems, the candidate's sensitive information may leak and could be used to steal their identity or commit financial fraud.
Obviously, such a situation can't be ruled out in the case of paper applications, but the level of risk is much higher when it comes to online forms due to the large number of people who can gain access to the candidate's data sent over the network.
Disadvantage (or advanatage) of online job applications
Special recruitment software is usually equipped with automatic keyword filters that ensure weeding out candidates unsuitable for the position. In most cases, such a feature will turn out to be effective, but it can happen that someone with strong skills may be overlooked in this way.
Online job applications – summary
The arrival of new information technologies, and in particular the development of the Internet couldn't miss the HR industry, especially in the process of hiring employees. Although online job application forms have a lot of weaknesses, you should definitely take them into account before making changes in your HR policy. It should be noted that online recruitment will become the norm, which results from the Gen Z's workplace expectations, so it must be continuously improved.
If you like our content, join our busy bees community on Facebook, Twitter, LinkedIn, Instagram, YouTube.