Local positioning is a great way to promote the local business by focusing on activity in a much-limited space, e.g. within administrative borders of a city. The optimization process allows you to achieve relatively high publicity with truncated financial expenses for online advertising. Take a look at our article to find out how to get started.
Local positioning – table of contents:
Promotion of a local company through local SEO is recommended primarily for entrepreneurs running small businesses: florists, home appliance repairmen, restaurateurs, hairdressers or vulcanizers – companies that provide services and goods for the residents of a given administrative area. How to start local positioning and what does it include?
What is local SEO?
Local positioning is a comprehensive process of building a high position for a website in search results such as Google. The second part of the phrase indicates the local aspect: it refers to positioning a website based on a word or phrase related to services/products offered e.g. in a particular town or city district.
If a company offering repair services of electronic equipment in Prague would like to position itself in Google, a good local search term might be "repair service of household appliances in Prague". Positioning on the basis of location has a number of significant advantages, especially recommended for companies oriented towards local customers.
What are the advantages of promoting your business with local SEO?
The benefits of local SEO
Let's face it: not every innovative product is capable of achieving international, or even nationwide, success. Most companies will focus on excelling in their industry within their local scope.
The target audience of most small businesses are people living in the area unit the company operates. Positioning your website online for general queries in such cases does not make any sense at all. This leads to an increase in the rejection rate, which can prolong the process of building a ranking position.
To achieve measurable benefits, micro-businesses should focus on local positioning: this increases the chance of appearing in the minds of potential customers, even if the company is a relatively new market player.
Case study: local SEO for a pet store
Any process of searching for a result in Google is inseparable from three specialized issues. The first of these is the local query, or phrase with a location, which is typed by an Internet user.
Let's assume that a potential client from Berlin wants to buy specialized food for his cat. To do this, he types in the following local search query: pet store Berlin. After clicking the "enter" button, search results appear grouped in two categories. The first are sponsored results, usually presented in the form of three paid links. Below are the local search results, which are additionally organic. The better the quality of local positioning, the higher the local search results will get in the organic ranking. As you can see, the Internet users are only interested in buying food as close to their place of residence as possible: perhaps he cares about time, or they want to support a local business. What follows:
a large proportion of Internet users look for opinions about a company based on information obtained from the Google search engine;
a potential customer is more likely to use the services of a well-positioned company if the competition does not convince him with anything else, e.g. much lower price;
people looking for products/services "for now" willingly use the services of companies highly placed in the search results (e.g. in the case of a car breakdown, we type the phrase: "tow truck + city where we are located" because we need the service immediately).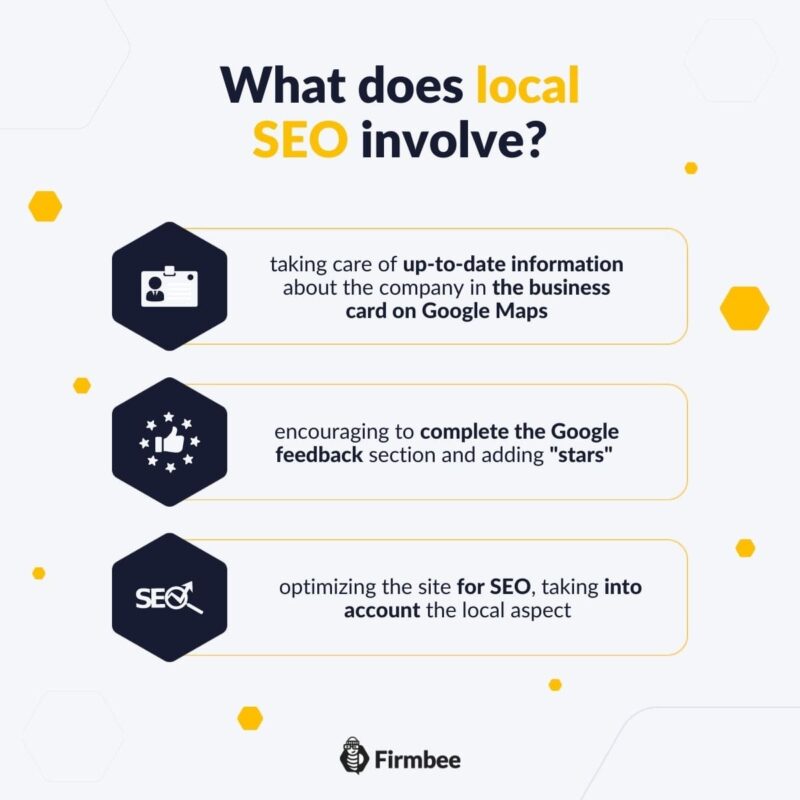 What does local SEO involve?
Every process is a set of many elements, so also local positioning will have such characteristics. In the context of promoting a business locally, you can work in multiple ways.
The basic aspects of local positioning are:
taking care of up-to-date information about the company in the business card on Google Maps (we place a location pin, complete the photos, add opening hours, describe the business);
encouraging to complete the Google feedback section and adding "stars" (let's convince clients to more willingly rate our company via online reviews);
optimizing the site for SEO, taking into account the local aspect (taking care of valuable content on the author's site, correct placement of menu sections, paying attention to the speed of loading the page, and many other activities associated with proper local SEO).
How to promote a local business? We can do it with the help of local positioning. It is also worth focusing on external activities, indirectly working on building up the position in search engines. The main goal of this process is to achieve the highest possible local recognition: so that potential customers prefer our company among local competitors.
You may also like: How to promote a small business
If you like our content, join our busy bees community on Facebook and Twitter.