How to promote a small business? That is one of the most frequent questions little entrepreneurs ask both themselves and Website browser. Promoting a company on the Internet, especially a small one, is becoming an increasingly difficult task. However, with a few free or low-cost actions, you can improve its visibility on the web. How to promote a small business? Check out our tips.
How to promote a small business on the Internet?
1. Company blog, long tail, and promotion of the company on the Internet
One way to promote your small business on the Internet is to start a corporate blog (as long as your business has a website on the web). As various researchers show, companies that blog have about 55% more visitors. And increasing your blogging frequency from 3-5 times a month to 6-8 times a month will double your potential customers. Google likes unique content. And it's good if they are created in accordance with SEO principles.
For small businesses with their creation will be important for the positioning of the long tail phrases (the long tail), or multi-word phrases, and thus less popular. Positioning for very general phrases (one-, two-word) may turn out to be a breakneck task because breaking into the TOP10 in the search results will be almost a miracle. Therefore, when trying to promote a small company on the Internet, it is better to bet on the long-tail phrase "replacing windows after insulating the building" or "women's running shoes" than just general keywords: "Window replacement" or "sports shoes".
Free keyword search tools include Google Keyword Planner, Google Search Console, Ubersuggest, Keyword Tool, or Answerthepublic. If you don't have time to create your own content, you can outsource it to someone else. For this purpose, you can use special websites where you can order specific texts.
For more useful tips see our article: SEO copywriting – 7 things to remember when creating SEO friendly content.
2. How to promote small business on social media
The next way to advertise your company on the Internet is through social media, which probably does not surprise anyone today. For the company, having a corporate fan page is not so much a choice as it is almost a "sacred duty". Although, before setting up a business profile, it is worth checking whether Facebook is used at all by our target group, i.e. the group to which we target our product. If we address our offer to people aged 65+, we probably won't find them on social media. However, if there are millennials among our clients, it is worth taking advantage of this fact. The implementation of a deliberate communication strategy will allow you to attract a wider group of potential customers. When running a fan page, it is worth taking care of, among others for visual consistency, the regularity of posts, or creating special promotional campaigns for fans.
Promotion of the company in social media will be more effective when, in addition to the company's Facebook account, we set up an Instagram or LinkedIn profile – depending on the type of business. This will have a positive effect on building our brand on the Internet. If we care about the image of a professional and expert in a given field (e.g. in the IT industry), then we should choose LinkedIn. However, communication in this medium should differ from that carried out on Facebook or Instagram. Here it is worth focusing on valuable and professional content, e.g. providing a link to an interesting webinar or an industry article.
As a Chinese proverb says: "One image is worth more than a thousand words," so consider a business account on Instagram. It can be a great way to advertise your business on the web. It will work primarily in those businesses where it is easy to find photos (florist, e-shop) that can help promote our products and their values. Also, Instagram – thanks to a less formal nature – allows you to show the company from a completely different side, "from the backstage".
3. Google My Business – free promotion in the network
How to promote local businesses using Google Maps? It's not difficult, and it turns out a way to free promoting the company on the Internet. All you need to do is create a profile in Google My Business and it will be visible in the search engine and Google Maps. This, in turn, is a simple way to attract new customers. Creating such a profile is especially important in the case of companies that have their own stationary points.
4. E-mail footer and company advertising on the Internet
It seems to be a complete detail, but the footer in the e-mail can also influence the promotion of the company on the Internet, especially if I send a lot of these e-mails in my business. Therefore, it is worth making efforts to ensure that the footer is attractive both visually and in terms of marketing, and must contain the correct link. If our offer changes and we have a special promotion or contest for customers, it is also worth updating the footer regularly.
5. Google Ads and Facebook Ads – paid online advertising
Google Ads and Facebook Ads are the two main ways to get paid advertising for your business on the Internet. Each of them has its pros and cons. Google uses a larger number of people. Its advantage is also the fact that it is more "intuitive" in displaying advertisements, reaching the audience in the right place and time. However, the promotion costs in Google Ads are also generally higher than in Facebook Ads.
Therefore, in the beginning, it is worth allocating a small budget and creating a campaign for testing purposes in both Google Ads and Facebook Ads. This way you will find out what will work better in your business. You will also get to know your customers better, their needs, as well as the accuracy of the selected key phrases and the competition. Perhaps it will turn out that devoting large sums to advertising is pointless, especially if our main rival is a brand with a large budget.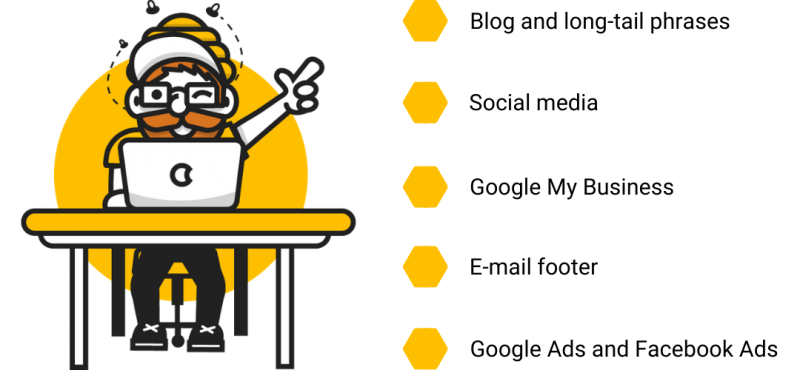 How to promote a small business on the Internet?
Much has been written about promoting the company on the Internet. And even if the above 5 tips will not make your business appear in the TOP10 in Google search results overnight, it will definitely help build a brand and have a positive impact on online visibility. Most of these tips can be implemented on your own, with little or no budget and, of course, "a little" work and will.