What should an effective landing page promotion look like so that as many potential customers as possible end up on your website? If you are just creating a page with an offer, read our guide.
Landing page promotion – table of contents:
Landing page is an extremely significant tool in the fight for the customer. We make every effort to ensure that its content encourages the visitor to take a specific action. But how to make more internet users visit a page prepared in such a way? What are the effective methods of landing page promotion?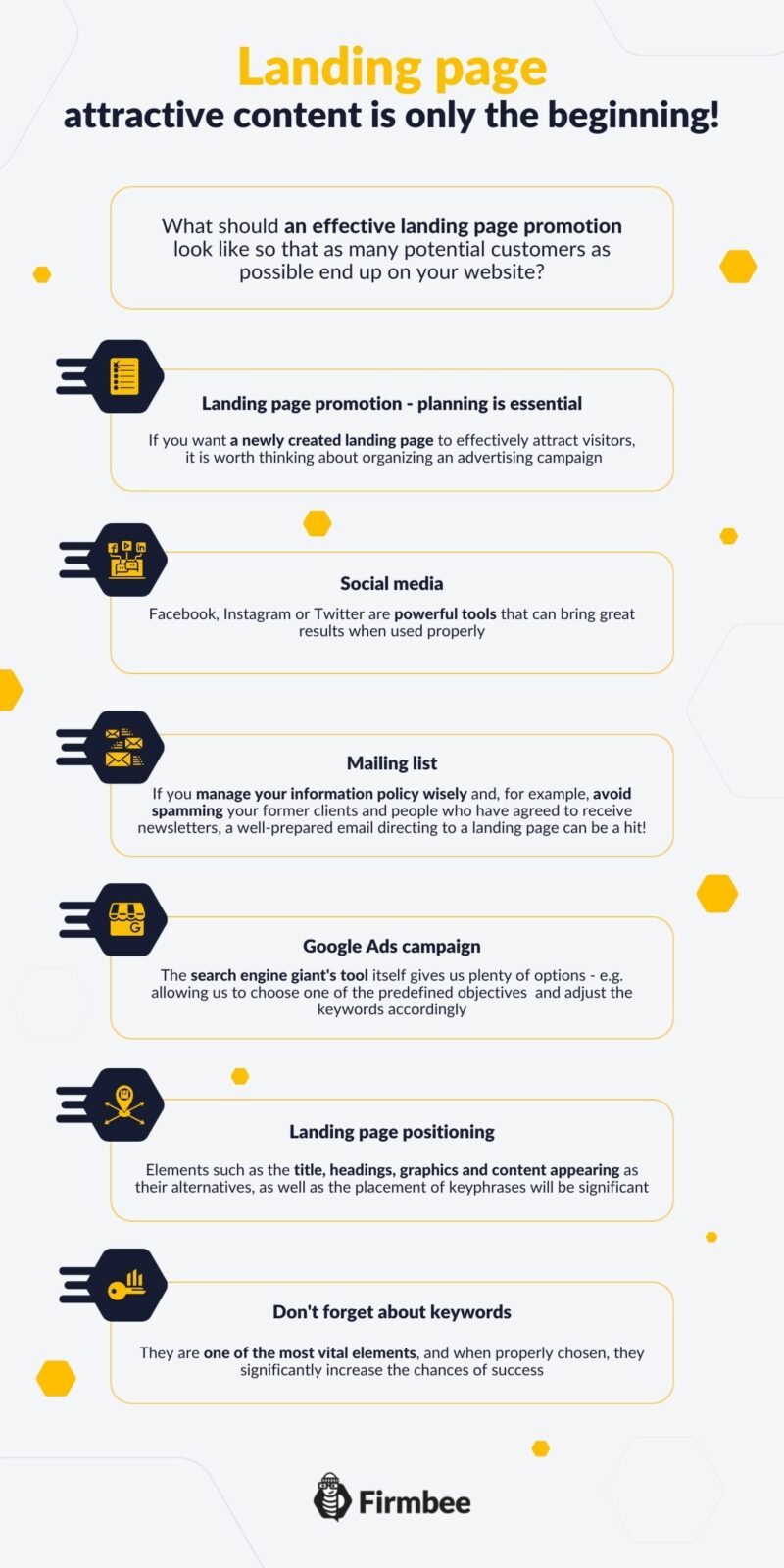 Landing page promotion – planning is essential
If you want a newly created landing page to effectively attract visitors, or you are simply interested in increasing interest in an already existing subpage, it is worth thinking about organizing an advertising campaign. By synchronizing your actions and focusing on achieving your goals, the steps you take will bring better results. Having set the goal, it is worth analyzing available means to effective landing page promotion. So what tools to use?
Social media
A few years ago their importance in marketing activities was marginal, today it is practically impossible to imagine an effective campaign without their participation. Facebook, Instagram or Twitter are powerful tools that can bring great results when used properly. The basic action can be writing a post informing about the action, which will lead directly to the landing page.
Company accounts on Instagram, after verification, can link directly to the selected campaign landing page, on Twitter you can post a Tweet (optionally use promotion), or choose one of the many advertising options on Facebook. The latter portal is a real combo for all those involved in advertising – for a landing page promotion, a carousel or a standard post will work best – if you connect this to Facebook Ads capabilities, you can get excellent results.
Mailing list
Yes, even in the era of GDPR email marketing remains an efficient tool to reach customers. If you manage your information policy wisely and, for example, avoid spamming your former clients and people who have agreed to receive newsletters, a well-prepared email directing to a landing page can be a hit!
Google Ads campaign
Paid advertising on Google is still one of the most adequate ways to popularize your landing page. What is important is that the search engine giant's tool itself gives us plenty of options – e.g. allowing us to choose one of the predefined objectives (directing attention to the landing page) and adjust the keywords accordingly.
Positioning of the landing page
You can rely on organic traffic from Google-optimized landing page content so that it meets the requirements of the search engine and is placed by it in a high position. Elements such as the title, headings, graphics and content appearing as their alternatives, as well as the placement of keyphrases will be significant. Less obvious elements – such as User Experience, i.e. the overall user experience of the site – its clarity and composition also have an impact on the page's position.
Don't forget about keywords
Keywords are not just an add-on to a landing page and its associated campaign. They are one of the most vital elements, and when properly chosen, they significantly increase the chances of success. So it's worth devoting a lot of attention to them and considering how they relate to the product or service you're offering, how serious the competition is (it's not uncommon for better results to come from a stronger commitment to seemingly less attractive phrases). The crowning tool of keyword selection efforts is Google Adwords Keyword Planner. A campaign planned in this way should bring the expected results in the form of effective landing page promotion.
You may also like:Top 5 Programs For Creating Landing Pages
If you like our content, join our busy bees community on Facebook and Twitter.