If you're selling your product on the internet, now is the right moment to discover how does google shopping work. Search advertising is currently one of the most popular and effective ways to attract customers. Currently, as many as 76% of people direct their first search for a product to a search engine. For this reason, it's sensible to invest our budget in a well-prepared and optimized AdWords campaign, which is likely to prompt the expected benefits.Google in recent months has released another of its services, thanks to which the e-commerce industry has gained completely new opportunities.
Google Shopping – table of contents:
How do you start advertising on the Internet?
Customers buy with their eyes. This is an old marketing truth that is true in practically every field of advertising.
For some time, photos of products or services performed have played an extremely important role in the promotion of any business. It is noticeable even in the case of online stores, where the exposure of the offer may determine the interest and potential sales.
Until now, the e-commerce industry could only use standard sponsored links, which, while incredibly effective, did not allow for direct comparison of products and their prices. Google Shopping has changed that.
What is Google Shopping?
Google Shopping has been present on the market for quite some time. It is a potential threat to price comparison services, which are already gaining popularity among online store owners.
So, how does Google Shopping work? Currently, when we enter a specific product name or category in which it should be found, in addition to the standard sponsored links and organic results we find one additional box. When taking a closer look, one will notice that it shows selected products from several different stores, with simultaneous presentation of their prices and design.
These ads are called Product Listing Ads and are directly linked to our Google Ads account.
Presenting products together with a photo and their prices is a huge step forward in the way advertising campaigns for online stores function. Google noticed this potential instantly turning it into a mutual benefit.
The E-commerce market in virtually every country is developing very dynamically, at the same time it is one of the most effective ways to appear in the industry of price comparison services. , although the PLA should not hurt, the potential customer receives a much more expanded opportunity to choose the product of interest.
How does Google Shopping work?
Product Listing Ads, unlike Google Ads, do not use a list of keywords, but only a specially prepared file containing a list of all the products we intend to advertise.
This solution has its pros and cons, mainly because the proper matching of products to the phrases entered by the potential customer is left to Google scripts. A proper description of our offer, however, enhances a significant reduction of mismatched or accidental views.
When a potential customer types an interesting phrase concerning a selected product, he/she sees a price comparison with the addresses of particular stores. Advertising with Google Shopping is becoming more and more popular and thus begins to be characterized by increasing effectiveness, mainly due to the graphical presentation of the product – even before the selection of an interesting online store.
How to get started with Google Shopping?
When preparing a Product Listing Ads campaign we need two elements:
The first one is a Google Ads account with an available budget for advertising activities.
The second element is an XML file containing the products we are interested in promoting.
The export of the second type of file is currently provided by the majority of online store scripts available on our market. This information needs to be imported to our Google Merchant Center account, which should not be difficult to set up.
Once we have the prerequisites in place, it remains to connect our Google Ads account with Google Merchant Center and create our first product campaign. As in the case of sponsored links, the quality score and the maximum rate we can pay for one redirect is of the greatest importance for the order of displayed products.
At this point, it becomes very important to properly optimize the online store itself, as Google attaches great importance to the landing page.
Does Google Shopping pay off?
As always, the answer is a bit tricky. Product Listing Ads campaign alone is not able to provide us with the sales increase when our offer is not very competitive and the online store itself does not encourage us to make purchases.
However, in the case of companies with attractive products and their appropriate presentation, conducted campaigns have brought more conversions than any other actions carried out so far.
Google Shopping is not a must in the e-commerce industry. It is still a new method of online store promotion. Nonetheless, remember that the experience gathered at the moment will pay off in the future when our competitors will fully trust the new possibilities.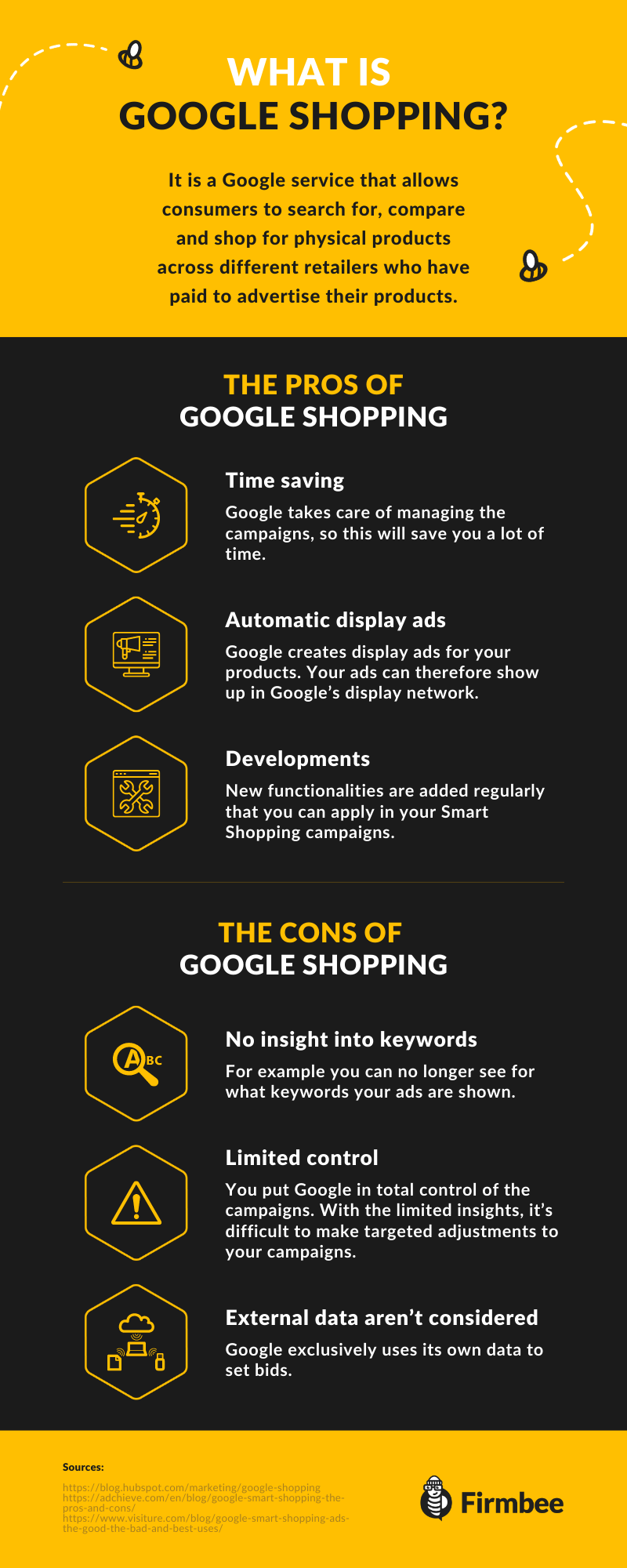 Now, as you already discovered how does google shopping work, it's time to discover: How to write an e-commerce product description that drives sales?
Want to stay in touch with our content? Join our Facebook community