Recently, there has been a rise in the importance of audio content. The number of fans of business or science podcasts has been steadily growing. Marketing specialists agree: audio content should be a part of every developing brand.
Audio content – what is it?
Audio content is any piece carrying meaning that is transmitted through sound. Our areas of interest include:
podcast – a form of conversation or monologue divided into episodes on specialist topics (science, economics, business, etc.) or in a looser, diary form;
audio blog– for example, a short summary of the most important points of a text or full versions of articles in audio form.
The rise of interest in audio content
To understand the phenomenon of growing coverage in audio content, it's important to consider why audiences rely on this type of content reception.
The following chart illustrates the growth of podcast audiences in the US: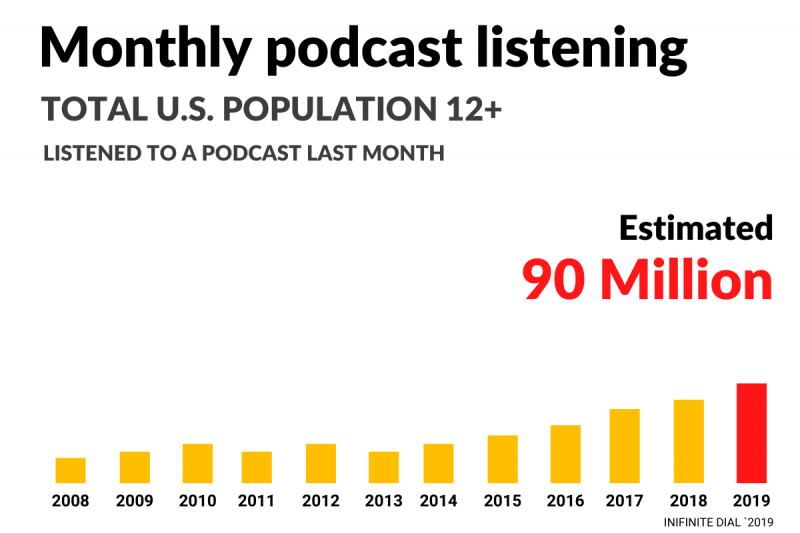 Where does the increase of interest come from?
Audio content requires less engagement
First, audio content requires less engagement from the listener, while still it gathers their attention. Time pressures impose certain types of behaviors on people. People have become multitaskers and find it increasingly difficult to focus on doing one activity.
Text or video content force the recipient to focus on one action – staring at the screen with the text/video. Audio content, on the other hand, allows for greater freedom of action – listening to podcasts and cleaning, driving or relaxing at the same time are not mutually exclusive.
Audio is received conveniently. Introducing audio content into your brand's communication scheme creates an intimate atmosphere between the recipient and the brand. A human voice speaking directly to the listener builds a bond and brand identity. The way audio content is delivered should work with the brand's character, but some leeway is advisable when creating audio content.
You know very well that nothing works as well for the recipient as important content delivered in a casual way. Remember – no one will be interested in emotionless content read from a piece of paper.
Advantages of audio content for the brand
Increase in users' engagement
Interesting audio materials will increase the time spent by users on the website. This growth is going to indicate will be the feedback for the website's usefulness – the more interesting material, the longer time spent on the website. As we have already mentioned: audio content is less demanding in terms of reception (it does not exclude multitasking), so it can easily "fish" another user.
Authenticity
Audio materials signal to the viewer that the creators are highly engaged. Phrases to the viewer draw attention to the fact that the material was created specifically for them.
Unlike movies, where attention can be distracted by the appearance of the speakers, and text, which we readily only glance at, audio materials allow you to focus on the very essence of the topic at hand, delivered it directly to the audience.
Remember – by sharing your expertise, you gain their trust.
Audio-identification
A distinctive audio theme (e.g., beginning a podcast) of a brand is a component of its identity. It strengthens its recognition and determines its perception. Familiar sounds evoke strong emotions in people and remain in their memory longer than images alone. A catchy audio theme will allow for quick brand identification and should build positive associations in the recipient.
How to create good audio content?
First of all, strive for the way you deliver your content. Remember that your words are addressed to people, so make sure you do it in an interesting way. Vary your intonation and pay attention to punctuation marks and paragraphs separating content segments.
Get involved in creating the content and allow yourself to slack off. A text read monotonously and without engagement will definitely not hold the recipient's attention.
Also, pay attention to the quality of recordings. A little online research before purchasing a microphone certainly won't hurt, but at the beginning you shouldn't invest in the most expensive equipment available.
On the web, you can find many tutorials and manuals on picking recording equipment. For a person who has just set off working with audio content, a computer with a free recording program, a basic microphone, and soundproofing the room will be enough.
Also read: Podcast in marketing
Want to stay in touch with our content? Join our Facebook community