A B2B online store is a way for a business to make sales efficiently and profitably. Running it, however, poses challenges for owners. What about the ERP system? Is it worth integrating an online store with an ERP system? Definitely! Why? Read on to find out and learn more about it!
Why should you integrate your online store with your ERP system? – table of contents:
What is an ERP system?
The acronym is derived from the phrase Enterprise Resources Planning. An ERP system is a method of effectively managing all of a company's resources. It covers the most important processes in almost every business area of the company: sales, finance, accounting, warehouse, human resources, procurement as well as production.
What sets it apart is that it works on a single database. This means that information entered in one place of the system, e.g. in commerce, is immediately automatically visible in another place, e.g. in accounting. It allows the company's processes to be put in order and allows full control over them.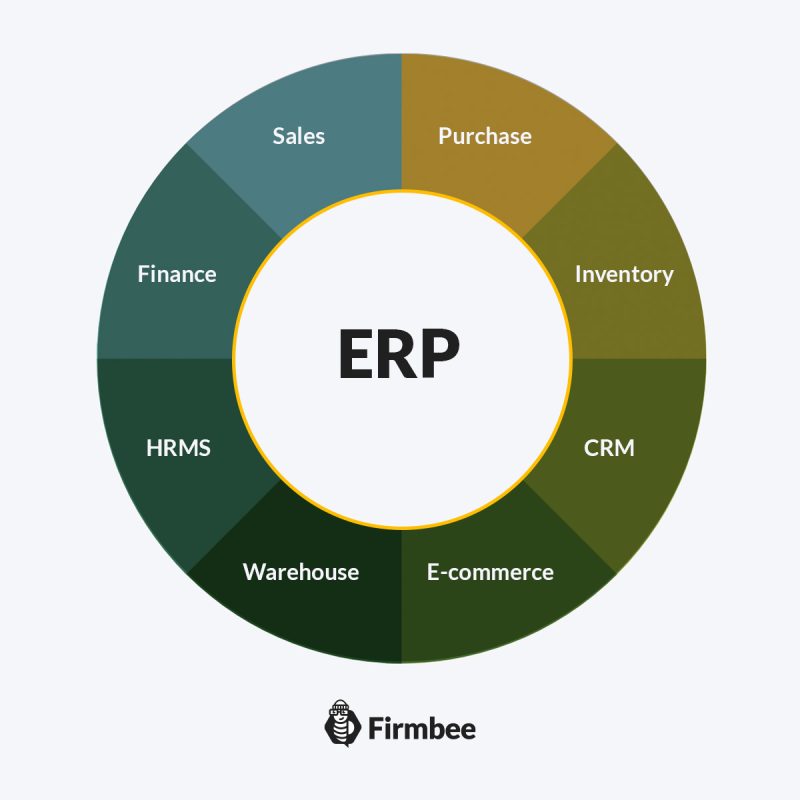 History of the ERP system
MRP, or Material Requirements Planning, systems are the ancestors of ERP, developed just after World War II. Back in 1964 Black and Decker was the first company to apply it. It key feature was to determine the need for materials required to make a product based on current inventory and anticipated deliveries.
The software continued to develop rapidly until the 1990s when more powerful computers arrived and took over. These allowed handling and coordination immense amounts of data. This is how the ERP system was born, making it possible to manage virtually every aspect of a company.
Advantages that make ERP indispensable in any company
The introduction of an ERP system in a company brings many benefits. First, it allows for reducing of labor costs by automating some repetitive activities, as well as material costs as a result of precise production planning. Every company is looking for savings, so in this respect, it is a real shot in the arm.
Thanks to the implementation of an ERP system, the time required for: order processing, warehouse picking, report preparation, or document recording is reduced by up to half. Time is money, so saving it is certainly a big plus for any business.
The introduction of an ERP system improves efficiency in many areas. Through employee evaluations, time measurement, and satisfaction surveys, employees are more productive. Through production planning or sales support using customer potential assessments and sales force targeting.
Another advantage is faster decision-making for executives. They have full access in one place to all information about the company, as well as future forecasts, and do not have to search for and interpret partial data themselves. This enables them to manage the company responsibly and with great results.
ERP is associated with improved data security. Digitization of information minimizes paper workflow, thus limiting access to unauthorized persons. Digitized accounts are always protected by special passwords that only authorized persons know.
Is it worth integrating an online store with an ERP system?
Integrating an ERP system with e-commerce solutions is a greater challenge for any company. However, it is essential to realize the full potential of a B2B online store.
Most often, professional IT system integrators operate to enhance connection. This is modern software that makes it possible to exchange and synchronize data between the incompatible amount of applications and systems. In this way, the integration unites the ERP system with a sales platform, such as WooCommerce, PrestaShop, Magento, or others. In e-commerce, the process mainly involves transferring placed orders from the e-store to the ERP system.
Is it worth integrating an online store with an ERP system? Definitely. You'll avoid many costly and troublesome mistakes related to the operation of the e-shop. Besides, you will implement advanced automation of sales processes. No more inefficient manual entry of orders from the e-shop into the ERP system, which entails a high risk of mistakes by the operator.
Additional benefits include:
Speeding up the order fulfillment process – thanks to the integration in the ERP system, the order status automatically changes generating all necessary documents,
Product data update – new variants of a particular product have appeared or the price has been reduced? Everything changes just in time, no delays,
Better inventory control – your online store always shows the current number of available products, so there will never be a situation where you sell more than you currently have,
Advanced business analysis – thanks to Business Intelligence modules, you can generate reports from which you will learn, among other things, which items sell best and what is the optimal price for buyers. This will help you make important business decisions.
Read also: Opening a B2B online store? Here's what to do!
If you like our content, join our busy bees community on Facebook, Twitter, LinkedIn, Instagram, YouTube, Pinterest.