In 2020, despite its slumber growth, the number of Instagram users increased by as much as 47% reaching $13.9 billion. And this is just the beginning. Alongside this, we have data that as many as 60% of the world's top brands use Instagram for marketing purposes.
Instagram advertising – topics covered:
Instagram advertising
According to a recent Social Bakers report, marketers will continue to shift their budgets to social media channels that can better attract and engage users. And Instagram, according to their 2017 study, was already way ahead of Facebook by collecting an average of three times as many reactions, or likes, shares and comments, on company profiles.
However, this comparison would be too simplistic. Firstly, Facebook is still unrivaled in terms of reach, and secondly, its communication pathways are governed by a completely different set of laws. Therefore, it is worth assuming that Instagram is a natural complement to Facebook, also because the synergy of activities on both platforms can lead to cuts in the final costs of the campaign.
Actually, it is smooth sailing. Instagram's advertising tools are integrated with Facebook's Ads Manager and with large campaigns, it's easier to spot unused potential, e.g., on Instagram to woo those viewers that you didn't manage on Facebook.
Content is the king
Before we'll move on to the topic of Instagram advertising, we need to take care of the right content. What should it be like? First, related to the brand, but not too pushy. Photos and videos published on Instagram should show it in a natural environment.
And yes, they have to be pretty, but with a different kind of beauty than stock graphics. Although it is difficult to talk about authenticity in the context of not only Instagram, but social media in general, but the content on Instagram should be if not authentic, then at least unique. After all, its task is to grab the attention of the audience as it fades in a snap.
Which brand reign on Instagram?
According to Unmetric, the brand leaderboard is dominated by the fashion, cosmetics, and sports industries.
Nike
This brand's strategy focuses on sports personalities – such as Rafael Nadal, Cristiano Ronaldo and Madison Key – whose attitude is a live representation of the slogan JUST DO IT. As much as 60% of the world's top brands use Instagram advertising.
This iconic brand has added 87 million followers in the last 5 years, a staggering 2858% growth – with an average of 43,000 followers per day. For today, the total number of Nike followers is 163 mln.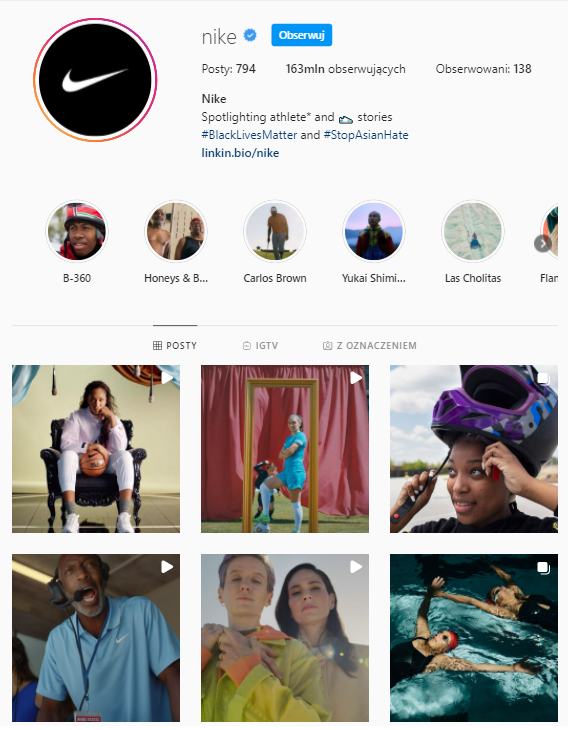 Victoria's Secret
The presence of Victoria's Secret in the list should come as no surprise. This fashion industry leader has been growing steadily on Instagram for the past five years. Since 2014, the brand has added 62 million followers, an increase of 3443%, or nearly 32,000 followers per day. Right now, it has over 69 million followers.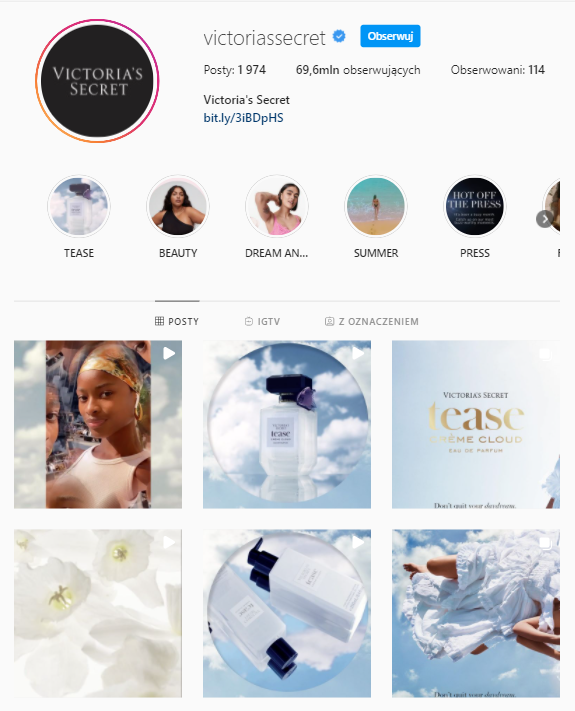 Huda Beauty
This beauty empire stands out from the rest because its founder is a brand in his own right. He is also the voice and face of every campaign and makeup tutorial he publishes under his brand.
Huda Beauty, which debuted in 2013, has gained nearly 24 million followers since 2016, or nearly 21,000 per day. For today, the total number of Huda Beauty followers is 49 mln. How does she do it? Primarily by investing in creating professional educational videos with makeup tips.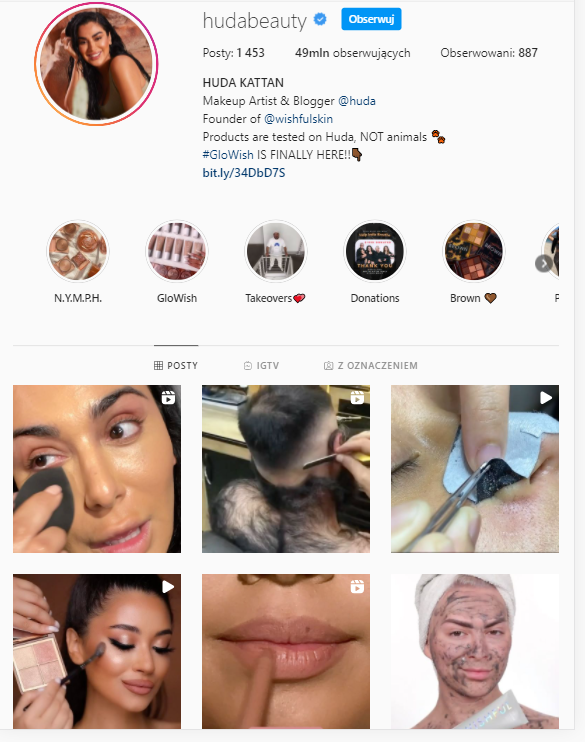 Chanel
Chanel is a luxury brand, so its Instagram advertising revolves around aspirations. Chanel showcases products, publishes celebrity recommendations and behind-the-scenes footage from fashion shows to engage its massive 45 million audience. The number of its followers has grown very steadily. Over the past 4 years, the brand has averaged to 19,500 followers per day.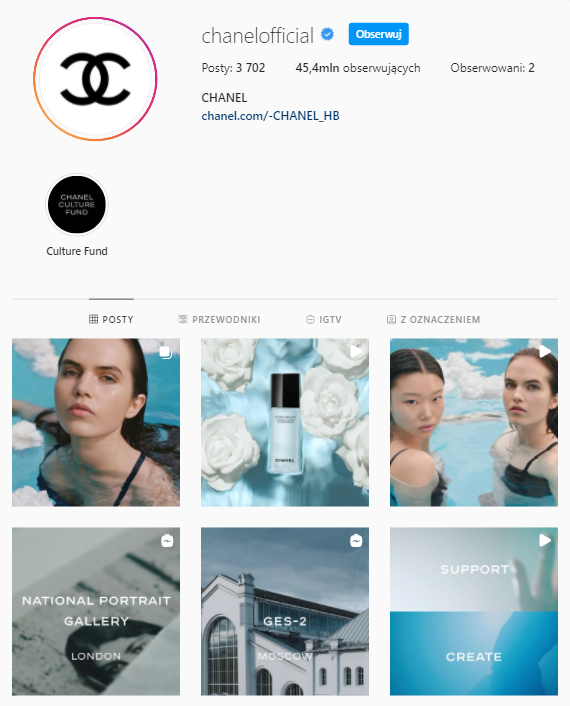 Gucci
Gucci has 35.6 million followers. Almost 4 million are new arrivals, half – year at most. The brand, like Chanel, publishes aspirational content and photos from fashion events, new product shows and celebrity recommendations. Gucci has seen a steady increase in its fan base. Since 2014, they have added a total of 33 million. For today, the total number of Gucci followers is 45 mln.
The brand's strategy revolves around showing photos from behind the scenes of fashion shows, and promotional activities.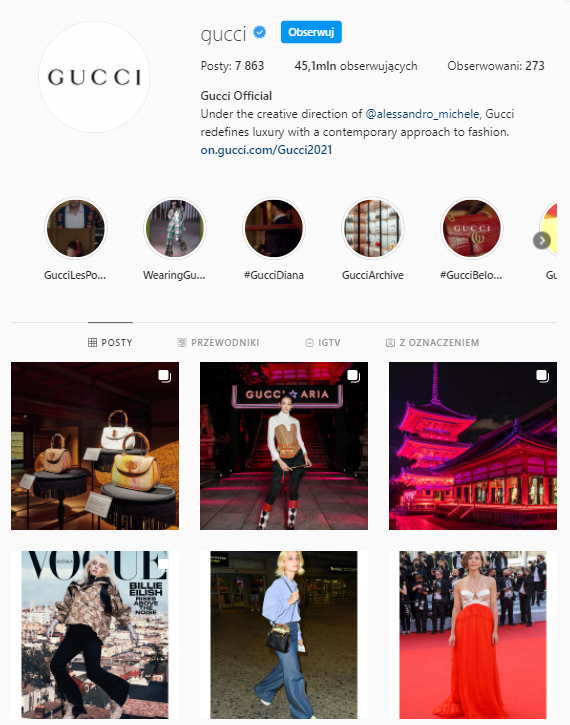 How to increase your follower engagement?
Use tags
The platform offers many native features that enhance audience engagement and take your Instagram advertising to the next level. Brand promoters should master the use of tagging products in posts. This is a must-have for companies that sell online. Tagging a product will take users to a page where they can buy the desired product.
Don't forget about hashgtags
You can't ignore hashtags either, but here – instead of focusing on the popular ones, you should make sure that they are natural and fit the posts. That's because generic hashtags are those whose task is only to artificially pump up the reach and they won't help much with your Instagram advertising. So, it is worth checking which hashtags are effective and choose a maximum of 10 that best describe the content.
Post regularly and interact with users
When to publish new content? As often as possible, although the quantity shouldn't surpass the quality. Occasionally, go for the Direct option to reach only a selected target group. This is a great way to connect with specific groups of users and make them feel special. Followers should never be left unattended, so in addition to publishing, interact directly with active ones: respond to their comments and like their photos.
Use the potential of Instagram Stories
Stories debuted in 2016 as a Snapchat's expansion competitor and quickly dominated its rival. This is because Stories are nothing more than videos or photos that disappear 24 hours after publication. The fleeting nature of the content was meant to encourage users to express their states more freely, but it quickly became clear that brands could also use it for real-time Instagram advertising. Brands can use it to report live from events and thus bridge the distance between themselves and their customers; to publish tutorials, as beauty brands do; or for QA sessions – which works especially well for influencers.
Instagram Stories are becoming an increasingly important channel to reach especially mobile users who expect dynamic and tailored messages to their preferences. According to Instagram, one-third of the most viewed content already comes from businesses.
Take time to analyze
Content, as with any other format, should be tailored to the preferences of the audience. So should Instagram advertising activities. That's why it's worth to spend some time on its know-how by using, for example, statistics on Instagram. From there, you can pull information about the age of your audience, the hours they are active, the posts and relationships that engage them the most. This all can help when coming up with your Instagram advertising strategy.
Read also: How to write an Instagram bio for your business?
Want to stay in touch with our content? Join our Facebook community