Great Indiegogo campaign – do you know how to start it? Indiegogo is the second most popular – after the Kickstarter – crowdfunding platform in the world. With Indiegogo you can realize your ideas and create technological gadgets or pieces of art but fight for human and animal rights as well. The amount of active campaigns on Indiegogo is huge – do you know how to make your own campaign to stand out from the crowd? Read our suggestions for effective Indiegogo campaign in the article below.
Successful Indiegogo campaign? – table of content:
How to start a collection on Indiegogo?
At the beginning of the process the website will ask you to choose the aim of your collection, you can select either individual collection or business or nonprofit collection option. In both cases there is a requirement to enter the address of your residence or your business location.
After filling up both those fields and registering on your Indiegogo account the information about Reserved Funds should appear. Then in the main dashboard we can set the title for our campaign, add description, movie, graphics, images, cooperators and links to the external websites of our undertaking.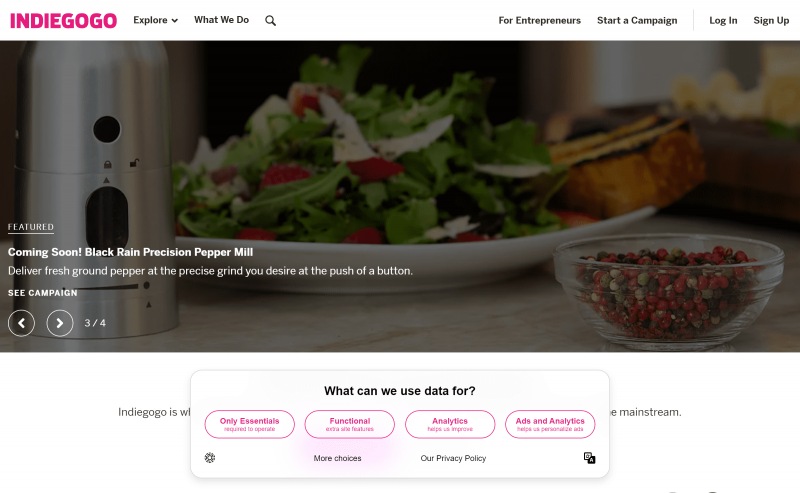 How to make your Indiegogo campaign successful?
Before you start with your campaign prepare a checklist that should help you to see, how many steps are there from the beginning to the realization of your project. It may take at least a few months before your campaign is ready to launch. The best moment to initiate your campaign is when you are fully prepared and sure of success of your project. Below a few tips and ideas to help you to start.
Make a movie

If you wish to make your campaign successful add a video with a compelling story that is no longer than 3 minutes. The best results have movies of duration between 1 and 3 minutes. Introduce yourself, tell about your intentions, goals and dreams, and be honest. Keep your introduction short and stay focused, don't talk about unimportant matters.

Don't ask for money directly – it is better to encourage others to join you in creation of something new and interesting. It would be great if you would like to appear in your own movie – it show others that your project is not only a business endeavor but you treat it personally.

Remember that the first impression can be me made just once, so the first 10 seconds is the most important factor that decides about the success of your project. The first impression may attract your potential investor therefore it is good to have the a trailer, where your product, service or company is presented.

Check if everything in your video is clear and understandable, make sure that there are no mistakes. Furthermore, you may add some music or melodies to the movie to make it more refined. End your video with strong encouragement for viewers to take action.

Detailed presentation

The wording in your presentation is equally important as the imagery. The most important information should be placed at the beginning of the material. Pay attention to spacing, accentuation of words, indents and sections. The function of storytelling is as important as the promotional video. Think twice about the story you want to tell to your prospective backers. Tell them about the events that influenced you before you have started with your project.

Good storytelling should not stop you from showing your financial skills – your project budget should be placed on the website as well. And, what most important, don't forget about the pictures of all rewards that your have prepared for your backers. Images with bonuses for supporters draw user's attention and increase their engagement.

Benefits and advantages for supporters

While creating bonuses for your supporters make sure that you are able to fulfill your promises. While describing your bonuses give them names and explain what is the value of those products. Remember that items that are offered as limited edition or as exclusive are more attractive to users than other standard products. The price for your bonuses should not be exaggerated – don't try to sell a t-shirt for 500 US dollars or more – you may not be successful.

Links

Don forget about the links that connect external pages of your project with the community of your supporters. Stay up to date, publish posts regularly, and let you investors know about the development of the whole enterprise. All interested parties should know who you are, what are you doing and what your abilities to run a business are. Such measures should help you to gain trust and loyalty of the community of your supporters.
What else should you know about Indiegogo?
All creators of Indiegogo campaigns may choose between 2 distinct financing models: all or nothing or flexible funding. The first model has to collect 100% of the whole previously set amount otherwise he will not get any funds. In the second model all the funds may be paid to the account as soon as the awards are delivered to the supporters.
Indiegogo – similarly to Kickstarter – charges 5% of commission rate from collected sum. The commission fee is taken when the collected sum is being paid to the account.

Indiegogo campaign – summary
Indiegogo in comparison to Kickstarter is not focused on innovative startups and IT companies. Some of the campaigns on Indiegogo are idealistic, with social overtones, where the main goal is the protection of human rights and animal rights. Indiegogo is best choice for such creators, who wish to make a change and make something different and better in exchange for support. It is worth to take a close look at Indiegogo campaigns – projects advertised there can be beneficial not only to their creators but to the whole world.
Check out 5 most popular types of crowdfunding
If you like our content, join our busy bees community on Facebook, Twitter, LinkedIn, Instagram, YouTube.