Hybrid remote work and remote work are two distinctive models of work used to ensure efficient workflow in the company. The survey done by business consulting agency Accenture points out that hybrid remote work is the first choice of work model for more than 63% of contemporary, innovative companies. In comparison, similar survey done by Own Labs suggest that remote work, but not hybrid model, increases productivity of employees by almost 61%. Which of two models: hybrid remote work or remote work will be suitable for your company? To find out what are the main differences between those types of work read the article below.
Hybrid remote work and remote work – table of content:
The specifics of hybrid remote work and remote work
Clear definition of all terms related to workplace should help with presentation of the contrast between those two types of work, while concise description should give the opportunity to enlist all the benefits of both models.
Hybrid remote work. In hybrid remote work all the tasks can be done remotely, the same as in any type of remote work, but the employer demands from his employees some on-site work. With such organization of work gives the employee certain amount of flexibility and independence as well as gives the employer an opportunity for direct contact.
Advantages of hybrid remote work:
reduces the cost of business activity
increases employee's satisfaction
strengthens the brand image
allows employment of huge group of professionals
Remote work.This type of work is typically done outside the offices belonging to the employer. Some tasks may be done at home, in this situation the employee organizes his working space himself accordingly to own needs and preferences.
Advantages of remote work:
provides greater flexibility in tasks scheduling
reduces stress levels, increases psychological comfort
limits absenteeism in the workplace
increases motivation and prevents work burnout

Hybrid vs remote work
Both types of work bring many benefits both to employers and employees, but their implementation influences work organization in the company, therefore there are some differences in operation of companies, which employ remotely and those employing in hybrid remote work system.
Recruitment
The employment strategy of the company influences directly the recruitment process. Remote work gives the company broader access to the pool of talents. Without geographical limitations employer may search for talents on a global scale and access candidates with high, unique competencies. In case of hybrid remote work recruitment possibilities are similar – there is much greater pool of skilled, fresh candidates, and huge chance that they may be able to work in the office from time to time.
Mobility and travel
Employees, who work remotely don't have to travel from home to work and vice versa. Working from home allows to concentrate on tasks and provides necessary work comfort.
With effective time management techniques in place remote work offers astounding flexibility and increases productivity. Additionally, all remote employees save a lot of their precious time not having to travel to work each day. Just this one aspect can save a lot of money, which would normally be spent on train tickets or petrol.
In hybrid remote work model the employee is required to work in the office at certain days of the week. It means lesser flexibility in schedule planning. Hybrid remote work model doesn't allow to save as much on travel expenses as remote work model does.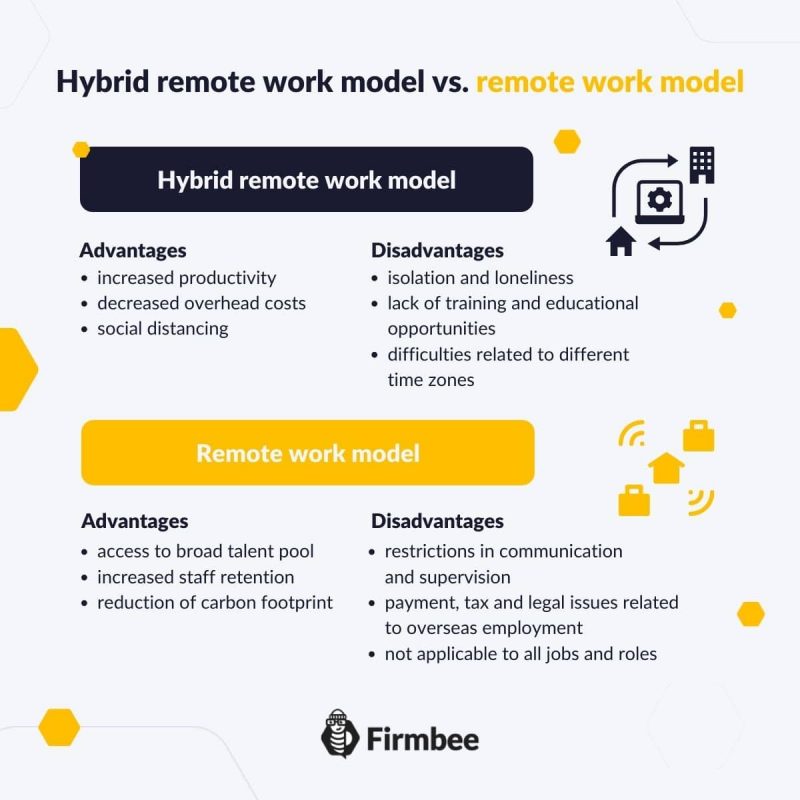 Co-operation
Co-operation between remote workers, who are based in different locations, requires implementation of many practical solutions. Usually, Human Resources departments of companies decide to introduce latest technologies to facilitate communicative processes between employees.
Remote work separates the employee from other people and this can evoke the sensation of isolation and loneliness. The survey done by The Economist suggest that lack of direct contact with team mates was the main reason for loss of commitment, and this was reported by almost 34% of interviewees.
In case of hybrid remote work model such limitations are not present. Employees have time to concentrate in quietude of their own home space, but still keep contact with their team in the office.
Personal presence in the office strengthens bonds and gives greater sense of belonging. Security and good connection with other members of the team are important in the context of efficient communication because some of the work issues require to be agreed during face-to-face conversations.
Security
Undoubtedly, remote work model makes a positive experience both for employees and employers. It influences productivity, talent retention and budgets. Not only employees, but companies as well benefit greatly from this model of work. To get the full benefit from the model remote work companies have t to introduce well-designed policies and strategies.
Hybrid remote work is similar in many respects, employees benefit from flexibility of remoteness, at the same time keep contact with their teams and stay fully motivated. This approach uses the best elements of remote work and office work and proves to be particularly profitable for all parties.
Hybrid remote work and remote work – summary
Practicality and efficiency of remote work and hybrid remote work modes is obvious. It should be noted that the choice between those types of work depends on the type of business activity and the hired professionals themselves. Remote work is better for projects that don't require direct, regular communication, while remote hybrid work model is best for companies, where personal contact is necessary.
Read also: Best 5 online training platforms
Check out our software for remote work:
If you like our content, join our busy bees community on Facebook, Twitter, LinkedIn, Instagram, YouTube.