Remote learning is now the new reality. Teachers, lecturers and instructors of various disciplines have harnessed the developments of remote training technologies to such an extent that it all seems here to stay. The global situation has forced adaptation to home-office realities and online training has become an integral part of our lives. How to conduct online training? We have prepared practical advice and a list of the 5 best (and free!) online training platforms.
Online Training Platforms – table of contents:
Online training Platforms – how does it work?
Online training is a response to users' expectations – it enables them to access educational materials from their computers. The hardware connected to the network is enough for pupils or students to stay up to date with the materials. Online courses, organized with the help of professional applications, compensate for the lack of human touch or presence of another person as much as they are capable of. They do this by providing additional features such as the use of texts, videos, PDF files or whiteboards – boards on which the instructor writes down relevant facts in real-time.
What does online training look like? Usually, it is enough to launch the application by clicking on the appropriate link or entering the ID and password and you can listen to the lesson or lecture in real-time.
Free online courses – who provides them?
For whom are applications that organize free online courses designed? They cater to people who work in the education sector. Thus, mainly school teachers, but not only. Nowadays, online training courses take place on many levels in interpersonal communication. Mainly, they are tools for:
Private supplemental teachers.
Tutors – both science and music, art, etc.
Eager enthusiasts from different fields of knowledge who want to promote passions.
Personal trainers.
Experts and professionals who provide online lecture training.
Actually, online training apps can come in handy for everyone. In our list, we describe the 5 best platforms that will help you to conduct online training. What is more, all presented solutions are free of charge.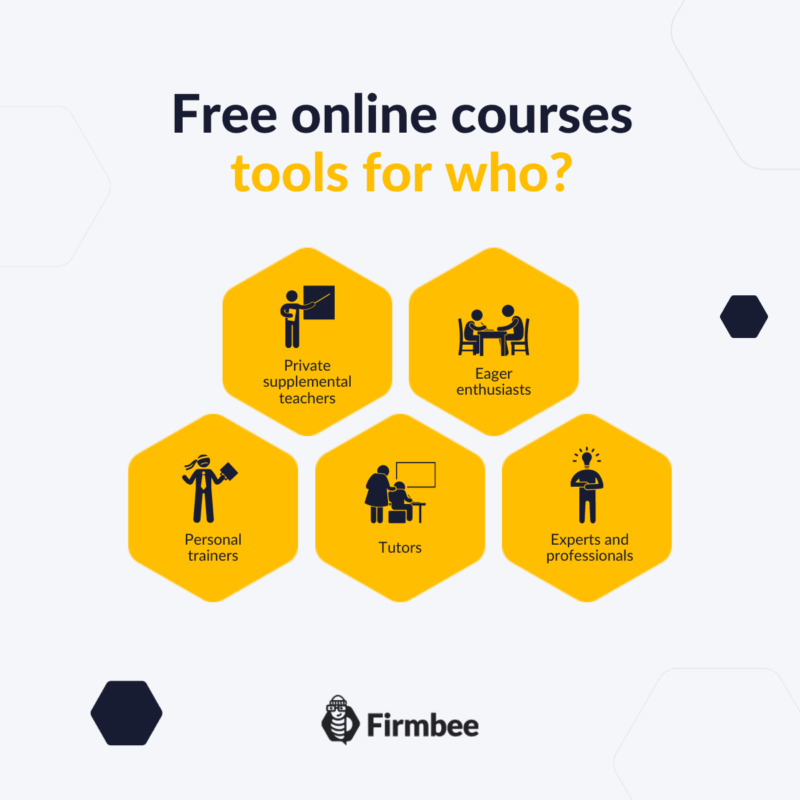 Best 5 Online Training Platforms
Thinkific

A first program is a powerful tool for comprehensive remote learning. With the help of the application, you can not only organize online training but also promote it to your audience through a created, dedicated website. The advantages of the software include many available templates and ways of earning – something for those creating paid online courses. Besides, the application positively reinforces your learners and it is completely secure – daily hosting in the cloud ensures that your data will not be lost anywhere.

Learnworlds

Another suggestion is a treat for teachers and trainers who use videos. Learnworlds is a platform that helps you organize paid or free online courses using engaging videos. With them, learning becomes far more enjoyable. What are the most important assets of the program? It lets you add interactive elements to your lessons and tests that students need to pass to move on. Additionally, Learnworlds solves the issue of recording online training – it features saving your speeches and lectures for later. The app is free for the first month – that's plenty of time to explore its key benefits.

Ruzuku

Ruzuku online course organizer application is a proposal for people who want to move all the educational tools used during classes to the web. The program contains a lot of practical functionality, and the configuration and intuitive start-up make online training start with real ease. Ruzuku grants an enhancement of your lessons with videos, PDF files, dedicated texts and other metrics. In addition, the teacher gains the ability to track the progress of each student individually or in pre-created groups. Free online courses with Ruzuko are truly immersive. The app provides a 14-day free trial period after which we can unsubscribe without obligation or choose one of the paid plans.

iSpring Package

An interesting solution that helps you organize online training is the iSpring package integrated with PowerPoint. With its help, you can conduct simple and effective e-learning that does not require mastering intricate technicalities. With the iSpring package you can to effectively convert any PowerPoint presentation into online training. It is very popular in schools as well as big companies – IBM is one of them. When it comes to how to conduct online training on a device other than a computer, just use this application – one of its advantages is the ability to participate in the lesson from a smartphone. You can use the package for free or choose one of the extended premium versions.

PowToon

The last proposal is a small but innovative program to create mini-training online. It allows you to use a very interesting educational form – short, animated original videos. Because PowToon is easy to use, it is certain to appeal to all teachers and trainers. There are many templates built into the uncomplicated wizard, and users who create online courses can freely modify them by inserting their photos and videos. For mini-courses of up to 5 minutes, PowToon is completely free, while for longer lessons you have to pay by subscribing.
How to record online training? With our apps!
Free online courses are a new reality and it's worth staying up to date with them. If you are wondering how to conduct online training using modern applications – use our list of 5 popular programs. Thanks to them your online training will be engaging, professional and popular.
Do you want to know other useful tools? Read also: Top 5 Calendar Apps!
If you want to stay in touch, join our Facebook community!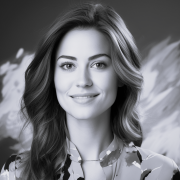 The most important questions
What does online training look like?

Online courses allow students to listen to lessons and access learning materials remotely using a web-enabled device. Simply log in and you're in the classroom.

How to do the online training for free?

Just use one of our suggested apps for organizing and sharing online courses. They are free – either in full or for a trial period.

Is organizing online training difficult?

No, the applications we recommend have intuitive interfaces and are easy to use. Some of them include additional features to enhance your lessons with various modern tools.