Are you thinking about finding a new job? Start with a CV that is professional and tailored to your needs. You can find many templates, or you can be creative – but be sure to pay as much attention to detail as possible.
How to write a good CV? – table of contents: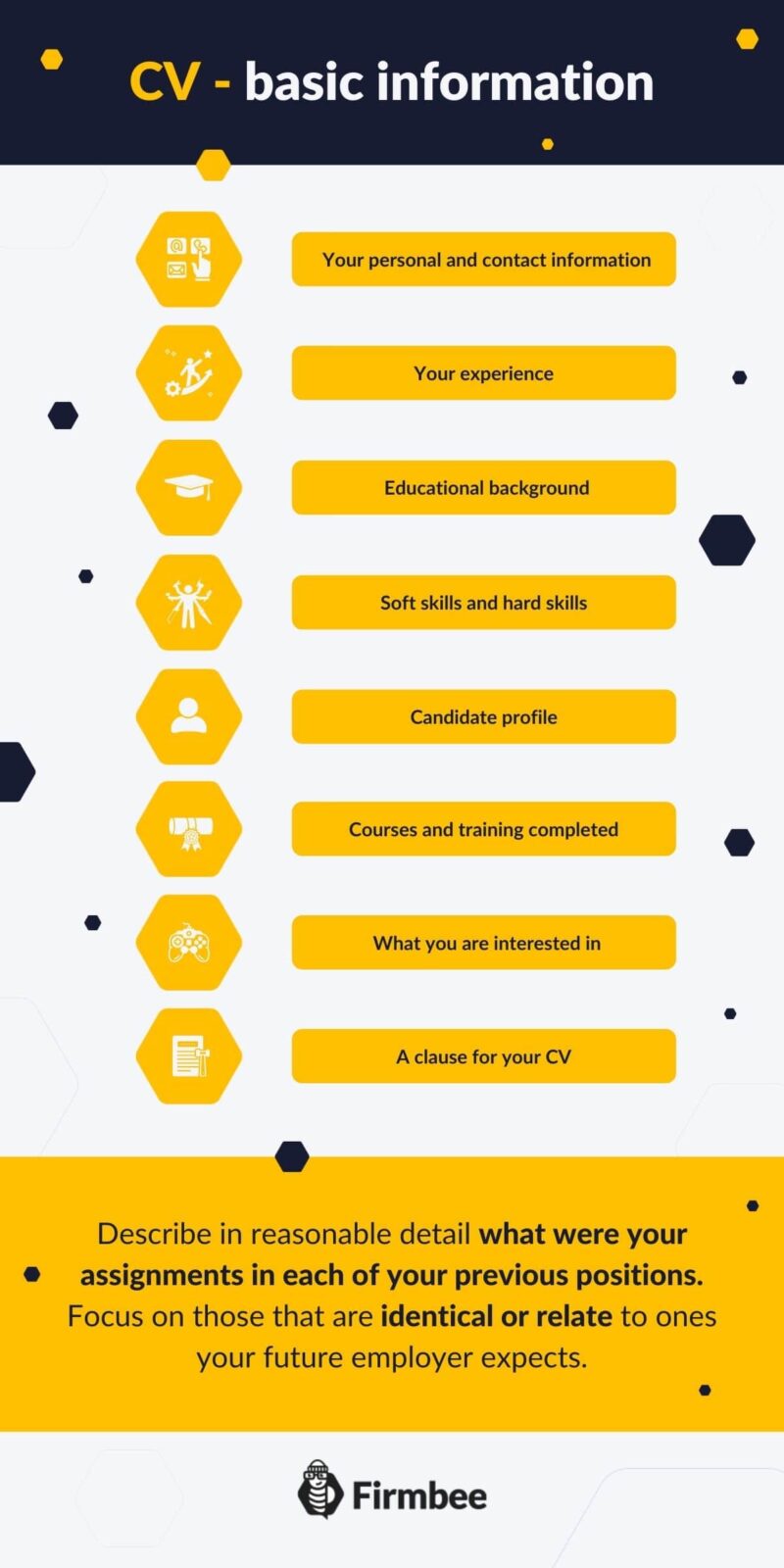 How to write a good CV – basic information
Include in your CV what is absolutely essential:
Your personal and contact information – name and surname, telephone number, e-mail address and the name of the position you currently hold or the last one you held,
Your experience – list the name of the company, the position, the time of employment and any past achievements you can boast of,
Educational background – it is best to list only the school(s) you completed that are relevant to the job you are applying for,
Soft skills and hard skills – it's important to divide them up and choose only those that a potential employer can appreciate,
Candidate profile – your brief but comprehensive description. Its place is usually at the top of the CV,
Courses and training completed, certificates earned – the employer will be interested to learn about your education and certifications,
What you are interested in – obviously this is not the most important point. However, recruiters and employers may pay attention to this section,
A clause for your CV – this is just a formality, but absolutely mandatory. It relates to the General Data Protection Regulation (GDPR) and the law of the land.
Which CV to go for
A crucial issue concerns the choice of – let's call it – "CV profile." Someone applying for the position of, for example a computer graphic designer, can let their imagination run wild and make their CV a small work of art. In this way, he or she will present the range of skills related to the profession. The employer will see that the candidate is competent already at the recruitment stage.
It will appear bizarre if you send a glamorous CV when applying for the position of accountant. It is immediately apparent that it was created by someone from outside, and isn't your own work. What matters, when it comes to how to write a good CV, is quality, not quantity.
CV – what qualifications
Listing more jobs is only half the way. Describe in reasonable detail (but preferably without "beating around the bush") what were your assignments in each of your previous positions. Focus on those that are identical or relate to ones your future employer expects.
You better not think of (even a small) lie. You surely realize that it won't be a big deal if you misrepresent the truth somewhere on the paper. However, at the interview, the truth is guaranteed to come out so be prepared for facing the facts.
All things considered, we hope you are ready to get to work and write! A strong CV is a basis for finding your dream job.
Check out our other article:
If you like our content, join our busy bees community on Facebook and Twitter.