Virtual Reality (VR) accompanied with Augmented Reality (AR) is the next important trend in training and development. Read the article to find out why, and how to use virtual reality for training.
How to use virtual reality for training? – table of content:
Why and how to use virtual reality for training?
Virtual Reality training is the digital simulation of situations, which look like real in 3D virtual setting. Trainees enter a fully virtual environment to experience scenarios, in which they can actively interact with simulated real-world tools, machines, objects, as well as to communicate with other trainees and instructors.
Virtual Reality training is commonly used for situations, which were typically difficult, expensive too dangerous to train for. There are emergencies nobody wishes to be exposed to in real life, such as: disasters, earthquakes, wars, or poisonous materials spillage, which can be trained successfully only during VR training session.
Why is VR training effective?
While thinking how to use virtual reality for training, we should consider its effectiveness. Is it really so efficient? It is, and it is going to be one of the most vital needs of companies in the future.
Virtual Reality training is used for new employees onboarding, where the trainee can have more personal contact with all employees as well as may be accustomed with the culture of the company, not forgetting about the whole material environment.
The other very important area of training, where VR is used is the training of soft skills. There are multiple soft skills, which are crucial for workplaces of today, but quite difficult to be passed without adequate observation such as: leadership, empathy, creativity, change management. How else employees may be able to learn how to: lead the meeting, deal with difficult customer or communicate with team members?
The research made by PWC shows that employees learn soft skills four times faster than during traditional classroom training or remote on-line training. Employees claim that they are more confident in applying their new skills after experiencing Virtual Reality training. Additionally, the trainers were 3,75 times more emotionally connected to learned content than in the classroom.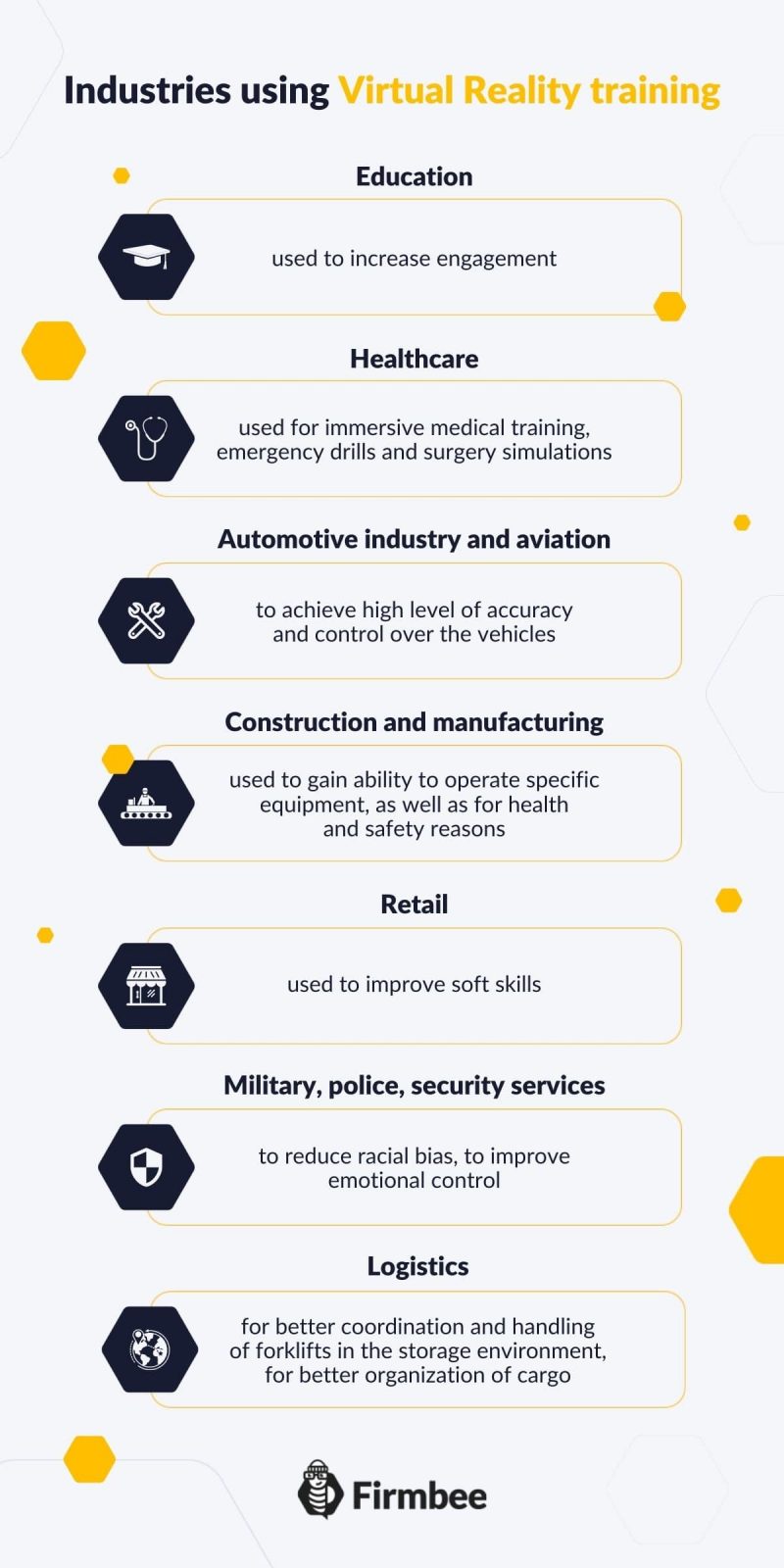 How to use virtual reality for training in your industry?
The field of Virtual Reality is no longer used just by the gaming industry. In relation to training it has become one of the fastest growing part of Learning & Development (L&D) field. Although not all employers know how to use virtual reality for training in their organizations, it is frequently used by hospitals, coal mines, athletic fields, corporate organizations, and military establishments, but it enters the world of corporate training and it is there to stay.
The VR training uses immersive simulated environment created with 3D images. There are three basic ways the VR may be used, all depending on the financial abilities of the company.
Mobile VR – this type requires VR headset and is used with the smartphone, which is inserted into the headset during the simulation.
High retention of knowledge. Practical learning on site, as it was many times proven, is much better for knowledge understanding and retention.
Standalone VR – in this case, the headset is more advanced and doesn't require a smartphone, the simulation is run in the headset itself.
Desktop VR – the most advanced, expensive and developed form, with strong computers,and cutting-edge headsets, which provides the most immersive experience technology can provide.
Due to the shift to remote working the need for VR training in the workplace has increased. Many employees had to think how to use virtual reality for training in their companies.
Subsequently, the devices which were designed with gaming industry in mind, had to be readjusted for training purposes. Such devices as: Oculus Quest 2, HTC Vive, HTC Vive Pro, Valve Index cab be considered to use in VR training, but Oculus has created a product called Oculus for Business, which shows that the trend is clear.
Virtual Reality training can be used by any company, in any industry with all possible content. It can be used by doctors, engineers, military personnel, scientists, astronauts and managers – all the time without any risk involved. The price of once produced Virtual Reality training is paid once and the simulation may be used by many trainees.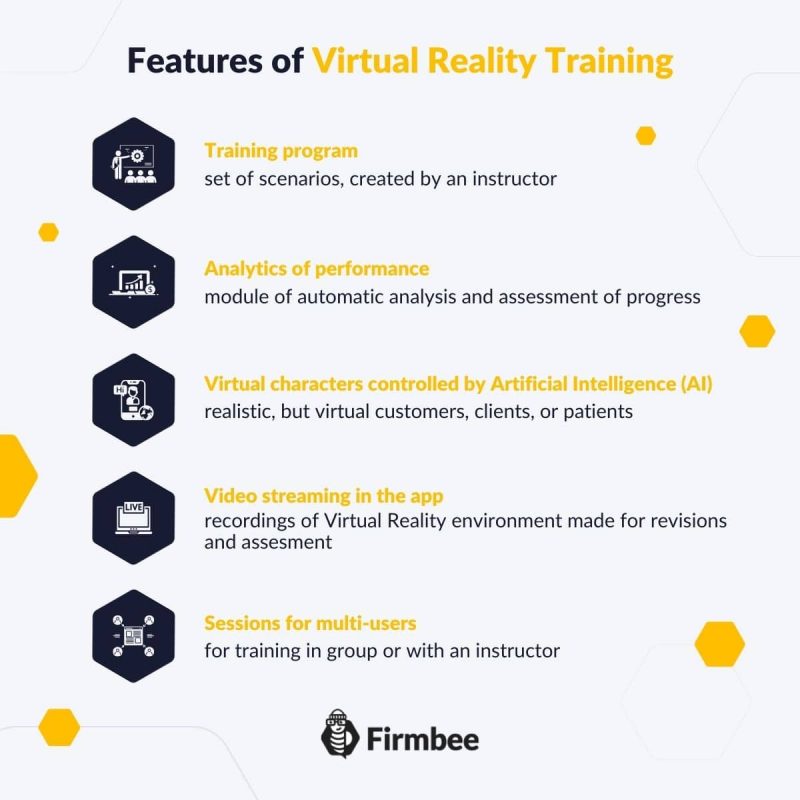 Drawbacks of Virtual Reality
Since the technology of Virtual Reality is still new there are certain concerns related to data collected during virtual training. It is still not regulated by law how to store and collect the data related to the eye movement or behavior during the training.
All managers implementing Virtual Reality training in their company have to take under consideration factors related to health and safety of the trainees. The side effect of Virtual Reality training is virtual fatigue experienced as: headaches, eye strain, nausea, disorientation resulting from wearing headset for long hours. IT should be understood that this great technology has its limitations and has to be used in moderation.
The future of corporate training is definitely connected to further development of Virtual Reality technology alongside with advancement in AI technologies for natural language processing, trainee assessment and supervision.
With increasing affordability the Virtual Reality training will be rising in popularity, which means that we no longer have to ask if we should use the VR or not, but how to use virtual reality for training and if not now, then when?
Read also: Best 5 online training platforms
If you like our content, join our busy bees community on Facebook, Twitter, LinkedIn, Instagram, YouTube.