Having your place on the web is a huge opportunity for growth. With an affiliate marketing website, you become not only noticeable but also a trusted creator. You often don't need to own an independent domain as a publisher. However, for many entrepreneurs, this is an important benchmark. Running something from start to finish is impressive. How do you design, launch, develop and promote your affiliate marketing website? What marketing strategies work best with online marketing? To find out, take a look at our in-depth guide on how to set up an affiliate marketing website.
Affiliate marketing website – table of contents:
Get into the habit of marketing
A professional website is a game-changer. However, the website alone won't do the trick, that's only the technical part. Random thoughtless releasing links out into the world without testing their effectiveness will quickly fail. Also, don't expect overnight success but bet on regular, constant and creative development. A website does not exclude social media activity so keep in mind to construct a coherent, clear message across your channels so your viewers don't get confused. Last but not least, do what you feel is right don't and try to do or say something against your beliefs.
Affiliate marketing website
A successfully run website is an opportunity for a great kick-off in the world of affiliation. If you have been running a successful website for two years, for example, devoted to healthy eating, no one will get surprised if you start an affiliate collaboration. Well-known bloggers frequently take up this kind of promotion. What if you are not yet in the rankings of famous users? How to start from scratch?
There are two ways to get there. The first one is to gradually, steadily and successfully create and develop your website. But have you heard of purely affiliate websites? They have a particular goal. Let's talk about an example. You are setting up a website dedicated to hair care. You create a ranking of the best shampoos and conditioners. With a single click, users can go to the offers you recommend. You directly show: "go here, this is valuable".
Launching website – a step-by-step guide
Starting your website opens up a whole range of possibilities. The web is full of guides or tutorials telling you how to do it: the fastest, the cheapest, the best, etc. However, here we will focus on some universal rules:
You are starting affiliate marketing – so clarify your niche. Do some research on your potential competitors. What can they do? What do users like them for? What is their message?
Take a while to think about your domain name and your logo.
Choose to host. Renting webspace is a similar mechanism to renting an apartment – space has a price. If the topic is new to you, bet on easy-to-use website builders. Developer services are a significant cost. Don't miss free trial periods of platforms and occasional discounts.
Work on the content. Take care of professionalism in terms of graphics and content. Learn to make it catchy and creative. Marketing is a lifelong process of acquiring skills through experience and knowledge. It can get demanding but at the same time rewarding.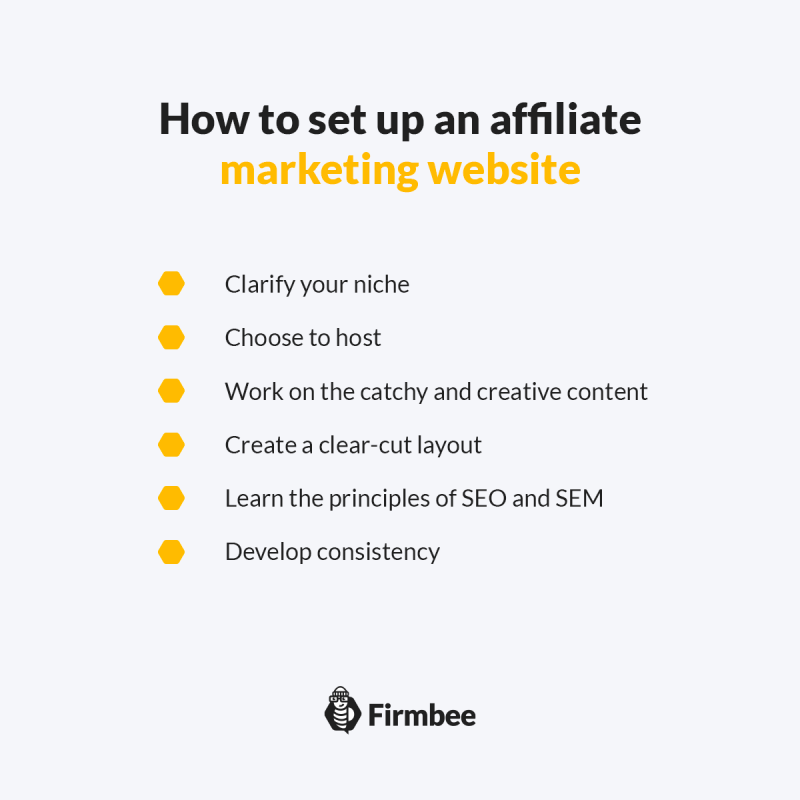 Blog vs affiliate marketing website
A website focused on collaborative marketing has visible characteristics. At first glance, you can is the way it's run, as its publisher demonstrates a professional and in-depth analysis of the coverage issue. In addition, the page inspires trust by taking a professional angle, user-friendly approach and clear-cut layout.
The main page or landing page has a special function. The initial impression and clear information will influence consumer behavior. Learn the principles of SEO and SEM. Create content that search engines prefer. Acquire skills in choosing the right keywords and optimizing your content and graphics accordingly, too. Your goals have to become tangible as well as you should stay calm and optimistic all the way. Only then can we talk about effective affiliate marketing.
Construct a cohesive brand appeal
Building a brand is about developing consistency. If your industry allows humorous language, you don't have to give it up. The moment you start promoting your product or service, you can't stop being yourself. Users like you just the way you are. Don't give up your character that adds the personal touch to your message. An official company couldn't take the same, individual approach. Yet, keep in mind that both methods can sell successively.
Keep the content flowing
Your affiliate marketing website may go in tandem with email marketing. Be sure to create a mailing list. You'll find plenty of guides to newsletter design on the web. Email marketing has become a permanent fixture in the affiliate world. Provide valuable content. Don't focus on direct sales. None of us likes to be inundated with ads. Use non-intrusive communication. Instead of sending a direct affiliate link (don't ever do that), encourage people to view the material in which the promotion is present.
Get analytical
Some of us are born analysts. For others, diagrams and figures are a real nightmare. You don't have to be a web analytics specialist. But you do need to observe user behavior and draw conclusions. Check if your readers visit you at the weekends, in the evenings. Maybe (to your surprise) you will find that they are most active on Monday mornings.
Affiliate openly
The trend of officially promoting a product or service is gaining popularity. These days, openly endorsing a brand and promoting your image brings in more than trying to advertise secretly. That's why creating an affiliate marketing website focused purely on earning money has a chance of success. With transparent and professional rankings, as well as a conscious well-established online publisher as an associate, every entrepreneur who seriously considers affiliate marketing is capable of achieving recognition and success.
Read also: How to do affiliate marketing?
If you like our content, join our busy bees community on Facebook, Twitter, LinkedIn, Instagram, YouTube, Pinterest.