Every freelancer, small business owner or entrepreneur issues invoices every month. They are necessary to receive payment for work done or goods delivered. But just issuing such a document does not guarantee receipt of payment. For the complete success it is necessary to deliver it to the contractor. From this article, you will learn 3 ways how to send an invoice and what tools are particularly handy in this process.
How to send an invoice – table of contents:
How to send a paper invoice?
Although the Internet has taken hold in our homes and offices for good, the overwhelming majority of invoices are sent via traditional mail. According to the report E-Invoicing / E-Billing. Digitization and Automation as much as 90% of invoices go to recipients in paper form.
Unfortunately, this has its drawbacks. One of them is the time it takes to deliver the letter to the indicated address. When shipping, you need to take this into account the whole process leading to getting paid. You need to remember that quite a few people may be attached to paper documents. They will expect you to provide them with invoices in just this form. Admittedly, you may be able to convince some to invoice electronically, but in other cases, you will have to adapt to your customers' wishes.
Most of the tools you need to send a paper invoice are available in any office. You will need a computer with a printer, office software and envelopes. Although you can write out an invoice by hand in a specially prepared form, it is much easier to work on electronic documents.
With a word processor or spreadsheet, you can prepare a document that contains all the necessary elements. Then you need to print it, put it in an envelope, address it and send it. Most popular word processors allow you to print on envelopes, so you don't have to agonize over writing out the address by hand. All that's left for you to do is buy a postage stamp and send the letter to the contractor.

How to prepare an invoice in electronic form?
An alternative to paper documents is an e-invoice. You don't need special software to create it, as the one you use every day – a simple spreadsheet or word processor – will suffice. As with a document sent by traditional mail, you first have to create an invoice, except that instead of printing you should save the file created this way.
Avoid formats like DOC or XLS, because although they are common and easy to open, they have one major drawback – a document prepared in this way can be easily edited. Admittedly, you have the option of securing the editing of such a file with a password, but it is better to use a proven solution – PDF files. By sending such a document you are sure that no one will interfere with its content.
How to create and send a PDF file with an invoice?
You can go for one of the converters available on the web, such as Adobe Acrobat, for example, to create a PDF file. Just select an invoice previously saved in a DOC file, and the program will automatically perform the conversion to PDF. Depending on your computer's settings and the options available in your word processor/spreadsheet, you can also already select the option to save the file in PDF format from within the program.
Add the document prepared this way as an attachment in an email. It is a good idea to start creating a message to a client with this step. This will ensure that you do not send an email without an attachment. In the title of the message, you can include the name of the project to which the invoice applies. The content of the email should be short and to the point, but remember to keep a polite tone. You can thank them for past cooperation, encourage to use the services offered in the future, and in the case of a partial invoice indicate what stage of work it relates to.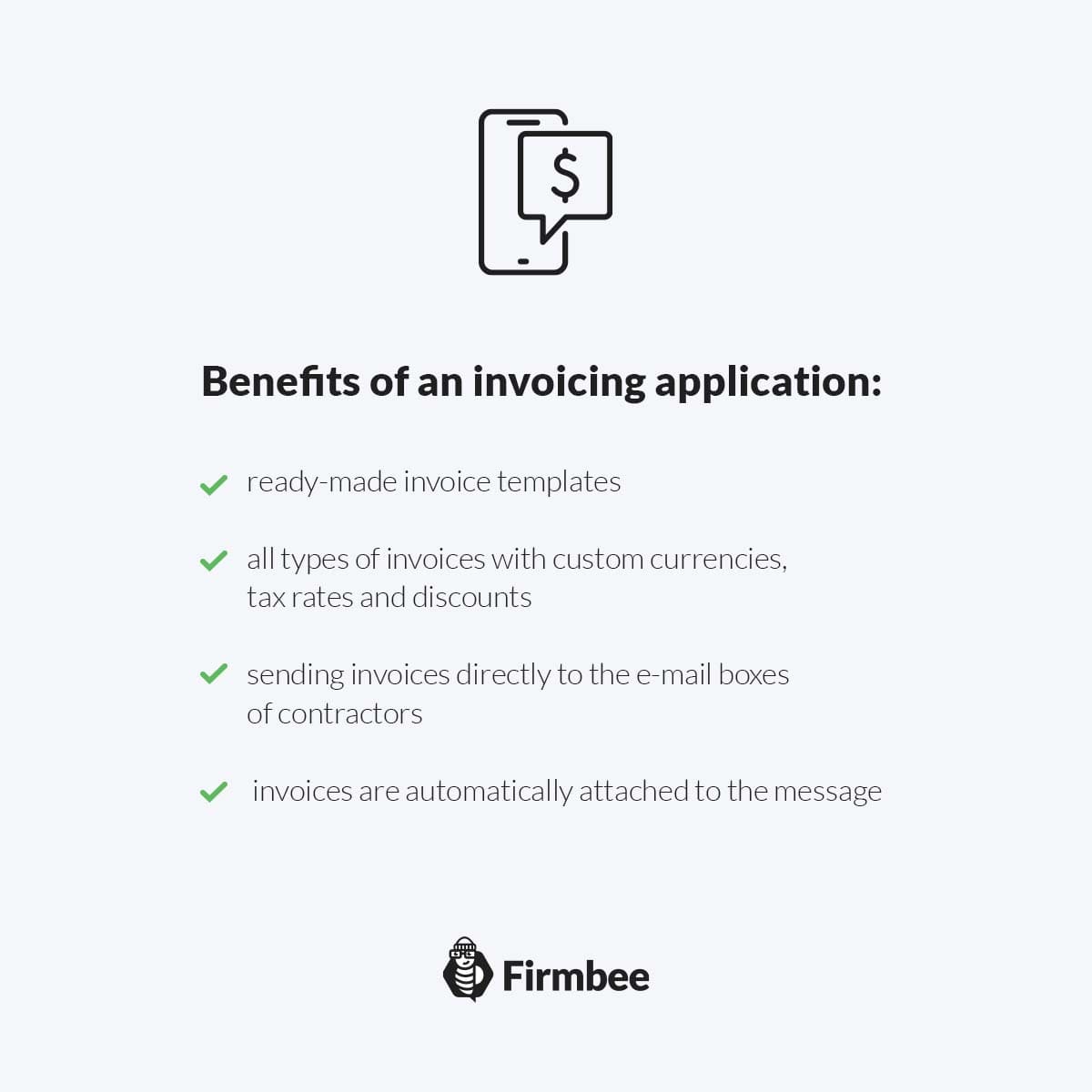 How an invoicing application can help you?
This is a tool that significantly facilitates the sending of invoices because it gives you the widest range of options. If you work with companies that require paper documents, you simply issue, print, and send the invoice by snail mail according to the client's wishes. The benefit for you is that such an application comes with ready-made invoice templates, so you can be sure that they will comply with your country's regulations.
You also don't have to worry about VAT rates or the correctness of calculations and summarization. Just select the appropriate tax rate, enter the net value of the goods/services, and the program will calculate the value of the item itself along with the tax.
With free invoicing app, you can easily send e-invoices directly to the e-mail boxes of those contractors who accept this form of communication. Such a document is saved immediately in PDF format, so you will not have a problem with converting such a file into a format that will ensure data integrity. You can send an invoice prepared in this way with literally a few clicks. You don't have to log in to your email – you can do everything from within the application. You can enter the subject of the message, complete its content or use a prepared template, which saves time and significantly shortens your work.
Importantly, you will never again happen to send an email without an attachment, because by clicking the "send" button the invoice you issued is automatically attached to the message. As with standard email, you can select the recipient of the message, add more recipients, and even send a hidden copy. This is practical when dealing with large companies because you can send the invoice both to the person you are working with on a project and directly to the accounting department.
If you like our content, join our busy bees community on Facebook, Twitter, LinkedIn, Instagram, YouTube, Pinterest.