How to provide constructive feedback to a fellow employee? Have you ever had to talk about something really unpleasant with your colleague? Did you try to praise your team mate and it didn't work quite well? There are methods and strategies for better feedback delivery you may try on. Read the article to find out more.
Constructive feedback – table of content:
How to provide constructive feedback – 6 steps
Managers and HR specialists distingush at least three types of feedback and those are: appraciation, coaching, and evaluation. This selection doesn't apply fully to the peer-to-peer feedback because evaluation is usually done by supervisors and higher rank leaders. Still some rules apply to the feedback given to a fellow employees. If you wish your feedback to be effective try to remember about the rules listed below.
Focus on work

Don't talk about personal matters. Stick to facts that are related to work. Personality, character and other traits cannot be a part of your conversation.

Be specific

Talk about specific days, specific tasks, or specific situations. In a professional setting there is no time to guessing. Get to the point and don't make them confused. Good feedback is always precise and accurate.

Know when to talk in private

Never criticize publicly. IT is appropriate to praise publicly, but critical comments have to be left for other, more private occasions. It is not difficult to hurt somebody's feelings or cause gross embarrassment. Keep it as a rule: don't criticize in public.

Ask for feedback in return

Whenever you give yourself a right to talk about somebody, give them the right to talk about you. Ask for their feedback and encourage them to speak their mind. After all your feedback should be an opportunity for growth for all of you. You fellow employees may have valuable insights too, so let them show you their perspective and point of view.

Do it regularly

As long as you are not a manager, you don't have to stick to a schedule with your feedback. You don't have to wait to the end of the month or week to express your appreciation. Act respectfully and consider your wording. After all it is just a simple conversation.

Forget about "sandwich" way

The goal of feedback is to help with development. Your colleague needs to improve and your comments should facilitate the process. Forget about the "sandwich" method, since it is confusing, insincere and not really tactful. Adults need honesty and can stand some amount of criticism. You don't have to soften the blow, just be accurate, transparent and concise. Tactfully say, what is there to be said and don't beat around the bush.
How to provide constructive feedback – when and why
There are many situations, when positive feedback should be considered. Try to praise your team mates when somebody:
helps a client, a customer or another team member
finishes a difficult or long project on time
tries to learn a new skill
shows great skill, talent or ability
takes on new role and gets more responsibility
needs support to be more confident
takes initiative and come up with great ideas
In most of the companies feedback conversations are being made by managers, HR leaders and supervisors, but there is no rule that forbids any peer-to-peer feedback especially when it is sincere, productive and made with person's growth in mind.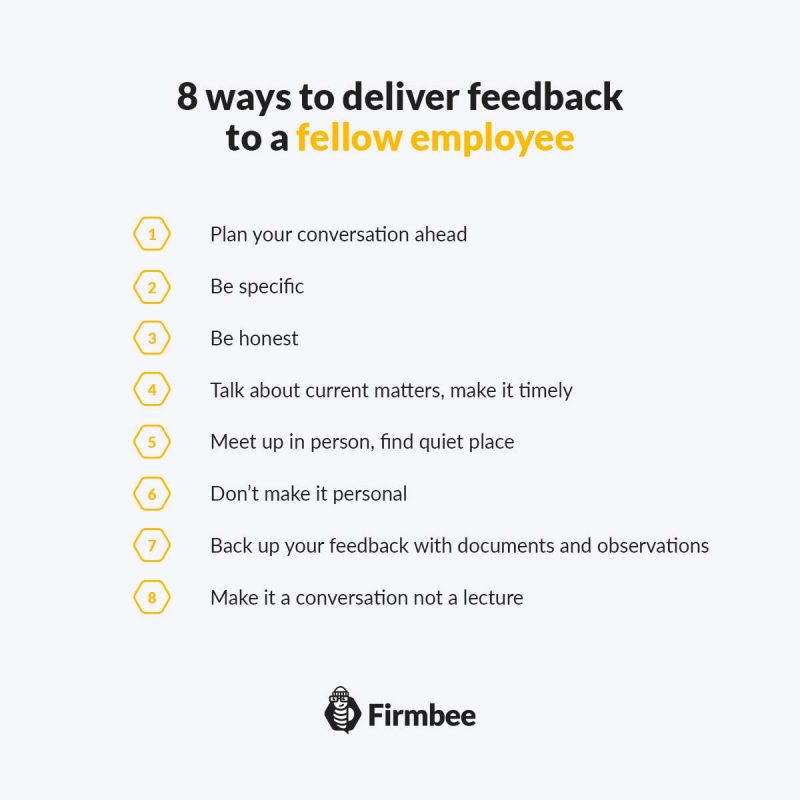 Constructive feedback – summary
There are many ways to deliver constructive feedback to your colleagues. Most of the people expect and appreciate constructive and honest criticism. More feedback, especially if delivered in a tactful way, means better understanding, performance and faster personal growth. Knowing how to communicate constructive feedback to a fellow employee is a good point to move a needle and start practicing.
A few strategies mixed with careful observations make a good start for the feedback process. Remember that feedback may be seen as an opportunity to share your real opinions and strengthen the bond between you and your colleagues. It doesn't have to be personal, offensive or harsh to be effective and refreshing.
Do you know what 360 degree feedback is? Check out our article to find out.
If you like our content, join our busy bees community on Facebook, Twitter, LinkedIn, Instagram, YouTube.