What are the advantages of 360 degree feedback? Do you know how this method of assessment can help your professional career as a leader? Is there better way to make your employees getting heard? Is there a tool which could be used with many respondents including: managers, subordinates and clients? Read the article to find out more about advantages of 360 degree feedback.
360 degree feedback – table of content:
What is 360 degree feedback?
Sometimes called multi-rater feedback or multi-rater assessment 360 degree feedback is based on receiving feedback from multiple sources. In this scenario the feedback is obtained from many points of view, and those distinctive perspectives allow gathering information of higher than usually value.
Any person may become a subject for 360 degree feedback and this may include equally: managers, supervisors, peers, subordinates, clients, suppliers, and HR employees. It is one of the main advantages of 360 degree feedback that it can be used in relation to so many different roles and positions in business.
In the process of the assessment respondents are being given a questionnaire where they can disclose their views on the performance of the person in question. The leader (who is being assessed) has to fill up self-assessment form. In the next step all of the feedback are being compared and analyzed.
Three components of a 360 degree feedback
The are three main components of the 360 degree feedback, which have to be taken into consideration during the assessment.
The first component is the assessment itself, where the carefully chosen survey instrument (questionnaire) is being used by the researcher.
The second component is the feedback. When all the surveys are being filled up by the respondents one nice and tidy report has to be created. The whole information has to be reviewed attentively so the all important insight can be gathered. This is particularly important because it is easy to misinterpret the findings. Survey used for the given case has to well adjusted and sound.
The third component is the training program. As the result of the assessment training program has to be developed to address weaknesses revealed during the assessment phase.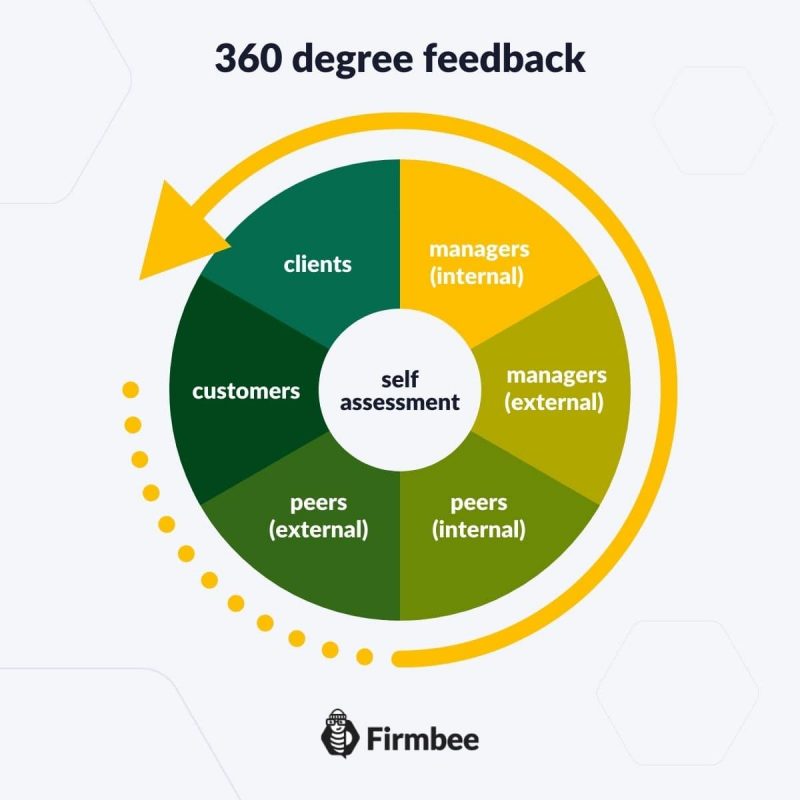 10 advantages of 360 degree feedback
The 360 degree approach is used by companies all over the world and all advantages and disadvantages of the concept are already know to the HR specialist, still it is worth to discuss them shortly as a quick reminder.
Increased self-awareness – every person, who is assessed through the 360 degree feedback has a chance to view themselves in perspective of others having confidence that there is no individual, personal bias or sides taking.
Better, deeper perspective – the 360 degree is one of those tools, which allow highlighting of weaknesses of leaders. In traditional approach only employees get their feedback from their supervisors and it is never the other way round.
Increased confidence – positive feedback given by many individuals increases greatly the confidence of the person, who was being assessed.
Transparency and openness – if well-designed and properly executed the 360 degree feedback is a chance for improvement of communication.
Empowerment of individuals – when 360 degree feedback is used all employees have a chance to voice their concerns. Individuals may feel that they have a voice and that the company respects their view and opinion, hence any type of action in result employees are heard has a positive impact on staff morale.
Reduction of turnover – every tool for open, constructive communication used in the company improves relations between team members, hence if there are any hidden problems, they have a chance to be exposed and dealt with.
Increased accountability – one of the most notable results of 360 degree feedback is the increased accountability. With transparent means of measurement individuals can be made accountable for their actions in a positive manner.
Improvement and change company's culture – every company needs to change to keep up with the competitors, but every stable, huge structure requires professional methodology of change adjusted to those need. 360 degree feedback tool can be a good start in the process of change, where all weaknesses of the structure have to be identified first.
Professional development – 360 degree can be used by the leader with his own, individual, professional development in mind. The feedback may reveal much about character of the person and the possible defects in management style that need to be addressed.
Summary
As we see from the above there are several advantages of 360 degree feedback approach. The most important is that with this type of survey transparency of processes and motivation of employees increases. The 360 degree feedback is an instrument of proven usability, which can be used successfully and efficiently for feedback processes in the company.
Read also: 4 types of employees every company needs
If you like our content, join our busy bees community on Facebook, Twitter, LinkedIn, Instagram, YouTube.