You don't have to have a huge photography studio or work for a photo agency to make money from photography. There are other, simpler ways to do it – for example, selling photos online. Where exactly and how to make money with photos?
Selling photos on the Internet – table of contents:
The growing popularity of self-publishing and content marketing means that more and more people are looking for good-quality images online. This certainly includes bloggers or other authors, as well as designers or business owners. Photos themselves are finding use today not only on websites. In e-books, social media, blogs, posters, flyers, newsletters, reports, sales offers, and much more. It is worth taking advantage of this trend and sell photos in e.g. stock services.
Image banks
Stock sites, or so-called image banks, are currently very popular. These are places on the Internet where you can buy and sell photographs. All you have to do is to create an account in one of them, upload your photos and give them proper descriptions. Then all you have to do is wait until customers start downloading and buying them.
How to make money with photos?
Not all images sent to image banks are accepted. Not all of them are popular among customers.
In the beginning, you should carefully browse through the stock images available in image banks. Stocks must be technically correct – have the right contrast, depth, frame. Additionally, Yuri Arcurs, who is one of the highest-earning stock photographers in the world, advises keeping the so-called icon effect when taking photos. What does this mean?
The photo must be clear and specific, with no unnecessary elements in the foreground or background; clearly showing a situation, even when the photo is reduced to thumbnail size.
Selling photos online – seasonality and trends
When selling stock, it also pays to tailor your offerings to prevailing trends, so that as many buyers as possible can find the image they need – at a time and for a purpose that's convenient for them.
Photolia.co.uk advises its vendors to turn to the calendar often: "Certain themes tend to sell seasonally (vacations, spring, etc.), according to holidays or special days. For example, images of Christmas decorations sell best six to two weeks before Christmas, so it's a good idea to send them at that time." Additionally, they recommend following the latest ads, magazines and gadget or lifestyle sites to stay up to date.
A tip to watch out for is looking for a niche. In other words, find a subject that hasn't been photographed before, so there's no competition or one that is photographed rarely – and photograph it better than others. This could be photos of old car interiors, photos of board games, church cameras, materials.
"It's good to try to find a niche that can be filled. For example, ethnic diversity is a very catchy topic", advises Photolia. "The world is becoming more and more global and the demand for photos of different ethnicities will grow." Recently, there has also been a growing demand for stock in video form.
You don't always need a huge studio and complicated equipment to photograph a subject. Sometimes you don't even have to leave your house – all you need is a little bit of cleverness: To take a concert photo, you don't have to go to a concert. All you need is a group of people pretending to be a crowd and the right perspective", advises Yuri Arcurs.
As you can see there are quite a few possibilities. It pays to look for a niche, but of course remember that the most frequently purchased stock in image banks are still universal images, so they can be used in many different situations and industries.
What to look for when publishing stock?
When publishing stock, it is essential to be careful about intellectual property rights and image use. In the case of pictures of people, you need to have permission for publishing the image (after all, the photo can be used in various ways, e.g. in an article about some embarrassing disease or on a political poster).
The image bank may also reject your image if it contains a company logo, store sign, protected architecture, trademark, etc.
Another issue concerns culture and customs in various countries. Thus, a raised thumb on a photo will not always mean that it is OK or that you are "getting a foothold" – in some countries this gesture is considered very vulgar. The same is true of the victory gesture, or the characteristic "V".
Speaking of hitchhiking: it is worth remembering that not all countries have left-hand traffic. So not all images will fit into an article titled "New road rules for English people from March".
A high-quality, professional photo signed as a "gentleman", in which a man kisses a woman's hand also can not necessarily become a hit – this custom is usually practiced today only by Poles. For Croatians, it is something downright disgusting.
And if you are going to sell culinary photos to the eastern market, remember that in India and Indonesia it is not allowed to touch food with the left hand. It is worth remembering such details.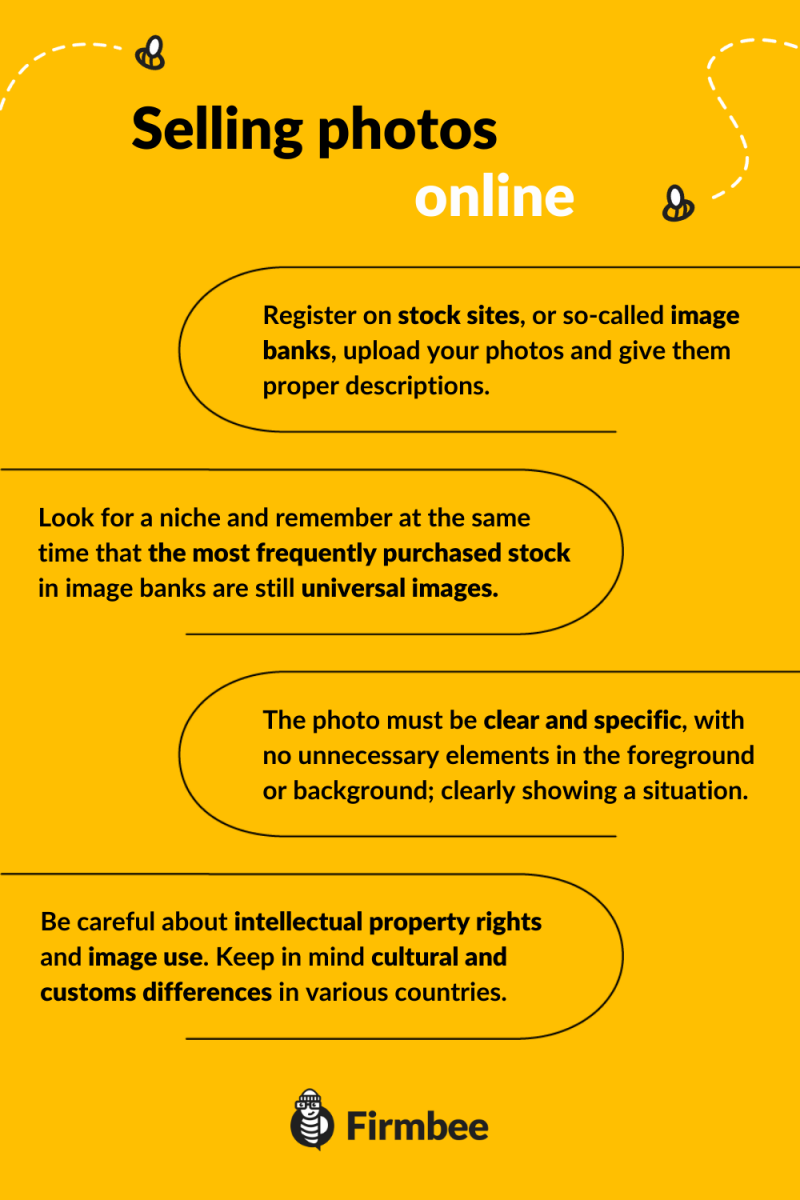 How much money can you make with your stock?
Prices for stock range from several cents to a few or even a dozen Euros. It all depends on the size, quality and specificity of a given image, as well as the license or settlement model. Part of the income goes to the author of the image (usually from 20% to 60% of the sale), and part goes to the guarantor, i.e. the owner of the service.
Selling photos on the Internet can be treated as a form of the additional, passive, or even main source of income. According to various references and forums, the average monthly earnings of stock photo authors range from $200 to $500/month but some photographers earn nothing.
The living proof that it is possible to make quite a bit of money from selling stock is the aforementioned Yuri Arcurs. Yuri currently sells over 400 000 photos a year – in January 2008 alone he earned $64 000.
There is no shortage of places to sell your stock photos on the Internet. The most popular image banks include Adobe Stock, iStock, Shutterstock and Stocksy. There are also sites like Envato Market or other sites we were writing about, where you can sell your pictures. Before deciding on a particular one, carefully study the rules and price lists there to choose the best option for you.
Join our Facebook community so we can stay in touch!