Fiverr is a popular website for freelancers to earn money by performing certain services online. Fiverr.com defines itself as the largest platform with global reach that allows you to network with clients from every corner of the world. How to start earning there and maximize your profits? How to account for your earnings with Fiverr? Take a look and see if this service is for you.
Fiverr – table of contents:
Fiverr – what is it?
Fiverr is an assignment service for freelancers from all over the world. Its idea is based on offers (gigs) that a freelancer develops for potential clients. It can be for example preparing a logo, creating an animation, authoring an article, or taking a photo. However, this is only a fraction of the options available.
The advantage of the platform is that within one site, you can take advantage of services offered by freelancers from different industries. This diversity allows you to easily manage your assignments without having to use separate portals that specialize in specific fields.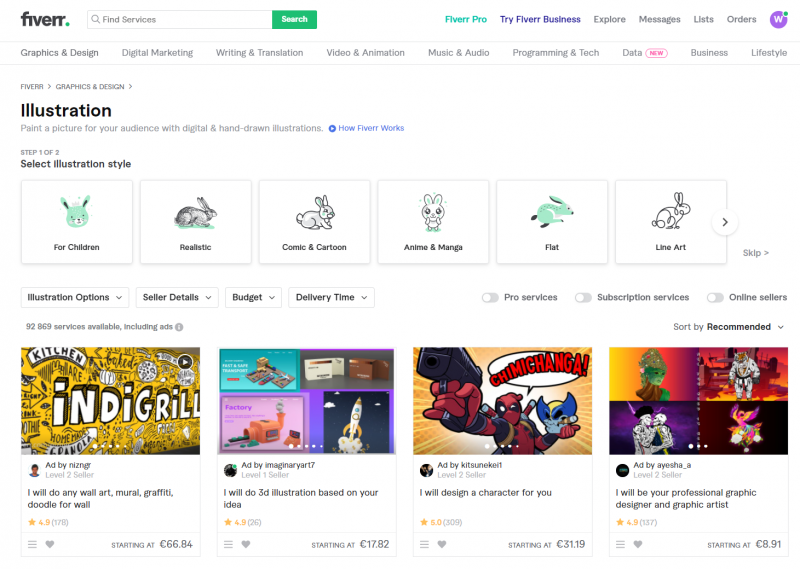 How do I get started on Fiverr?
The starting point is to clarify your talents. What areas can you pursue at Fiverr? Here are some examples of the most popular specializations:
Graphics and design – designing logos, graphics for the web and print, t-shirt designs and book or e-book covers,
Online marketing – social media, SEO, email marketing campaigns and all other promotional activities,
Video and animation – editing videos, creating clips and promotional materials,
Writing and translation – copywriting, development of all written content, social media posts, translation services,
Music and audio – creating recordings, jingles, voice recording, etc.,
Programming – creating applications, setting up websites.
How to make money on Fiverr?
If you have already defined your skills, it is a promising idea to focus on specializing in your chosen niche. For example, if you specialize in logo design, taking this path will help you stand out from your competitors. What is more, you will also start working on building your image as an expert in a specific field. So, think about what you are interested in and what you enjoy – this will allow you to monetize your hobby.
Profile and gig creation on Fiverr
To start making money on Fiverr, you need to create a free account and complete a detailed seller profile. The profile is the first factor that influences buyers' decision making. If professionally created, it serves as an advertisement. Therefore, in addition to your experience and skills, you should also include your photo and the languages in which you will be completing orders. The next step is to create your own gig. A gig on Fiverr is nothing but your own services that customers can browse and buy.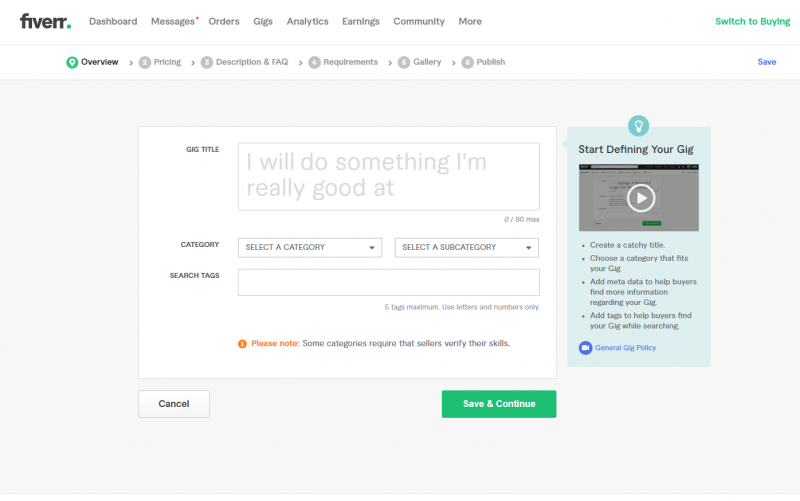 When creating them (after selecting selling and gig from the top menu), you should always include a title that will let customers know about the service you offer. The tags and category are also important, which Fiverr usually adjusts automatically, but you can also specify it manually.
Next, choose one of the price packages in which the service will be available:
You can also choose all 3 options and experience how they differ and what is included in the Basic, Standard and the most expensive, Premium version. In the gig, the author can present his service with a photo, graphic, animation or video. Depending on the package, information such as the number and name of the package, description, completion, or shipping time must be provided. The published Gig can be shared on social media such as Facebook.
Freelance jobs Fiverr promote itself as a provider of cheap services, starting at just five dollars. However, this does not mean that all assignments cost the same – as a rule, this is the starting amount and each of the presented offers can be purchased in a more expensive, more elaborate variant. Everything depends on the complexity of the task, the variables that affect its price, and the status of the freelancer himself.
How much money can you make on Fiverr?
It is hard to give a clear answer to this question. Although the idea of the portal was to provide distinct types of services for $5, this applies to their basic versions and not in all cases. The very beginning of your career should be treated as learning how to effectively promote yourself as a freelancer. From the moment you get your first order, it's worth approaching each one with the utmost care – proper customer care will turn into customer satisfaction, a positive assessment of your efforts, but also a recommendation for new potential clients.
With the passage of time and positive feedback from customers, you can count on the snowball effect – an influx of regular orders. The single amounts of money you get from the portal may not be the highest, but if you do them systematically – then at the end of the month they will generate a satisfying income which will be an addition to your regular salary or will persuade you to work on Fiverr permanently.
Settlement and commission
You need to remember that when placing an order on Fiverr, the client transfers the remuneration to the platform's depository. Once the work is done and the client approves, the money goes into the freelancer's Fiverr account. Withdrawing the money to the client's own bank account is possible after two weeks – during this time, the client has time to review the work and verify that there are no errors. The portal collects a commission of 1/5 of the earned amount – for example, if the client transfers $100, the freelancer will receive $80.
The operation of withdrawing funds to an individual account takes about 3 working days and is done through PayPal or Payoneer platform – for this service you need to pay additional $3.
How to account for Fiverr?
After describing the portal, some freelancers are wondering how to account for earnings from Fiverr. The terms and conditions of the platform clearly state that it is not allowed to ask the client to provide data for issuing an invoice for services rendered. It is also forbidden to issue an invoice for the service. In this case, you should consult your accountant.
An easy way to account for Fiverr revenue
One of the methods of accounting in case of running one's own business is submitting to one's accountant the list of performed orders for a specified period – then the internal bill reflects the revenue and the commission imposed by the service is listed as a deductible cost.
The platform also sends an annual settlement. Is it necessary to have my own company to perform assignments on Fiverr? No, if you make earnings from it that qualify as such, the activity remains unrecorded.
Summary
Fiverr allows you to easily monetize your talent. It is also a place where you can become an entrepreneur, learn how to promote your services and search for clients. Transparent forms of earning, the possibility to contact with clients from all over the world – these are the added values of such a form of cooperation.