Are you planning to make a short tutorial video for your clients? We've got some tips how to make a tutorial that's useful and attractive. Short videos are an invaluable form of assistance that can provide effective step-by-step instructions on how to deal with a problem.
Widespread access to smartphones means that you can get condensed guidance in almost any area you desire in a snap – all you need is access to the internet. If you want to help your audience and potential customers by showing possible solutions – such a tutorial will be a hit.
How to make a tutorial – topics covered:
What is a tutorial?
A tutorial is a kind of video guide, a fairly common form of manual published online. Some authors feel more comfortable with writing and preparing tutorials in the form of a condensed article, but it is the short video that is more engaging and gaining popularity.
By all predictions, the search potential on video format platforms is growing and this trend is here to stay. If you want to provide your audience with attractive content that will allow them to grapple with an issue – the tutorial form has it.
How to make a tutorial?
Kicking off by drafting a script for such a video, i.e., outlining the stages of what is to be conveyed in such material, e.g., in the form of a storyboard. Proper preparation is the basis, as well as testing of individual sequences.
Rehearsing the presentation, a couple of times will allow you to achieve flow during the recording – such a natural element will surely be appreciated by the audience.
The script is a success in terms of content – but it is also important to take care of the technical aspects that make the viewing experience more enjoyable and encourage viewers to explore more of the content.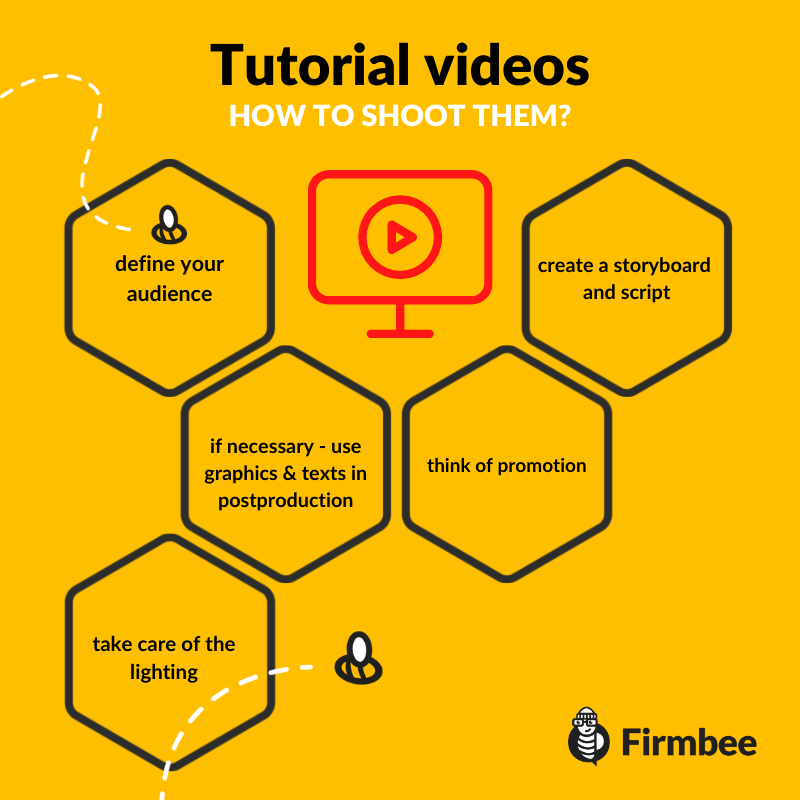 Take care of your tutorial's sound system
If you are wondering how to make a tutorial, part of your effort should be focused on high-quality sound. Poor audio not only hinders the reception, but also does not encourage to watch the material.
Then there are two ways to tackle poor quality. By recording video and audio separately you will eliminate background noise and interferences that come from the ambience. A recording of the sound in a dedicated sound-proof room will certainly be appreciated by your audience.
You also try external microphone – using even a basic model will make a noticeable difference in the sound quality.
An alternative solution is to completely abandon recording the audio of instructions – you can also successfully use clear and legible subtitles, which will allow you to benefit from the knowledge contained in the tutorial without having to put on the headphones.
Screencast idea is the basis for audience engagement
Screencast is a recording of the computer screen. It's used primarily to demonstrate the capabilities of a program or to show step-by-step how to tackle a problem by following directions on your hardware.
If you are wondering how to make a tutorial in the simplest possible way, screencast is an idea for you. To prepare a screencast, you'll need special software that can record the movement of the cursor on the screen – with or without sound.
In what industries will a tutorial in business work?
It all depends on the target audience and their needs. It would be easier to rephrase the question and focus on what sectors such tutorials would not prove valuable in.
Whether you run a car repair shop and want to show how to change a tire, or as a make-up artist you share your tricks for preparing a wedding make-up – it is highly likely that part of your audience will use your knowledge to practice on their own, and the rest will come to you with a request for such a service. Therefore, you can treat video as one of the elements to shape up your expertise on the Internet.
An engaging tutorial is one of the elements of promotion
The cost of producing a tutorial is relatively low, and its life cycle can be infinitely long if in the material you show solutions to the most common problems that concern your target audience.
Screencast can be successfully used on your website and social media, where you educate your audience and show a possible scenario for dealing with an issue. Video is becoming increasingly popular among internet users which explains why you should look for an idea on how to record an instructional video for your business.
See also: How to make a professional advertising spot script?