A movie script belongs to a literary genre and in its core lies a storyline. It is essential in the creation of professional videos, series or films. It can also, with appropriate modifications, be interpreted in a play. While there is no one simple method for how to write a screenplay, there are a few guidelines to follow if you want to make it look professional. A script is essential in creating any professional video content.
Advertising spot script – table of contents:
How to write an advertising spot script?
While there isn't one simple method of writing down a script, there are a few hints on how to lay it out. They are the key to your success.
Prior to content, consider its form
Writing a screenplay is considered to be an endeavor governed by certain frameworks intended for this genre. The most important thing is to stick to appropriate language that is simple and concise, allowing the rapid and smooth transmission of content. It should be a kind of blueprint outlining the story.
Instead of writing "The purple sky seems to be getting darker and darker" you should rather write "It's getting darker".
A film script must be easy to understand and simple to convey. It is an intuitive document that is supposed to outline the correct perception of the situation on the set. The rest is up to the actors and director. Although the script for a film is used in television productions, some films posted on multimedia portals such as YouTube are also based on a well-devised plan.
Components of a script
What features are included in a professional screenplay? In addition to language issues, it is important to keep the various elements of the plan correct:
The scene designation. It is usually marked with Arabic or Roman numerals. The number is followed by the name of the scene in bold. Descriptors may also be used, specifying where the action takes place.
Brief description of the plot. Outlining what is on the set, it should contain description of the room, objects, behavior of actors and the context of the action. It is to convey to the viewer in the simplest possible form what is happening.
Actor. Names of characters in capital letters, separated by a dialogue module.
Dialogue. A conversation between characters. It should be centered on the diagram of the document – same as the actors' names.
Creating a spot script – an example
The screenplay should be written on a standard sheet, such as Word in A4 format. The traditional font used to create a film script is 12-point Courier. You can also go a step further and use programs that automatically format your work. However, they are quite expensive – the professional Final Draft, or screenwriting software, costs about 200 Euros for the newest version.
However, you can do the tedious work yourself. Here is an example of a script fragment, which can also be used to create content for YouTube: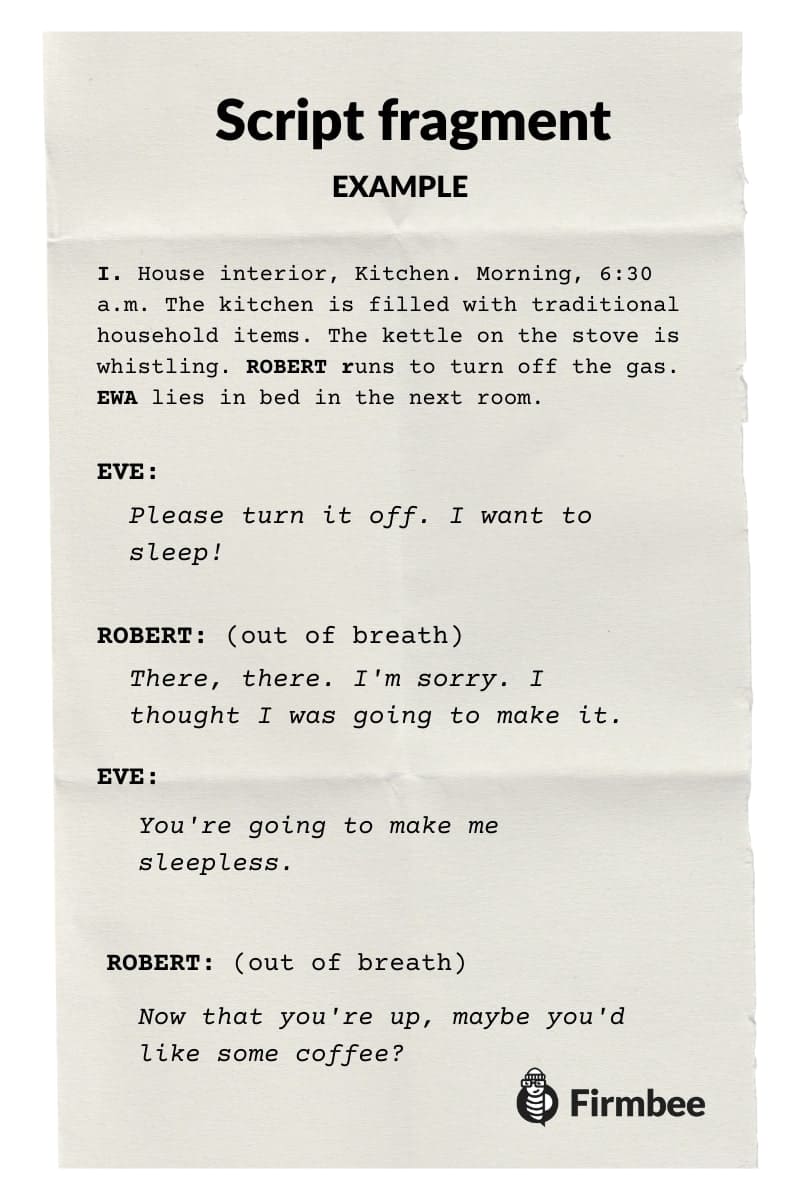 Making a professional ad spot script
The professionalism of the work depends on the degree of adherence to the form of the script. If the document will contain all, precisely transmitted information, you can say that it is done correctly.
The script should also be properly formatted. This will allow you to read the most important information efficiently and quickly, making it easier to work on set. Professional YouTubers spend long hours preparing a perfect script, which is then implemented directly during the creation of the video production.
To sum up, here's what we outlined on how to write a script for an ad spot:
Stick to a blueprint
Use simple language
Describe only the most important information
Describe actions and character states writing in brackets
Once you master the art of writing an advertising spot script, see how to write an e-book for your customers.
Firmbee – project management tool