More and more people are starting their adventure with freelancing. This model of cooperation is becoming increasingly popular. In the United States alone, according to the Freelancer Union data, more than 56 million people work in this way, working more than a billion hours. Globally, this market in 2021 was worth about $3.5 trillion. If you are considering switching to freelancing, you need to know the answer to one crucial question – how to issue invoices as a freelancer? In this article we will try to respond to it.
Freelancer and invoicing – table of contents:
Why is an invoice a good solution for a freelancer?
From the client's point of view, settling on the basis of invoices is the best form of cooperating with a freelancer. When an enrepreneur receives an invoice for the provided services from you, they can easily include it in the costs of running a business.
This does not give rise to any additional tax or insurance obligations on their part. They forward such an invoice to the accounting department, order the payment of remuneration, and this is the end of their obligations towards you.
That is why when concluding contracts, freelancers who can issue invoices are particularly rewarded. This way of settling accounts with the client significantly increases the chances of getting an interesting and lucrative order. How to get down to invoicing, then?
When to issue your first invoice?
First, you need to make sure that the form of running a business you choose authorizes you to issue invoices. It is worth checking this before accepting the first commission. The lack of legal possibilities to issue an invoice can result in not being paid for your work. Why?
An entrepreneur who commissions you to perform a task must have a document on the basis of which they will pay you the agreed amount. Among others, an invoice is such a document. If they do not receive it from you, they will not be able to withdraw money from their company account.
Obviously, there are also other ways to settle accounts with the client, but they must be informed up front about the form of settlement that you can offer them as a freelancer. Therefore, self-employment is the most frequently chosen business model by freelancers. In this case, you have no limitations when it comes to invoicing.
Can you create an invoice by hand?
You can use ready-made templates to issue invoices. You will find them in stationery stores and wholesalers offering office supplies. Such forms are self-copying, so you can issue two identical copies of the invoice at the same time, one for each of the parties to the transaction.
However, you must admit that this form of issuing invoices is quite annoying, impractical and even archaic. If you work in the area of new technologies, which is quite common among freelancers, then issuing invoices by hand could badly affect your image. Also, you would have to send such an invoice by traditional mail. Therefore, using a freelancer invoice app would be the best solution.
Why should you have a freelancer invoice app?
Invoicing programs let you print invoices without any problems. There are usually various templates available that you can customize for the type of business you're doing. You can also place your logo on such an invoice, thanks to which you will take care of the visual identification of your company. Another benefit is the automatic summary of all items listed on the invoice. As a result, you can be sure that there are no mistakes in calculations.
If you run your business in a country where VAT applies, the invoicing program will suggest what VAT rates you can use on your invoice. It will also automatically calculate the net and gross amounts and the total amount of VAT. This is a great convenience for a person who issues VAT invoices.
However, issuing an invoice is only half the battle. In order to get paid for the provided services, you still need to deliver it to the client. How to do it? Although it could be printed and sent by mail, it will be much easier to use the possibilities offered by electronic invoicing.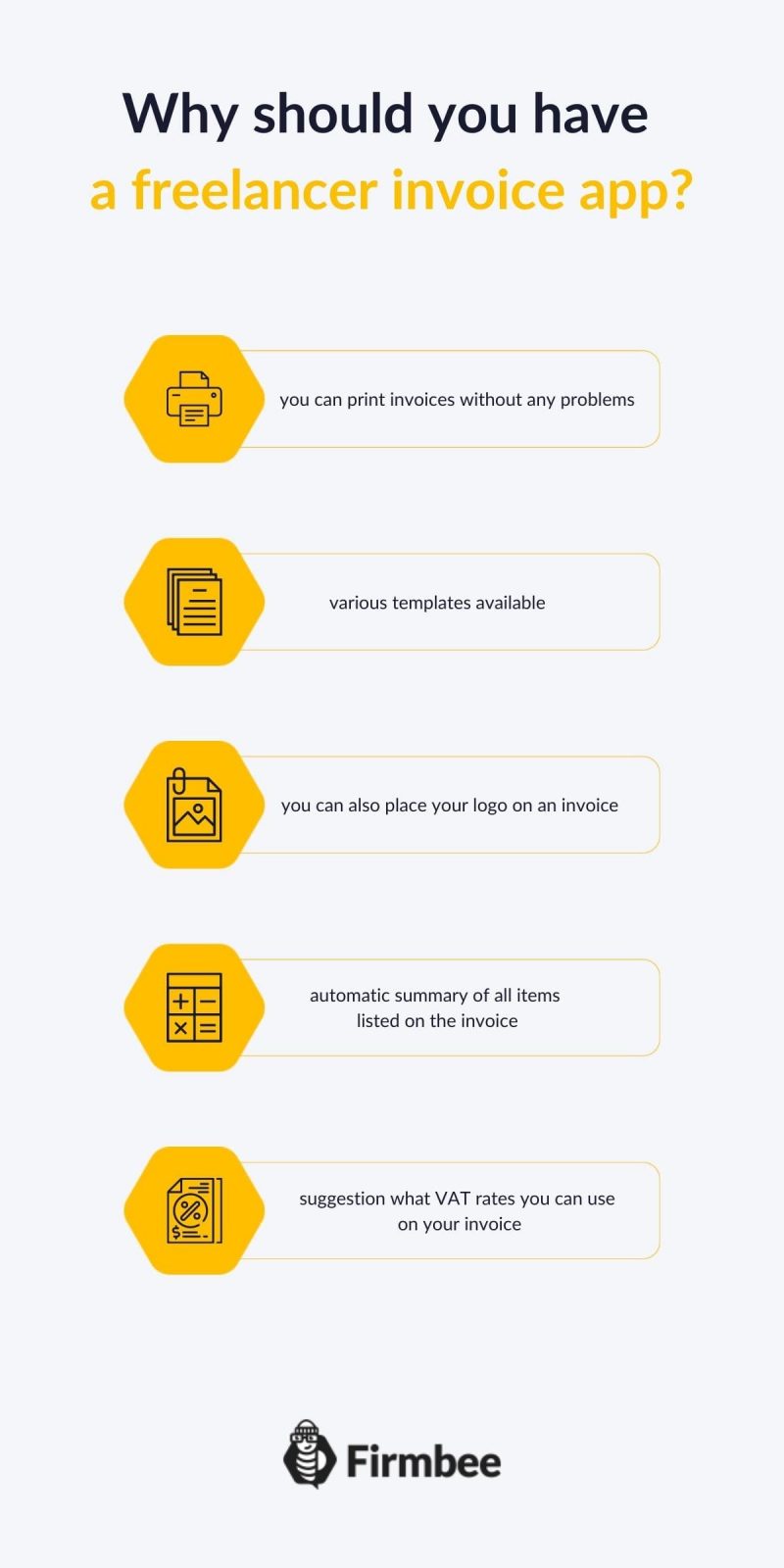 What are the advantages of an electronic invoice?
When you send an invoice electronically, you deliver it in real time. You don't have to wait for the mailman. Your client will instantly receive it. By using appropriate email settings, you can ask for an acknowledgement of receipt to make sure that the invoice has reached the right person.
Another advantage of electronic invoices is that it is impossible to lose them. If the invoicing program you choose works in SaaS (Software as a Service), then such documents are saved in a cloud. Thanks to this solution, even possible damage to the equipment will not cause the loss of your invoices.
What is more, you save paper, toner and the environment as you don't have to print every invoice you issue. Such pro-ecological activities can have a positive impact on your image. Since electronic invoices have so many advantages, how do I choose the right invoicing app for me?
A smart way to issue invoices
There are several invoicing programs on the market. Some of them are more expensive, others are cheaper. Depending on the chosen package, they also offer different possibilities. However, does an invoicing program have to cost a lot? It doesn't. You can use a free invoicing app.
You are certainly wondering if a free application is a good idea. No worries. It offers all the necessary functionalities, e.g. payment monitoring. Regardless of the equipment you are using, you will always have insight into your finances. The possibility of issuing recurring invoices will certailny appeal to those who settle on the basis of a flat rate.
Check out our new free invoicing app and billing software to create invoices.
If you like our content, join our busy bees community on Facebook and Twitter.