An invoice is a document confirming the transaction. This applies to both the provision of services and supply of goods, including the supply of digital content. It can be in paper or electronic form. The invoice determines the value of goods and services and is the basis for calculating taxes due. Although the invoice frequently appears in B2B (business to business) relations, it is not only an entrepreneurs' area. Private individuals also meet with invoices issued in the B2C (business to consumer) model. In this article we will explain what an invoice is and what is its purpose.
What is an invoice? What is its purpose? – table of content: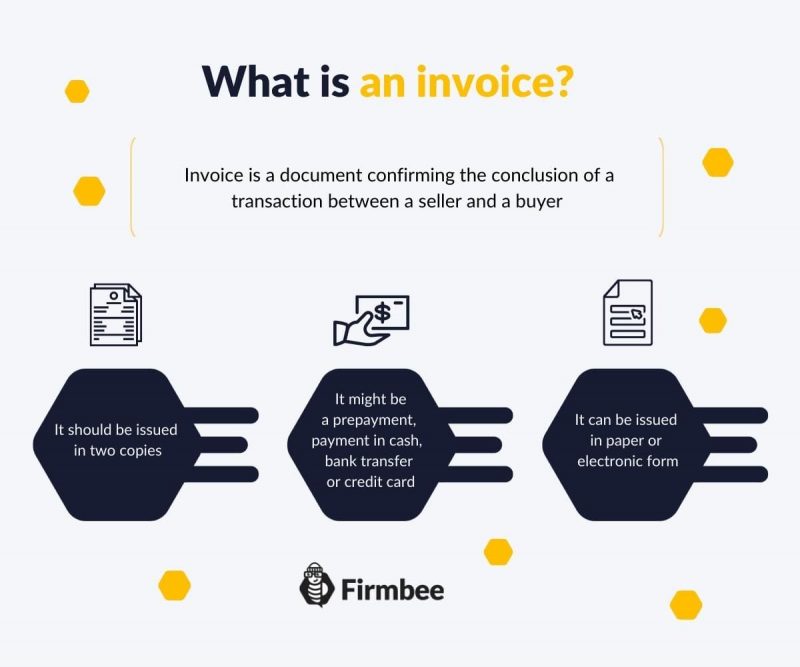 Basic information about an invoice
The invoice is a document confirming the conclusion of a transaction between a seller and a buyer. For this reason, the invoice must contain full details of both. It should be issued in two copies, one for each of the parties to the transaction.
Another important element of the invoice is its unique number and date of issue. It contains information about sold goods and services such as their quantity, price and value. For countries where VAT (Value Added Tax) is charged, the invoice will also show the rate and value of this tax.
The invoice indicates the method of payment for the supplied goods and services. It might be a prepayment, payment in cash, bank transfer or credit card. In case of a sale with a deferred payment date, the invoice will also include the date when such an obligation must be settled.
An invoice can be issued in paper form, but it might also be drawn up in electronic form, which has the same legal force. According to the E-Invoicing / E-Billing. Digitisation and Automation report, more than 370 billion invoices are issued every year, only 10% of which are electronic ones.
However, due to the fact that the e-invoice service is much cheaper than its paper counterpart, such a solution becomes more and more popular every year. By using automation when invoicing, you can reduce costs by up to 30%.
Invoice as a confirmation of sale
When selling any goods or services, you must document such an event in an appropriate form. When selling to individuals, you are usually required to have a cash register and issue receipts. However, at the customer's request, you must issue an invoice confirming the purchase. When running a business in the B2B model, the basic document confirming the sale is the invoice.
Many companies selling on various marketplaces issue invoices in electronic form for their customers by default. This is definitely a more convenient solution than printing receipts or paper invoices. Shipping such documents is easy to automate, so you don't have to deal with paperwork and you can concentrate on running your business.
Invoice as a document for accounting
According to IFRS (International Financial Reporting Standards), the invoice is one of the most important accounting documents which contains detailed information about the completed transaction. Among others, invoices calculate your income and the tax you have to pay on it. Invoices also document the costs you have borne to run your business. Depending on the chosen form of taxation, they may affect the amount of taxes due. As invoices can be controlled by tax authorities, they must be kept for a period of time provided for in the law of a given country.
Accounting offices, when preparing price lists for their services, frequently refer to the number of invoices. This applies both to those issued by you, referred to as sales invoices, and to invoices issued by your contractors for goods and services provided to you. The latter are referred to as cost invoices.
Accounting offices in the price of the basic package of services usually offer booking a predetermined number of invoices, but for each subsequent document exceeding this limit, they may charge additional fees. If you do not issue too many documents, using accounting services can be a considerable cost associated with running a business. However, you can use the application that will let you issue and book invoices on your own. It is made more convenient by predefined templates and drop-down data lists. Thanks to this solution, you can efficiently optimize the costs of running your own business.
Is an invoice necessary to use a warranty?
You do not need to have an invoice to use the warranty. For this purpose, any confirmation of purchase is sufficient. This can be a receipt, an account statement or a credit card payment confirmation. It is important to have a document confirming the transaction. However, a large number of people, especially when buying goods of greater value, choose an invoice. Why?
It is very easy to lose receipts. Besides, if they are poorly stored, they quickly fade and become illegible. There is no such a problem with invoices. They frequently have a larger format and it is usually an A4 page. Thanks to it, they can be easily stored in standard binders. Invoices in electronic form are an ideal solution. The access to such documents is much easier and in case you need to use the warranty, you can quickly find the necessary invoice.
How can you easily issue an invoice?
You can find a lot of solutions that support issuing invoices, starting from accounting and financial systems, through CRMs (Customer Relationship Management System) or more complicated ERP (Enterprise Resource Planning) systems, to dedicated applications, e.g. Firmbee, which is a free invoicing app. Thanks to such tools, you can easily make invoices and even automate certain processes, such as sending reminders about recurring payments.
This does not always have to involve considerable expenses for the purchase of such software. It is worth using proven solutions that provide full functionality when issuing invoices, and at the same time are free of charge. For this purpose, you can use the Free Invoicing App, which makes it much easier to issue invoices, even to those who have not dealt with accounting so far.
Read our recent article: Storyboard – what it is and how to use it for video production?
If you like our content, join our busy bees community on Facebook and Twitter.