Comfortable working conditions have a significant impact on employee satisfation. What's more, a favorable atmosphere translates into health benefits and inhibits the employee burnout. A survey conducted by iOpener Institute for People and Performance proves that happy employees take 10 times fewer sick days and are twice more productive. In this article, you will learn how to increase productivity in the workplace.
How to increase productivity in the workplace?- table of contents:
Say thank you
According to HubSpot, 69% of employees admit they are willing to work harder if their effort is properly recognized. Showing appreciation is fundamental to maintaining a loyal and dedicated team of experts. It should be noted that the recognition should not only be shown to the entire project group, but also to individual employees. An individual approach builds strong relationhips, loyalty and attachment to the workplace.
This can be achieved through a series of regular and specific messages. The approval can take a form of handwritten notes, emails or periodic rewards for meeting deadlines. The effectiveness of reward practices depends on the employee's personality. Therefore, a good idea is to conduct special personality tests. Gallup assessment, 16Personalities and DISC tests determine factors that best influence employees' motivation.
Interior design
This might not be obvious, but a suitable interior design has a great influence on the employee efficiency. Here are 3 key aspects to consider:
Scent – it turns out that the right frangrance notes can be a powerful support for professionals. Proof? The Japanese organisation discovered that the use of lemon extract increases productivity by as much as 54%. It is connected with the activation of brain chemicals that facilitate decision-making processes and performing tasks. It is important to use this knowledge, given the amount of time we spend in the office. A scented office will certainly contribute to achieving better results.
Lighting – it is another factor which has been confirmed by scientific research. "The Responsible Workplace" report proves that natural lighting reduces sickness and absence rates, which improves job satisfaction. A great example might be a post office in Nevada. The modernisation of lighting in the building has brought suprising results. The unit saved a lot of energy and the introduced changes increased profits by $500,000 a year.
Plants – having plants in the office helps to remove toxins in the air, reduce stress, and even increase interest among potential candidates. According to University of Exer, plants can improve employee efficiency by 15%. What kinds of plants to choose? Species that require minimal care will be best. For example, a spider plant doesn't need a special attention, but has a great influence on the air quality. Another suggestion is a snake plant, which is a resilient succulent recommended by NASA. The last option is an English ivy, which is a beautiful trailing plant and a real air purifier.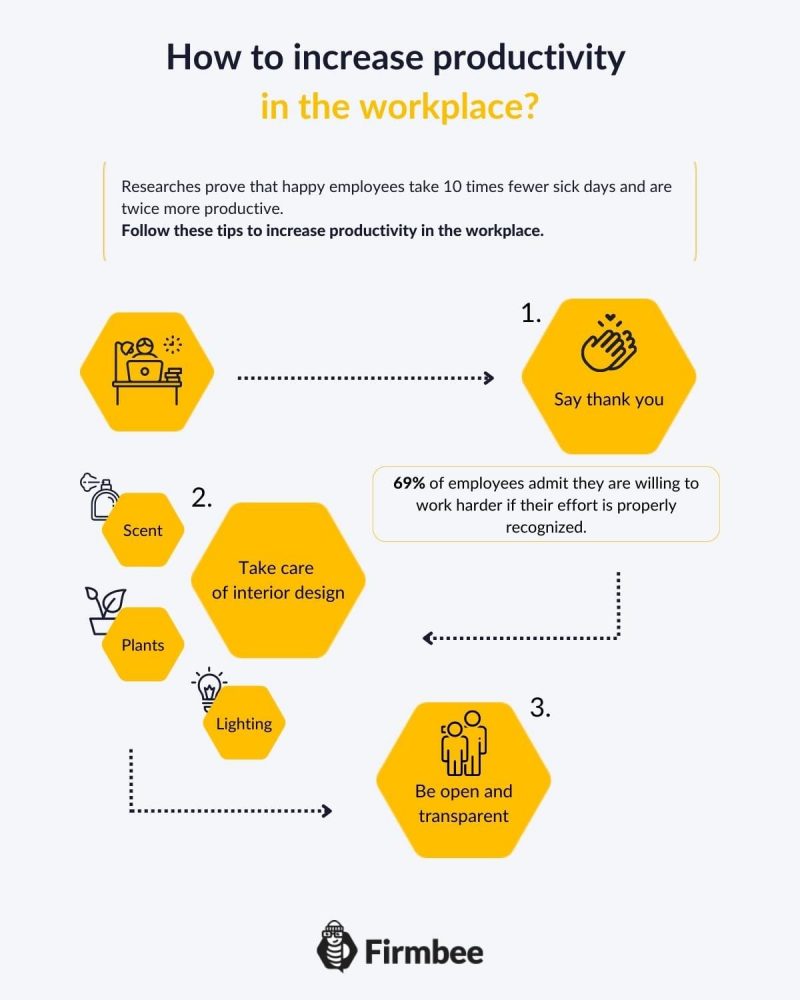 Openess
Designing a productive workplace requires a direct approach. A free-flowing communication is a basic step to build stronger bonds. A simple greeting can be a gesture that will break down the barriers and build trust between managers and employees.
Greater openness also means expressing empathy, which is very important when it comes to employee retention. Advanced research has shown that a lack of compassion and understanding activates brain areas which are responsible for negative emotions. This is a clear warning sign for Human Resources.
Transparency and openess at work allow employees to mainatain mental comfort. Regular meetings help to get to know individual personalities and get real feedback. They are also an opportunity for productive brainstorming, exchange of inspiring ideas and initiatives. Harvard University reports that inner peace contributes to impressive achievements at work, which is key to company success.
Summary
Boosting workplace productivity does not have to mean enormous expenses and complicated procedures. A few simple solutions will be enough to guarantee a positive employee experience.
If you like our content, join our busy bees community on Facebook, Twitter and Linkedin.