Completing the work and issuing an invoice is only half the battle. You still need to get paid. Some companies are notoriously late with their payments. How to get your customers to pay on time? Read on to find out.
How to get your customers to pay on time? – table of contents:
Screen your contractors
Get some information about your contractors before you do business with them. Issuing an invoice with deferred payment is lending money to your customer. Would you lend your money to any person? Probably not. Answer the following questions first:
Do you know the company you will be working with?
Do they pay their liabilities on time?
What amount will the invoice be for?
Will the customer sign a contract with you?
Some of the information you can get yourself. Check the official register of entrepreneurs. If the company is not listed there – it does not bode well. Another source of information is the Internet. Enter the company's data in Google. In this way, you can find the opinions of both customers and contractors. If the company is unreliable, you will probably come across warnings from its business partners. Similar information appears on Facebook. This is another place that is worth checking.
Also, check how long the company you want to partner with has been around. If it's a young business, you need to be cautious. This does not mean that you should not cooperate with such a company. Just ask for upfront payment or payment in cash at the beginning of cooperation.
Remember that even a company that has been on the market for a long time can get into financial trouble. Therefore, check what is happening in your industry from time to time. Credit agencies can be helpful here. These are specialized companies that deal with obtaining information on entrepreneurs. It is worth using such data in the case of a long contract for a considerable amount.
Obviously, not every client will be checked in the same way. If you offer services for small amounts of money, you will not thoroughly check the information about the contractor. However, when it comes to large projects, it's worth taking the time to screen your potential clients.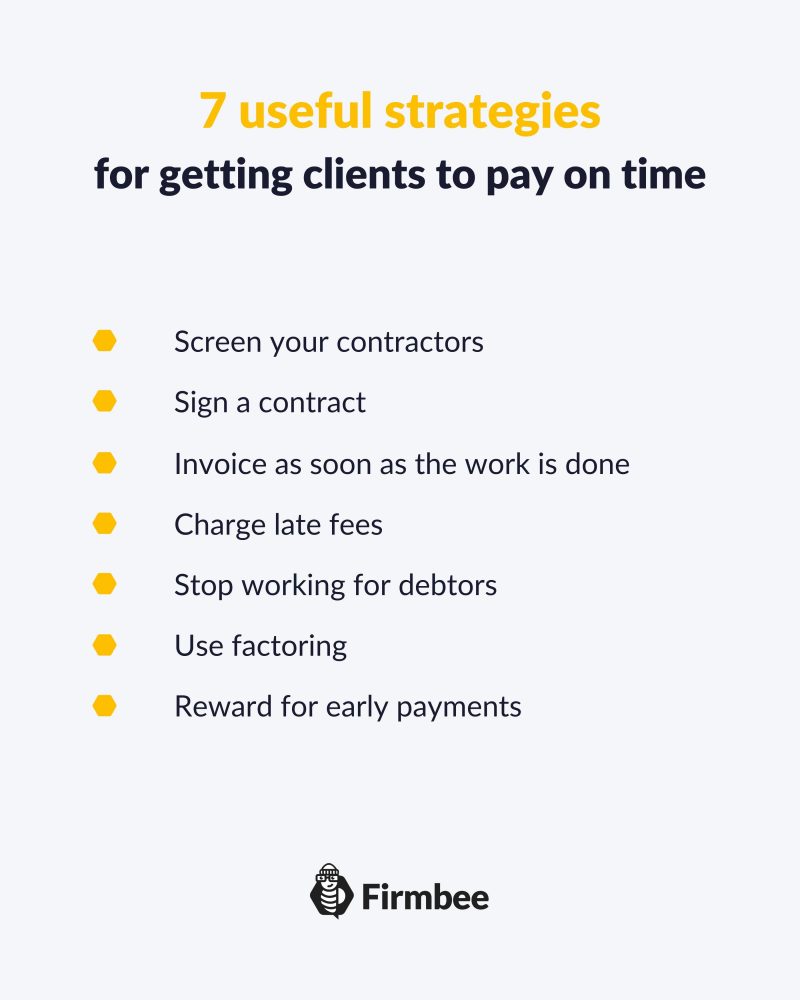 Sign a contract
Signing a contract will not make your client pay on time. However, such a document can be very helpful when you need to take legal action. Therefore, concluding a contract makes customers take their obligations more seriously. It does not matter what you call such a document. It can be a contract or a purchase order.
Interestingly, it does not have to be put in writing. Agreements sent by e-mail or instant messaging apps are also legally binding. A contract may contain additional details that are important from your point of view. These include the date and method of payment and information about late fees.
Invoice as soon as the work is done
You may think that it doesn't matter when you invoice. It does. When you delay issuing an invoice, you show your customer that you aren't in a hurry. Although this may not be your intention, you have to be aware that this is how it may be perceived. As a result, the customer will not be urged to pay on time either.
Issuing invoices immediately after the work is done will speed up the payment process considerably. Additionally, you may ask the customer to confirm receipt of the invoice, and as the due date comes up, you can send a reminder about it. Also, don't forget to send a thank-you note for timely payment. With our free invoicing app you can set reminders for upcoming payments and with just one click check the amount due and due dates.
Charge late fees
There is nothing that motivates people to take action more than money. The carrot and stick method has been known for years. Let's deal with the stick first. If your customer fails to pay the invoice on time, you are entitled to charge interest. Let your customers know what will happen if you do not receive a payment on time. Keep in mind that charging late fees is your right, not your obligation.
Penalties can damage your relationship with your business partners. Therefore, it's not advisable to charge interest for a single or short delay. However, in the case of customers who always pay late, charging penalty fees can discipline them. An appropriate provision in the contract will help you avoid trouble with unreliable contractors.

Stop working for debtors
Doing another job for contractors that haven't paid for earlier work is no different than repeatedly lending money to someone who hasn't paid off a previous debt yet. How do you know that they will pay you at all? If you continue to work together, you are permitting them not to take you seriously. Of course, a small delay in payment can happen to anyone, and it is not a reason for terminating cooperation.
However, if someone has been behind with payments for a long time, it is worth making things clear. They should either pay the overdue invoices or look for another service provider. Instead of working for people who are notoriously behind with payments, search for clients who will appreciate your work and pay on time.
Use factoring
If you use factoring, you will no longer have to worry about payment dates. In this case, this is the factoring company that takes over the collection of debts from your contractors. It stems from the fact that the factor becomes the owner of liabilities resulting from the issued invoices.
Obviously, the service has its price. Therefore, if you want to use this method of financing, check whether it is worth it. When calculating the price of your services, add the cost of factoring to it. If your customers can accept a slightly higher price for your services, you can confidently use invoice factoring.
Reward for early payments
Factoring services come at a price. You can achieve a similar effect by rewarding customers for earlier payments. How to do it? Offer a discount for early payment, and decide when you need to receive money so the customer could take advantage of it.
Another way to get paid on time is by offering a retrospective rebate. What is it? It is a type of discount that your customer gets with the next order provided that they paid their previous invoice on time. Such a solution is an effective tool that motivates clients to make timely payments.
You've just learned how to get your customers to pay on time. Other articles you may like: What is invoice discounting?
If you like our content, join our busy bees community on Facebook, Twitter, LinkedIn, Instagram, YouTube, Pinterest.