If your website is well-designed and visually appealing, it will attract more visitors and reach wider audiences. That's why, you should pay attention to all visual elements of your webpage such as graphics and images. In the article below, we will try to explain why it is so important to find a good graphic designer.
Good graphic designer – table of contents:
What to consider when choosing a graphic designer?
Several businesses often find it difficult to choose the right graphic designer. Since they do not have a person responsible for graphic design in their ranks, they aren't able to determine who they are actually searching for. They don't know what skills they should require from a specialist, and thus they choose all projects through the prism of their own taste.
What is more, entrepreneurs frequently don't know where to look for graphic designers. Search engines don't always return relevant results. Avoiding such websites as e.g. Allegro, they miss a chance to find who they are searching for. This is a huge mistake as many graphic designers promote their work on popular shopping platforms.
Here are a few things to consider when it comes to choosing the right graphic designer:
Portfolio – before you hire a graphic designer, make sure that you review their portfolio. Check if their projects align with your interests and taste.
Trial project – in order to make a good choice, you can ask your candidate for a small sample project. This will give you a better sensie of their skills. It is important to remember that any trial design should be paid.
Communication – speak to the designer you are considering directly and check if you are a good fit for each other. It is much easier to cooperate with people who you get on well with.
Opinions – while searching for the right designer, check opinions and references related to their works. Good graphic designers get plenty of them.
It's always a good idea to ask third parties for feedback after you've made your choice. The more people around you like the project, the higher the chance that your recipients will like it as well.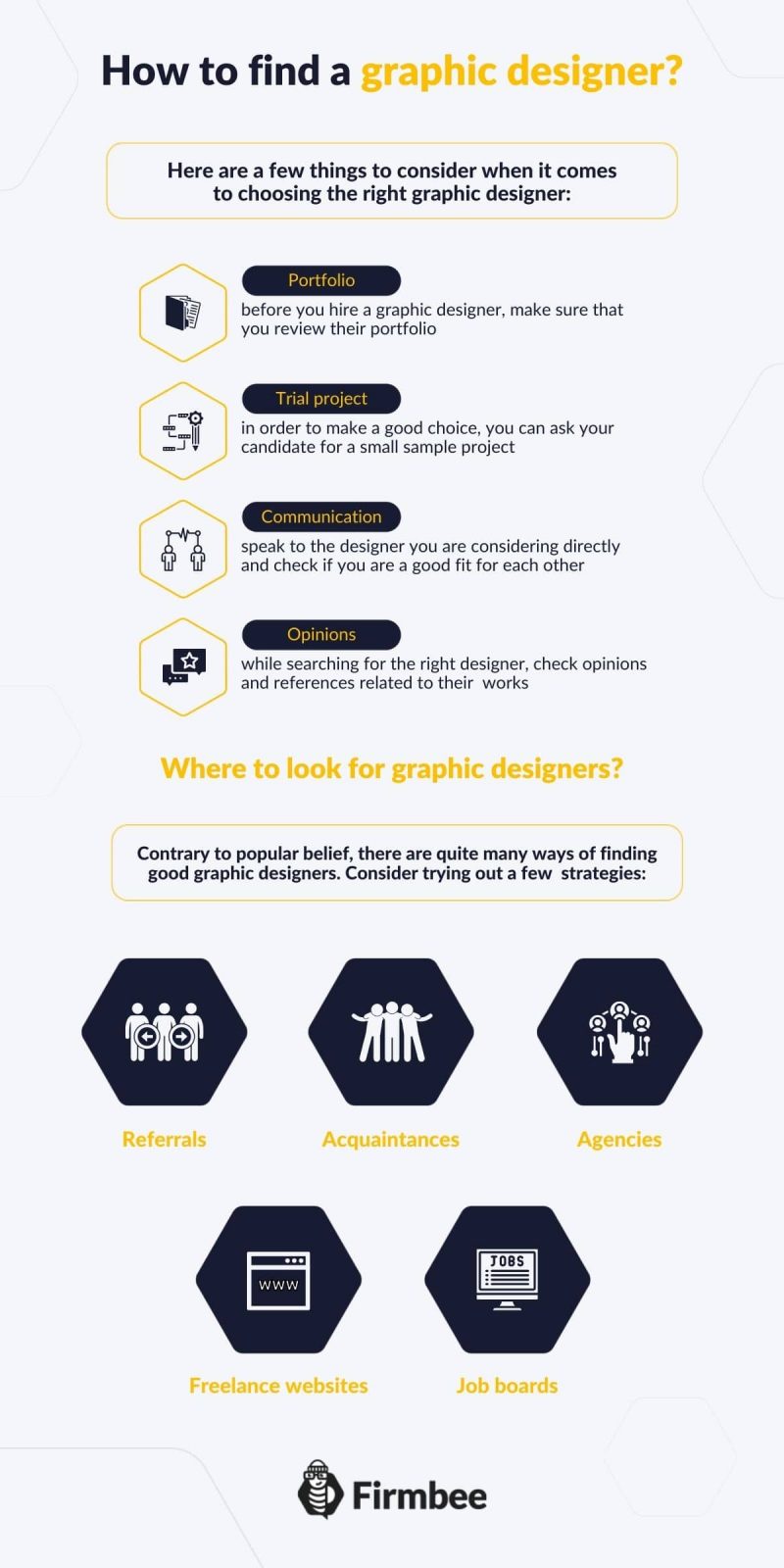 Where to look for graphic designers?
Contrary to popular belief, there are quite many ways of finding good graphic designers. Consider trying out a few strategies:
Referrals – direct referrals (word-of-mouth) benefit both companies and specialists. When choosing the right graphic designer, it's worth listening to people whose opinions we trust. They will certainly recommend someone reliable.
Acquaintances – you may also find the right candidate among people you know. According to a study by Gallup, working with a friend can make us more productive and happier in the office.
Freelance websites – check out such freelance websites as Behance and Dribble that have extensive database of jobs and users. Also, our portal Firmbee has got an FMS function which will allow you to manage freelancers and their work.
Job boards – as mentioned above, you should remember about job boards and social media. You can either join a Facebood group related to graphic design or browse Allegro in search of listed ads.
Agencies – there are several agencies which offer a wide range of graphic design services and cooperate with various specialists that will certainly meet your expectations.
What to keep in mind when hiring a graphic designer?
When you finally find the right candidate, ask them for a sample project e.g. a logo. You should also check their availability. Inform them about deadlines for particular projects since they need to know when to submit their works. Think about your expectations.
You can send them sample projects that you like or, preferably, a brief describing in detail what your requirements are. Let them know about key elements of your company's brand identity such as a logo, typography and colors. Prepare well for the cooperation, after all, it should be pleasant for both sides.
Now that you know how to find a graphic designer, read also our guidelines for creating portfolios on Behance.
If you like our content, join our busy bees community on Facebook and Twitter.