Defining affiliate marketing without mentioning Pininterest and its community is impossible. Statistically, the new tool, which has been in operation since 2010, is currently breaking records of popularity. Publishers eagerly exploit its success. What is the phenomenon of the platform? What is the connection between Pinterest and collaborative marketing? How to do affiliate marketing on Pinterest? We rush to explain!
Affiliate marketing on Pinterest – table of contents:
Pinterest in figures
A lot of statistics about users and their activity on the medium are appearing online. According to the 2021 report presented by the platform itself, Pinterest looks as follows:
more than 478 million users are observed active each month,
approx. 50% of the site's traffic comes from the United States,
women make up as much as 77.1% of the community, while more and more men are popping up among new users,
32% of users are between 18-29 years old, and 34% are between 30 and 49 years old,
89% of users are looking on Pinterest for shopping inspiration,
the number of users is growing significantly each year – so far there has been no decline in activity,
the most popular search category is vacations,
Pinterest operates on a desktop version and a mobile app. In the statement, activity on the app is more than 80%.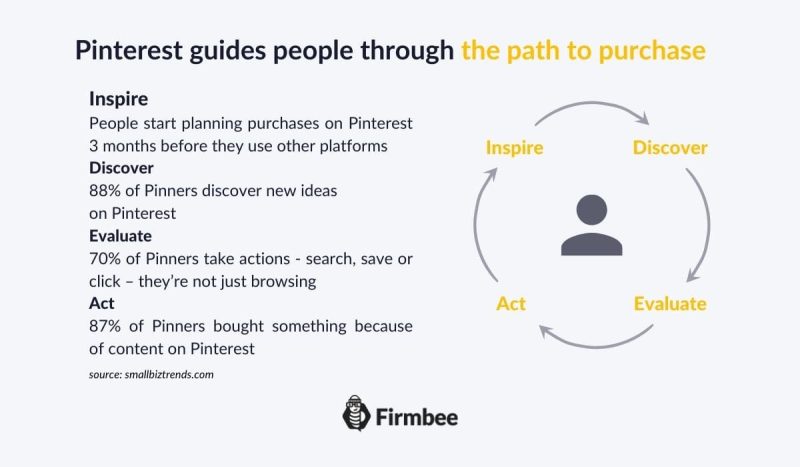 Why Pinterest?
The platform's fame is impressive. But do you know what Pinterest users like about it? What attracts the crowds? Undisputedly, it is the aforementioned shopping idea. Pinterest is becoming an increasingly popular place to make purchases. However, the possibilities don't stop there. Users look for all kinds of news and communicate with family and friends. For many, Pinterest has become a place for professional development and self-presentation of the brand, products, and services. Do you see a place for yourself here?
How does the platform work?
The operation of Pinterest is different from the operation of other social media. After creating an account, the platform asks you to select the categories of your choice. The search area can be, for example, interior design, pets, or fashion. From now on, so-called pins, which are related to your filters, will appear on the main page. In short, a pin is the equivalent of a Facebook post or a relationship on Instagram. You can accept a pin that you like on your board.
Didn't find a category attractive to you? Here's your chance to set up your board. You will add to it what you deem appropriate. In the News feed, you will find the most popular pins and those from the boards you observe. Each pin consists of an image (note – for business accounts, videos are also available), a link that redirects to another site, a title, a description, the author's name, comments, and information regarding its records.
How to increase traffic?
What do publishers love Pinterest for? There's no denying that it's a great medium for getting traffic. Redirects to other sites are not forbidden – they are even welcome! Attractive content on the platform often influences a customer's purchasing decision. On the other hand, it is only one click away from the place where the transaction is made. The process is extremely efficient. Pinterest has become a combination of community and search engines. According to reports presented by Open Mobi, up to 57% of users have purchased a product through Pinterest.
The most popular industries on Pinterest
Wondering if the object of your promotion is likely to enjoy success on the platform? According to available statistics, the dominant industries on Pinterest are:
beauty industry (including cosmetology, self-care, beauty)
fashion (lookbooks are extremely popular – collections of photographs showing how to handle products)
inspiration in creating and decorating interiors
all culinary items
also ranked high: cars and sports
How to create content that sells well?
Have you decided that your chosen industry will find a place on the platform? However, do you know what to do to make the content you create interesting? We suggest proven and effective methods.
Graphically attractive content is the best incentive to enhance purchases. Relevant and inviting images are the key. Pinterest is a huge album.
For affiliate marketing on Pinterest, you will need two things: Pinterest Pin It plugin and the affiliate Converter Editor plugin. When you add an image, you go into the editor and change the link to the store in question to your affiliate version. Remember to use the full link. Shortened redirects may be considered spam.
Create pins with checklists and wishlists – people like them.
Act on emotions and – as always in cooperative marketing – encourage action with simple messages ("enter", "select").
Share your pins in other media.
Keep your content up to date, and fill in links where they are missing.
Work on the description and tags to make your pins appear as high as possible in the searches.
You can promote more products in one pin.
If you are an advanced publisher, go for paid ads offered by the platform
You can create graphics in popular programs like Canva or Adobe Illustrator.
You can convert your personal account to a business account at any time.
How to do affiliate marketing on Pinterest? – summary
The abundance of opportunities offered by Pinterest is staggering for many a publisher.
Perhaps this is the platform where your industry has a chance to make a name for itself? Pinterest is also a chance for apt deals for both parties – publishers and users. Do you want to create images that sell well? We hope that after reading this article we have encouraged you to take a chance and try for yourself the marketing potential of Pinterest!
You've just found out how to do affiliate marketing on Pinterest! Read also: How to do affiliate marketing?
If you like our content, join our busy bees community on Facebook, Twitter, LinkedIn, Instagram, YouTube, Pinterest.