Shopify was founded by three students: Tobias Lütke, Daniel Weinand and Scott Lake in 2006. They started by selling snowboards online, but over time they developed the platform, which is now one of the most popular e-commerce tools in the world. Why has the platform been so successful?
Create a shopify landing page – table of contents:
One of the factors that influenced this is probably the flexibility of the portal. The platform allows you to customize your store to suit your business needs, and there are a whole host of applications on the market that allow you to configure virtually all elements of the site. From this post, you'll learn how to create a Shopify landing page step by step, and we'll also give you some tips on what to pay special attention to when designing the page.
What is a Shopify landing page?
In all the guides to running an online business you will read that every online store should have a landing page. But what are we exactly talking about? Well, a landing page is where your potential customers will land after clicking on your advertising link. It's the first thing they'll see and evaluate. It turns out that according to research, 55% of users spend less than 15 seconds on a landing page. That means you only have a moment to delight them with your products and convince them to make a purchase!
That's why it's so important that your landing page is attractive, intuitive and in line with your brand ideology. Fortunately, Shopify offers a wide range of tools to help you create a great landing page without the need for programming skills. You can customize the look, layout and content of your site to perfectly reflect the character of your brand and delight your visitors. If you want to grab customers' attention, increase conversions and achieve e-commerce success, you can't miss out on the shopify landing page opportunities.
What benefits can come from building a Shopify landing page?
Do you think landing pages are created only to increase sales? Indirectly yes, but not always. It all depends on what kind of conversion you want and what kind of action you want to get your audience to take, as well as where you are in business.
For a company that has built its customer base, has followers and several products on the market, it is important to sell and reach its audience with the new product. So they will put a new product on their landing page and encourage people to buy it. In contrast, a company that is just entering the market and looking for its loyal audience will care about something completely different. Its task is to convert potentially interested consumers into regular customers. Such a landing page should therefore include a newsletter sign-up form and an offer that encourages people to leave their personal information. A discount code or a free electronic product such as an Ebook can be a persuasive factor.
Why is Shopify the ideal platform for creating landing pages? Primarily because of the immense flexibility it offers. When creating a Shopify landing page, you can choose from a variety of styles, colors and layouts and customize virtually every element to suit your needs. In addition, on the Internet, you can find a whole host of applications dedicated to creating landing pages on the platform, which make the task easier and ensure that even a user with basic programming knowledge can handle the task.
Shopify also provides analytics tools to track the effectiveness of your landing page. You can monitor the number of visits, average time spent on the site, conversion rates and much more data that will help you understand what works best for your audience. With this information, you can customize your landing page to maximize results and achieve success.
How to create your own Shopify landing page step by step?
Let's start with the fact that there are three main methods to create a Shopify landing page. You can:
Take advantage of the features available on Shopify
Use external applications
Establish a partnership with a programmer who will code your site
Shopify landing page theme editor
Those who don't have much experience in creating websites can start with the basic option of creating a landing page directly in Shopify. Below we will discuss how to do this step by step.
Step one – choose a theme

The first step in building your landing page on Shopify is choosing the right template. Shopify offers a wide range of options, with different layouts, colors and functionalities. You can further customize each template, adding or removing individual elements. However, it's good practice to choose one that largely corresponds to your final vision for the site. This is a safe solution, especially if you are just starting with a Shopify landing page. Remember that it's important to maintain visual consistency so that the page is in line with the rest of your branding.

How to choose a theme step by step:
Log in to your Shopify account
Go to "Themes" tab
Select the template you are interested in, then press "Add"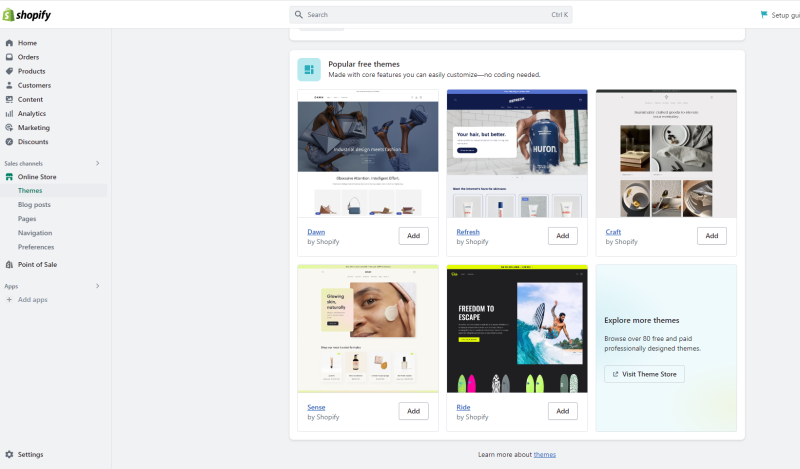 Customize the theme of your choice
Once you have selected a theme, you will have the option to go to the editing section, where you will customize the template. To access this tab, click the "Customize" button on the right side.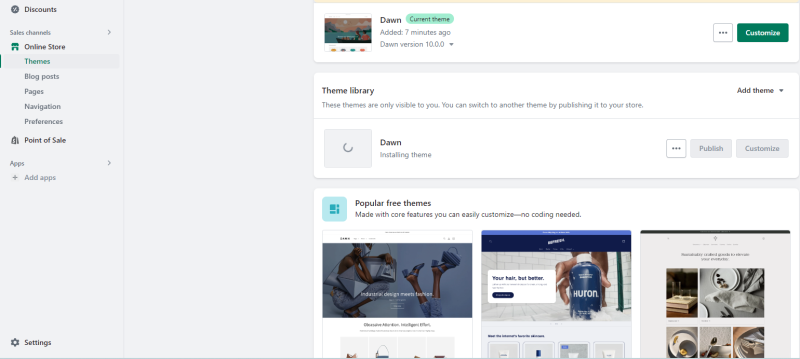 When you click it, you will go to the editing option, where you can customize or add individual elements to the page.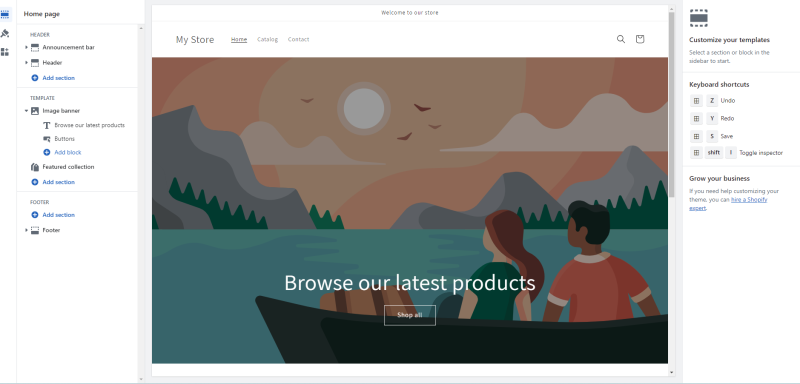 At this stage, you can add any elements you want your landing page to include, such as:
Headlines
Images
Sliders
Products
Product collections
You can find such pre-prepared sections by clicking on the "Add section" tab.
The last step is to save the page design using the button in the upper right corner.
Applications designed to create Shopify landing page
Shopify is a developed app that has a whole bunch of features, including dedicated tools designed for creating landing pages. You can find them in the Shopify app store. Below we will present a few of them that are the most popular.
Shogun
Shogun is a simple-to-use yet a very advanced tool that even experienced designers use ondailyIn addition to the ease of building landing pages, it is characterized by huge analytical capabilities. Thanks to the A/B tests available in the application, you will easily optimize your site. The application is available in a trial version, while the full version is paid.
EComposer
Because of its intuitive operation, this application is ideal for beginners who have no experience in creating landing pages. It provides access to more than 100 ready-made designs, so there is a high probability that you will find a layout that practically completely meets your requirements. In the basic plan, which is completely sufficient for the beginning, the application is free.v
PageFly
The full version of PageFly gives you access to more than 80 different page templates, each with a high conversion rate. All editing of individual sections comes down to a simple drag-and-drop tool, making building your vision for your site a breeze. All templates are adapted to various digital devices. Operation of the application is not complicated, however, if you encounter a problem along the way, you can take advantage of the 24/7 technical support, where during the live chat specialists will suggest what to do. The app is available in both free and paid versions.
Each of these tools is intuitive and allows you to easily create an interesting landing page design, even if you have no experience or knowledge of programming. All you need to do is spend some time testing your chosen application and clicking through the various options.
Self-design Shopify landing page
This solution is recommended for those who have programming expertise or a larger budget to hire an IT specialist. Creating your site from scratch will give you the confidence that every element will look exactly as you imagined it, but there is no denying that it is quite expensive.
What else is worth keeping in mind when creating a Shopify landing page?
The ideal landing page layout alone is not enough. An important part of the landing page is the content. Remember that you only have a few seconds to grab a visitor's attention, so use strong headlines and convey compelling information. Tell your story – storytelling is an extremely effective way to keep customers interested and build a relationship with your brand. Convince the viewer why your product or service is unique, how it solves customers' problems or impacts their lives.
Also, remember to call to action. Your landing page should include a clear and visible CTA (Call to Action) that directs the customer to take a specific action. This could be a "Buy Now" button, "Subscribe to newsletter" or "Make an appointment for a free consultation." Remember to check that all links and buttons work properly to avoid frustrating potential customers.
Don't forget that your landing page should also be optimized for mobile devices. Did you know that up to 54% of e-commerce transactions are made on smartphones? That's why Shopify makes sure that your landing page is responsive and adapted to different screens, providing an amazing experience on computers, tablets and smartphones alike.
Above all, don't be afraid to test. Treat the creation of Shopify landing page as good fun, test different solutions, play around with layouts. It's not difficult at all, you just need to familiarize yourself with the possibilities offered by the various applications. Once you do this, you will surely create the landing page you have been dreaming of.

If you like our content, join our busy bees community on Facebook, Twitter, LinkedIn, Instagram, YouTube, Pinterest, TikTok.