Nowadays, with the Internet playing a huge role in business and communication, having a professional website is an indispensable part of success. However, for many people, especially those without programming skills, this seems an unattainable dream. Wix, a well-known and popular website development platform, has the perfect solution for anyone who wants to create an attractive and effective landing page – Wix Landing Page.
Create a Landing Page on Wix – table of contents:
Wix Page Builder – what is it and what advantages does it have?
Wix is a global website builder that's been available since 2006. It allows you to create websites, online stores, as well as simple landing pages. It enjoys great popularity mainly because of its accessible and intuitive wizard which has a simple design and because it offers great possibilities with functionality comparable to WordPress.
Landing Page on Wix offers advanced personalization features that allow you to customize virtually every element of your site. You can change colors, fonts, sizes, add images, videos and more to create a unique look that stands out from the competition. In addition, you can optimize your site for SEO to ensure it ranks properly in search results and attract more visitors.
What's more, landing page on Wix also offers advanced analytics tools to track the effectiveness of your landing page. You can monitor traffic, conversions, average time on site and many other authoritative indicators. This will help you make basic decisions and improve your site to maximize its potential.
How to create a landing page in Wix?
Let's start with a brief reminder of what a landing page is and why it's even worth creating one. A landing page is a separate web page that has a specific, concrete function, and the user is redirected to it after clicking on an ad. Mostly, each landing page is assigned a separate purpose, or at least it should be, according to its design.
Although each landing page has a different design, tailored to the needs of a particular company, they do have certain features in common. One of the most important, looking at it from a marketing perspective, is the CTA (Call To Action) button, an element that encourages users to make a set conversion. Depending on your assumptions, this could be to make a purchase, start a subscription, sign up for a newsletter or waitlist. You can read more about what elements a landing page should contain later in this article.
Creating your landing page in the Wix wizard is intuitive and doesn't require much programming knowledge. It can be said that the Wix landing page program is designed to guide you step by step. Before starting the process of creating a new page, you have to decide whether you want to start from scratch or prefer to use one of the available templates. The page builder is constantly evolving, and there are now more than 800 templates to choose from, tailored to a variety of themes. Below we will describe both processes of creating a Wix landing page.
Create a Wix landing page using a ready-made template
To create a landing page using one of the available templates, go to the pages tab after logging in, then click the "add page" button and select "landing page" from the list.
In this category, there are several ready-made templates to choose from, which achieve the most popular goals:
Coming soon – inform about a planned event or the arrival of a new product or store
Registration – collect personal data of interested users
Once you have selected the template that best fits the needs and purpose of your landing page, click the "done" button. Still, remember that you can customize each template. Use the "settings" section for this purpose.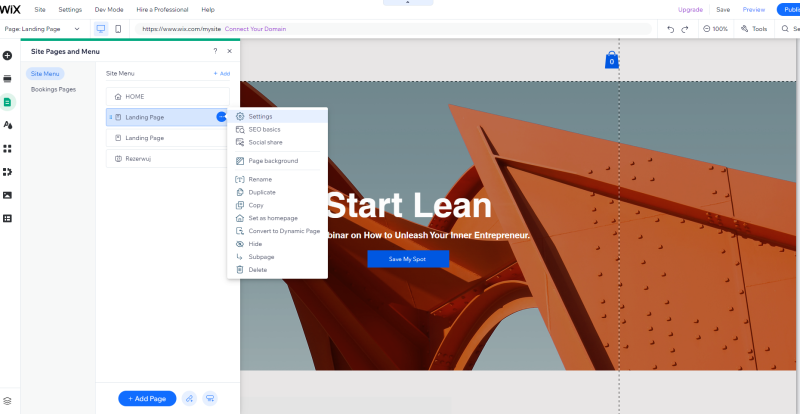 Creating a custom Wix landing page
None of the suggested templates appeal to you or do you have a vision for your landing page and want to make it your own? No problem. Despite appearances, creating a custom landing is not difficult at all.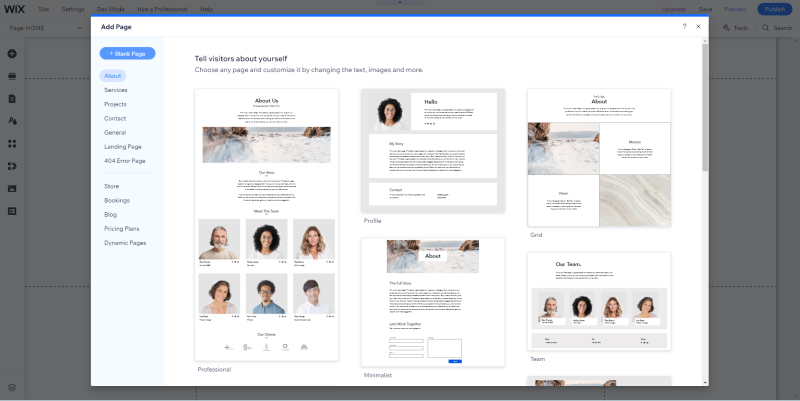 In the same panel i.e. "add page", select the option "blank page", and then press "done." After clicking, a blank space will appear ready for design.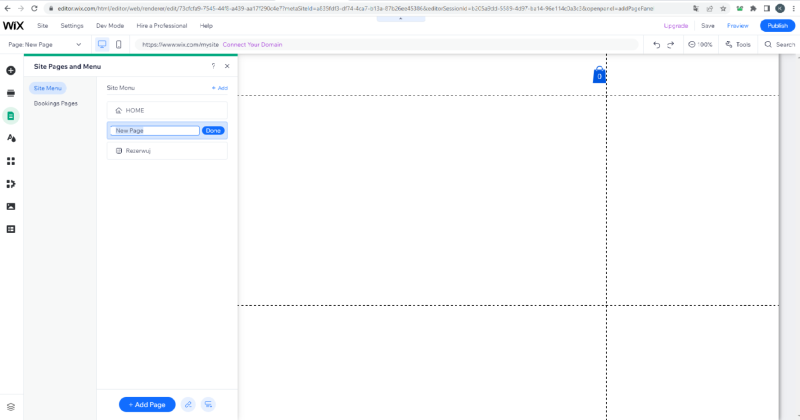 Here you can rename it and then proceed to create it. The side menu bar allows you to:
Adding a ready-made section such as contact, about us, etc.
Selecting the design of the site: text color, theme, choosing backgrounds
Adding a media button
The most important rules to remember when designing a landing page on Wix
A landing page is often confused with a homepage, but they are two, completely different pages. The main difference is that a landing page should be designed so that the user who arrives at it knows exactly why he or she is there – it must fulfill a single, chosen purpose. So it's important to strike the right balance when it comes to the amount of text.
There can't be too much of it so that it doesn't overwhelm the user and distract him from the main purpose, but there must be enough of it so that he knows what it's all about. The home page, on the other hand, can have a bit more of this information and it can be varied, covering both products and the company itself.
However, let's return to the landing page. Here the text must be concise and specific. It is good practice to convey information through media i.e. photos or videos, where written text is only a supplement. It can highlight the benefits that customers gain by choosing your offer. It is important that the text is not a clumped wall flooding the entire screen, but has a title and headlines. These are the key ones and should indicate the advantages, be interesting and encourage people to read the offer.
Unfortunately, most users do not read the text contained on the page, but only "scan" it by flying through the screen with their eyes. It is also important to properly break up the text and keep space to facilitate reading. For a landing page, lists, subsections and loose text fragments work better than blocks of text.
Speaking of text, there's another element worth including on your landing page: social proof. What is social proof? It can be reviews of satisfied customers, testimonials, logos of companies that work with the brand, etc. – in a word, anything that shows that a company is respected and users are satisfied with its services or products. It's worth including this element on your landing page, as most consumers trust reviews and recommendations and they are an element that builds trust in a company.
The design of the Wix landing page itself should be clear, simple and transparent, as well as visually appealing. While it's not easy to find the golden mean, it's worth working on it a bit so that the final version of the landing page on Wix meets these objectives. It's also important to stay visually consistent with the brand, so apply colors from the logo or colors that match the character of the company in question – this means that everything ultimately has to remain consistent with the company's branding.
Now, you're surely thinking: it is not difficult at all! Indeed, building your Wix landing page is a simple matter and a lot of fun. While doing so, you should also not forget that it is a very effective marketing tool that translates into real conversions and therefore profit. Now that you know that building a landing page on Wix doesn't require special skills and having one can bring you a lot of benefits – there's nothing to stop you from trying! To start with, you can go for a dedicated wizard, where ready-made designs are available. Choose one of them, customize it and enjoy increased traffic to your site!

If you like our content, join our busy bees community on Facebook, Twitter, LinkedIn, Instagram, YouTube, Pinterest, TikTok.